With New York sports betting set to go live on Saturday, Jan. 8, college sports will be a hot commodity to wager on once March Madness arrives. Below, you'll find a very important regulation to note in NY college sports betting rules.
Rank
Sportsbook
Bonus
Feature
Play
In-State Schools Banned In New York Sports Betting
No games of college sports teams located in New York will be available to wager on at any in-state sportsbook. For college football, the list of FBS programs includes:
This caveat in NY college sports betting rules is more extensive in college basketball, with 22 teams in the mix:
Albany
Army
Birmingham
Buffalo
Canisius
Colgate
Columbia
Cornell
Fordham
Hofstra
Iona
LIU
Manhattan
Marist
Niagara
St. Bonaventure
St. Francis
St. John's
Siena
Stony Brook
Syracuse
Wagner
How NY College Sports Betting Rules Apply To Futures Bets
Although the likelihood of any of those teams cutting down the nets this April is slim, the national runner-up would be the "title" futures bet that cashes if an-state program wins it all. That betting market typically applies to a team achievement or an award for an individual player. In this case, a winning wager wouldn't end up in a bettor's sportsbook account until season's end.
A similar set of rules applies to DraftKings' regular season conference futures. If Syracuse makes a miraculous run to win the ACC, those who bet on next highest seed within the conference tournament standings would win the bet.
Additionally, any college games taking place in New York won't be available to bet on, including the Jimmy V Classic and Big East tournament. Buffalo (KeyBank Center) is also set to host first- and second-round matchups in the 2022 March Madness bracket, so none of those contests will be on the board in the Empire State.
Below is a list of future NCAA tournament games that will be played in New York:
2023: Albany (MVP Arena) — first- and second-round
2023: New York City (Madison Square Garden) — Sweet 16 and Elite Eight
2024: Brooklyn (Barclays Center) — first- and second-round
2026: Buffalo (KeyBank Center) — first- and second-round
College player props, which are a popular ticket item once the NCAA tournament rolls along, are in the same boat.
Keep in mind, Illinois recently legalized wagers on in-state college sports teams. But none of their retail shops filed a request with the Illinois Gaming Board, so there's nowhere for Illinois residents to bet them. It could be a while before newly-operating states, like New York, change their regulations.
Be sure to follow along with Eli Hershkovich, our college basketball betting analyst, the rest of the season for all his favorite bets.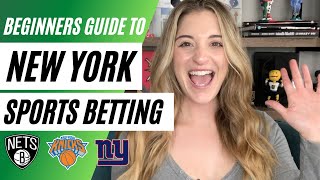 Best Sportsbook Apps To Bet On College Sports
Rank
Sportsbook
Bonus
Feature
Play