With first-round games tipping off on Thursday on the road to the national championship, bettors are hunting for underdogs with their wagers and brackets alike. But how many of them will we actually see? Let's break down the most likely first-round NCAA tournament upsets.
For beginners, note some teams with the worse seed in first-round games are actually the favorite to win at sportsbooks.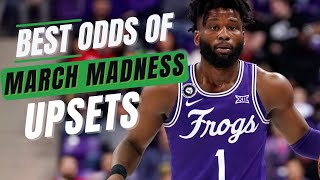 NCAA Tournament Upsets
For starters, let's exclude the No. 16 seeds. Although Georgia State () could hang around with Gonzaga for a stretch, the Bulldogs' size should eventually be too much for the Panthers to overcome.
Below is the likelihood of the remaining underdogs to advance beyond the first round. This order isn't based on opinion — instead converting moneyline odds into implied win probability as the determining factor. Those implied probabilities are as of Tuesday evening. The linked moneyline odds are the best available price across legal sportsbooks right now.
This list doesn't include any teams from the First Four as of now. Those games begin Tuesday, and you bet them here. Click on the odds below to bet on these teams to reach the Round of 32.
Play in TheLines' Free NCAA Tournament Contests to win prizes
Implied Probabilities Of First-Round Upsets By Seed
11. Michigan ( vs. Colorado State): 58.5%
9. Memphis ( vs. Boise State): 58.3%
10. Loyola-Chicago ( vs. Ohio State): 52.2%
9. TCU ( vs. Seton Hall): 51.7%
10. Davidson ( vs. Michigan State): 50.0%
11. Virginia Tech ( vs. Texas): 49.0%
10. San Francisco ( vs. Murray State): 48.8%
10. Miami ( vs. USC): 48.8%
9. Creighton Bluejays ( vs. San Diego State): 47.2%
13. South Dakota State ( vs. Providence): 45.5%
9. Marquette ( vs. North Carolina): 41.7%
11. Iowa State ( vs. LSU): 38.5%
13. Vermont Catamounts ( vs. Arkansas): 34.5%
12. New Mexico State ( vs. UConn): 28.6%
14. Colgate vs. Wisconsin (): 27.0%
13. Chattanooga ( vs. Illinois): 26.3%
12. UAB ( vs. Houston): 22.7%
12. Richmond ( vs. Iowa): 18.2%
13. Akron ( vs. UCLA): 10.0%
14. Montana State ( vs. Texas Tech): 9.9%
14. Yale ( vs. Purdue): 9.1%
15. Delaware ( vs. Villanova): 8.3%
15. Jacksonville State ( vs. Auburn): 8.3%
14. Longwood Lancers ( vs. Tennessee): 7.2%
15. Cal State Fullerton ( vs. Duke): 6.3%
15. St. Peter's ( vs. Kentucky): 6.3%
Continue the discussion in our Discord betting community, as we dig into all of the games in the big dance. Stay up-to-date on the top-68 programs with my college basketball power rankings.
NCAA Tournament Upsets: Underdogs Against The Spread
I've wagered on four against the spread underdogs so far. Here are those betting breakdowns.
TheLines' Interactive Bracket
Click on any game pod to bet now and read a betting preview for that matchup.
March Madness Sportsbook Promos
RANK
OPERATOR
BONUS
INFO
ACTION