NBA Top Shot is a digital product that was launched in 2019 by blockchain company Dapper Labs in partnership with the NBA and its Players Association. Top Shot users are able to build a collection of digital basketball highlights known as "Moments" by purchasing them through Packs or the Marketplace.
It's helpful to think of each Moment as a basketball trading card, just like when you were a kid, except for two major differences: These trading cards are digital instead of physical cardboard and instead of a static image on the cover of the card, there's a video highlight clip. To acquire these highlights, Dapper Labs receives current and, in rare cases, old highlight reels from the NBA – where they are clipped and turned into digital assets known as Non-Fungible Tokens (NFTs). Dapper Labs will choose how many editions of each NFT (or Moment) to mint, creating more scarcity among certain NFTs than others.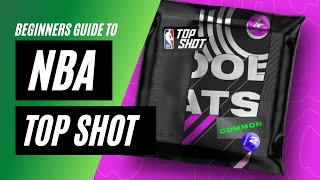 NFTs and Top Shot
Each Top Shot Moment is a unique NFT that was minted with a unique edition number, known as its Serial Number. Using this Zion Williamson Metallic Gold Moment available on the marketplace as an example, we can see there were 299 editions of this Moment created. This particular Moment is Serial #275, meaning it was the 275th edition made by Dapper Labs.
Blockchain and Top Shot
Blockchains are databases of digital information linked together that can be used to record ownership of an item (such as a Top Shot Moment) or transactions of an item (such as the sale of a Top Shot Moment). Think of this database as a ledger containing time-stamped transactions of specific digital items as well as certificates of authenticity for each item.
It's the technology that popular cryptocurrencies like Bitcoin use and is renowned for its unbreakable security. After a user purchases a Moment, it's stored in a Top Shot digital wallet, which is tied to a specific type of blockchain database built by Dapper Labs, called Flowchain. This is where blockchain technology comes in – Flowchain's technology acts as a viewable, digital ledger effectively giving each NFT (or Moment) a unique and non-hackable certificate of authenticity.
Why should you care about this?
NFT products like NBA Top Shot have become the latest fad in a long line of quazi-gambling methods rising to the mainstream on the back of new technology. None of these other products, however, are more popular right now than NBA Top Shot, nor do they contain the full support of the NBA and its Players Association.
In the first two years of its current beta version, NBA Top Shot has far and away the most amount of money spent on transactions of any NFT product, with more than $450 million spent between users as of March 2021. Its closest competitor, CryptoPunks, was released two years earlier in 2017 and has $180 million in transactions. It's true, the highlights upon the Moments you buy are certainly available to watch online for free. However, you can also print a copy of the Mona Lisa and put it in your living room if you want to.
The value of the moment, like art, is whatever somebody is willing to pay for it and that amount is based on a number of factors. Specifically in the Top Shot world, the top three factors are the player's popularity, the Moment's Serial Number, and the scarcity of the Moment (a.k.a. edition size).
Creating an account
It's important to know that Top Shot is still in its Beta status, meaning that its technological capabilities are still a work-in-progress in many ways. As NBA fans continue to learn about Top Shot and flood the site to make an account, Dapper Labs has had to limit new signups to keep their servers from overloading and stalling out. As a result, you likely won't be able to set up a NBA Top Shot account overnight. In order to begin the process of creating your account, head to NBATopShot.com and click "sign up."
You'll be taken to a page where you can enter the email address you'd like to connect to your account so Top Shot can notify you with an email once you're eligible to sign up. It's best to use your Google email address as you'll be able to sign in and out a bit more easily than if you use a different email address. Although you are free to use whichever email server you prefer.
Once you're eligible, you'll be able to create your account, select your favorite NBA team, add a few bucks, and jump in. NBA Top Shot accepts payments through credit or debit cards and cryptocurrencies including Ethereum, Bitcoin and Bitcoin Cash.
Packs and the marketplace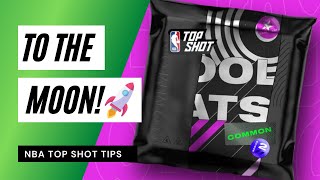 So how do you actually acquire Moments? There are two methods for adding Moments to your collection: you can purchase a Pack for a set price and a predetermined amount of Moments inside, or buy them from other users who list their Moments on the Marketplace.
Purchasing packs
The process of purchasing these packs has become much more regulated and infrequent as the Top Shot user base has skyrocketed. For some packs, you must already have a designated number of cards in your collection. In every case, each drop comes with a designated number of packs available for purchase beginning at a designated date and time.
For example, the recent Rising Stars Rare Pack had 32,740 packs available for purchase beginning on March 19 at 9 a.m. PT. Users don't know which players or highlights they will receive when they purchase a pack, only the amount of cards that will be inside. Fifteen minutes before the time of the actual "Pack Drop," a queue will open for users to join, with a 15-minute timer displayed once you're in. When the timer hits zero, all the users in the queue at that time will be randomly assigned a number, indicating their spot in line.
In the case of the Rising Stars pack mentioned above, if you were number 32,740 or lower, you were guaranteed a pack as long as you stayed in line until it was your turn to purchase. Once the packs are sold out, they're gone indefinitely. So if you were number 32,741 or higher during the Rising Stars drop, hopefully someone in line in front of you dropped out or you were left pack-less.
Buying Packs of cards will almost always yield you a positive return on your investment (ROI). For example, if you buy a Common pack for $9 with three Moments inside, it's almost a guarantee you'll be able to sell one of those for around $10, making the other two Moments pure profit.
But the Marketplace is where real money is made and quite literally the only way to actually make money. You can't liquidate your Moments and just sell them back to Dapper Labs, meaning in order to make some tangible money you can cash out. You'll need to list your Moments on the Marketplace and have another user give you dollars for it.
Using the Marketplace
When searching for Moments to purchase, head to the tab at the top of the homepage labeled "Marketplace." You can scroll through the most recent listings, or use the Filter tab to narrow your search by players, packs, price, and more. Note that the price listed below each player Moment on the Marketplace is the lowest asking price for that card listed by another user. When you click on a Moment that intrigues you, you can once again filter your search to list all the available editions of that Moment by lowest asking price or by lowest Serial Number.
When filtering the Moment by lowest Serial Number, you can see that the lower numbers are more expensive as they are the more desired Moments within an edition.
The player on the Moment, its Serial Number, and the rarity of the Moment are the top three factors being valued when users are either purchasing or listing a Moment for a specific price.
How is this like sports betting?
To understand how NBA Top Shot truly relates to gambling on the NBA, look no further than the Marketplace, which can be compared to any publicly traded stock market.
The Top Shot Marketplace is where users looking to sell their Moments can list them for the price of their choice (Note: There is no minimum or maximum price regulating listing amounts. This is all no-limit.) and users looking to buy Moments come in search of valuable listings to their liking.
It's also where money is lost. If you purchase a Moment on the Marketplace for $100 and then sell it three days later for $90, you've just lost $10. This is where knowledge of the NBA, its players, and the NBA Top Shot environment comes into play, exactly as it does in NBA gambling. It's important to understand when to pounce on a Moment and buy it for a reasonable price and when to sell Moments in your collection for more than your purchase price in order to make a profit.
Just like NBA gambling, participants are looking for value in the Top Shot Marketplace. When we peruse the NBA lines each night, we're looking for the spots where sportsbooks have incorrectly predicted an outcome and thus offered us quality odds for a game we feel confident will go differently.
When we peruse the Top Shot Marketplace, we're looking for the spot where other users have incorrectly predicted the future value of their Moment by listing it for too low of an asking price. When we purchase a Moment, our prediction is that the Moment listed will rise in value so we want to purchase it now, in the hopes of selling it to another user at a later time, once it (hopefully) increases in value as we predicted it would.
Anyone already in the Top Shot space is still very early to the table of this fast-growing phenomenon. As a result, we still have much to learn about "betting strategies" when it comes to buying and selling Moments.
However, two things are clear: Top Shot users want stars in their collection and they want the rare Moments that have only had a small number of editions minted. A good way to get your feet wet in the Marketplace is to purchase Moments of some players you think have rising stock: rookies and other young players, guys who were recently traded and are about to have their stock rise with an increase in usage, guys about to see an increase in minutes because someone ahead of them on the depth chart was recently injured, etc.. Try to find some cheaper cards for $100 or less to build
up your knowledge and experience before parking your money in rare cards worth four-figures.
More about moments
As mentioned above, Moments range in designated rarity based on the size of the edition, which are split into tiers. The tiers include:
Common Moments with an edition size of 1,000 or more. These Moments can be purchased in Common Packs or, like all tiers, in the marketplace when listed by their owners.
Rare Moments with an edition size of 150-999. These can be found in the more expensive Rare Pack, as well as Common Packs. These usually contain six Common Moments and one Rare Moment.
Legendary Moments with an edition size of 25-99. These can be found in Legendary Packs. Usually, these ultra expensive packs contain six common, three rare, and one legendary Moment.
Platinum Ultimate Moments with an edition size of three. These are only available through auction.
Genesis Ultimate Moments with an edition size of one. These are also only available through auction.
How Dapper Labs and the NBA are profiting
NBA Top Shot generates revenue from pack sales and transaction fees, specifically 5% of all Marketplace transactions (taken from the seller, not the buyer). The NBA and its players union also get a cut of those peer-to-peer sales on the Marketplace, although that exact amount is still not public information. Dapper Labs also takes a cash-out fee to cover the cost of bank transfers when users look to transfer the balance in their Dapper account to their bank account.