The NBA season continues with two more national TV games tonight on TNT, 76ers at Knicks and Nuggets at Jazz. Each week throughout the season, TheLines will look at some matchups for the televised slates and try to figure if there are any NBA player props worth a look.
NBA player props tool: Find the best odds
76ers At Knicks Matchup And NBA Player Props
Philadelphia heads to New York to face the Knicks in Madison Square Garden, and they might do so without superstar C Joel Embiid. As of around noon ET, the team hasn't yet said whether Embiid will play.
He has appeared in all three of the team's games and played something close to a full minutes load, but he's nursing a knee injury. The line — Knicks — seems to be straddling the fence a little as the Knicks are the better team at home if Embiid sits, while Embiid playing would potentially make Philly slight favorites.
Because of the uncertainty around Embiid, who leads the team in usage at 31% — the player prop market looks pretty thin for the moment. The numbers that have been posted center around Knicks players but there's still some stuff of note.
For one thing, while more fanfare during the Knicks offseason focused around the team acquiring former All-Star Kemba Walker, Evan Fournier has actually played 20 more minutes than Walker. He also has the higher usage rate pretty easily, 22.2% to 18.1% per Cleaning The Glass.
That has translated into production as he's averaging 19.3 points per game so far without anything flukey in his shooting stats. Fournier's points total is just 14.5 with +100 on the over at DK Sportsbook. Unless he winds up drawing a bunch of Matisse Thybulle defense, he can go over without too much trouble.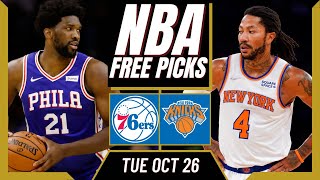 Evan Fournier Props
The Sixers are in a very interesting spot if Embiid sits because backup big man Andre Drummond also has a questionable tag with an ankle injury. The only other big man who has played reasonable minutes is Georges Niang and nobody would mistake him for an imposing rim protector.
At that point, the team likely would play very small for much of the game. That means more stats for basically everybody and probably a lean to over the game's total.
In particular, Tobias Harris would probably shoulder a big chunk of the team's rebounding responsibilities. He's averaging a hefty 9.3 boards per game so far, well above his career 6.1 number. Look for something around 7.5 and see if you can find a decent price on the over.
Tobias Harris Props
If Embiid does go, this looks like a pretty good matchup for him. Opposing C Mitchell Robinson is not a particularly strong defensive rebounder, posting below average rates in each season of his career. The Knicks as a whole also have the third-worst rebound rate in the league.
Further, Robinson defended the post very poorly, allowing 1.25 points per possession last year. That was one of the worst marks for anyone in the league, not just centers.
Joel Embiid Props
Nuggets At Jazz Matchup And NBA Player Props
The first and most important note about this game: it's among the "hot spots" of this week's schedule, as documented here on TheLines. The Jazz come in on three days' rest while the Nuggets play a back-to-back with travel, following up an ugly home loss to Cleveland.
What that basically means is we have to account for increased likelihood of a blowout in the range of outcomes here. Blowouts will usually mean unders on both the game total () and player props.
Additionally, both teams have played solid defense in the early going with Denver eighth in efficiency and Utah third. Denver is also dead last in pace so far.
Denver's defensive style tends to give up runways and open 3s to opposing guards because they don't want to expose Nikola Jokic's lack of footspeed contesting high screens. That could mean even higher-than-normal usage for Donovan Mitchell props, who may prefer to take his open 3s off the bounce or try to get Jokic in foul trouble by attacking the rim.
If that's the case, under 4.5 assists could be in play, which is +105 at DK Sportsbook.
Donovan Mitchell Props
The matchup of centers will be the main attraction here with offensive juggernaut Jokic battling with defensive monster Rudy Gobert. While Jokic has had more than his share of buckets on Gobert, the Frenchman has generally done a good job of keeping him off the glass. Jokic managed just 8.1 rebounds per game in their playoff series in the bubble.
That's well below his career mark of 9.8 which itself is below the 11.5 number he's got for this game. The under is +100 at DraftKings Sportsbook as well, likely due to Jokic scooping a massive 16 per game so far this year. It could be a good spot to sell high on this rate, particularly with the pace and rest concerns referenced earlier.
Nikola Jokic Props