The NBA season tips off after the shortened offseason, and it begins with a couple of marquee national TV games, Nets at Bucks and Warriors at Lakers. Each week throughout the season, TheLines will look at some matchups for the televised slates and try to figure if there are any NBA player props worth a look.
NBA player prop numbers come from DraftKings Sportsbook.
NBA props tool: Bet the best odds
Nets At Bucks Matchup And NBA Player Props
The NBA returns with the matchup that likely decided last year's NBA finals winner as the Brooklyn Nets travel to Milwaukee. With a massive total of get ready for some fireworks here.
It's obviously a little tough to write about matchups for teams we haven't seen play yet, but one thing does stand out between these two teams' rosters on paper. It does appear Milwaukee should have a sizable rebounding edge. Milwaukee had the league's third-best rounding rate last season.
While Brooklyn finished 12th in that stat, that was when they had actual centers playing occasionally. The only plus rebounder maybe on Brooklyn's entire roster is Kevin Durant. He's already going to be shouldering a big scoring and playmaking load.
While offensive rebounding is de-emphasized by most NBA teams nowadays, the Bucks know they can lean into this strength after they mashed teams on the glass — including Brooklyn — down the stretch of last year's playoffs. They rebounded more than 30% of their misses in Game 6 and Game 7 according to Cleaning The Glass, which is monstrous.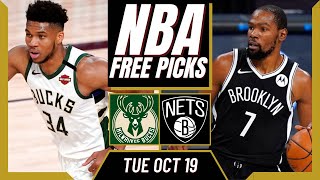 Brook Lopez Props
Giannis Antetokounmpo's number is rather high at 12.5 with the over juiced to top it off, but perhaps Brook Lopez at 5.5 (-125 over) could be in play. Click the odds below to bet now.
Kevin Durant Props
Another prop worth a look: Durant o4.5 assists (-130). With Irving out due to non-compliance with vaccine mandates, the Nets will probably start Patty Mills. He isn't a big-time playmaker, but James Harden was also reportedly still working his way back to game shape as recently as early October.
Durant will probably handle the ball a ton. When he did so last year even with awful shooting around him, he averaged 6 assists per game in the final four games of their series loss. Click the odds below to bet now.
Warriors At Lakers Matchup
The most interesting question for the Lakers coming into the season: how much center will Anthony Davis play? The other big men on their roster, Dwight Howard and DeAndre Jordan, don't figure to have major roles in the playoffs.
The regular season could be a different story. Combine the potential for double-big lineups with the need for Brow to play a spacing role on offense thanks to the team's poor shooting, and he doesn't figure to get many rebounding chances despite a dream matchup against a tiny Warriors team.
Unfortunately, his rebounding prop sits at 7.5 (-145 over), so the market seems well aware of this possibility. One or both of Russell Westbrook (8.5, -125 over) and LeBron James (7.5, +120 over) should benefit and make it to double digits.
LeBron James Props
Russell Westbrook Props
Stephen Curry Props
On the Warriors side, you have to figure Stephen Curry will play a pile of minutes. He has a massive scoring total of 32.5 (-130 over) but his assist total is comparatively lower at 5.5 with a big +140 price on the over. There should be solid shooting around him with Otto Porter Jr. added (career 40.2 3p%) and Jordan Poole (35.1% last season) stepping into a bigger role. Curry averaged more than 5.5 assists last year and in a game with a total of should have plenty of opportunity to rack up some dimes.
Other Warriors Props
Another interesting NBA player props market to look at is trying to figure who will be second banana on offense. If you're a believer it will be Andrew Wiggins you get a nice price at +145 on o19.5. If you favor Poole, you get a lower number at 17.5 (-120 over). Last year, Poole had a slightly higher usage than Wiggins, but he probably handled the ball more when Curry sat.