With the regular season tipping off on Tuesday, let's take a deep-dive into the 2021-22 NBA odds and betting markets.
I spoke with Jeff Sherman, the Westgate SuperBook's vice president of risk management, for a behind-the-scenes look at how he generated certain odds and where he sees betting value.
Bet $1 Get $100 + Up to $1,050 Bonus

1
UP TO $1,050 FREE
New User Bonus. T&Cs Apply.
Special for Bets on NFL, NBA, CFB & CBB
Bet $1 & Win $100

$50 Free Bet on Deposit

Up to $1,000 Deposit Bonus
To Claim: Click Play Now
2021-22 NBA Odds: Championship Market
EH: What's the NBA title futures liability like for the SuperBook?
JS: Really the only sizable one is the Lakers. There have been a lot of just average to large wagers. But we have one that someone bet at seven-to-two odds (+350), which we're currently at. The bet was to win $100,000, which came out to $28,571.45.
We have very small liability on Milwaukee and Denver, and everyone else is a solid position for us this early in the season.
EH: As a Lakers fan, what do you make of them with the addition of Russell Westbrook?
JS: It's gonna take them a while to figure things out with the new parts that they have. I thought Buddy Hield would have been a better fit for where the team is right now. But it was LeBron James and AD's (Anthony Davis) choice to switch gears to get Westbrook involved.
Even without the addition of Westbrook, the Lakers already had been an attractive option (in the futures market) since LeBron's gotten there. They always command money, and we opened them at nine-to-two (+450). We took a little bit of that, and I was at four-to-one (+400) right before the Westbrook trade happened. I lowered them to seven-to-two, just anticipating people would want to be involved with them, which they are.
So they're still sitting reasonably behind the Nets, who we have a five-to-two (+250), and it's been that pecking order since the day we put these up. Brooklyn was three-to-one (+300) when we opened them.
Will Warriors See A Resurgence?
EH: What went into pricing Golden State at +800, and what's your liability like there?
JS: Nothing large monetarily. But we had opened the Warriors at seven-to-one (+700), and I tried to be pretty aggressive on the low end of them, just because of getting Klay (Thompson) back with (Steph) Curry and (Draymond) Green, plus having the (Andrew) Wiggins contract and a lot of draft capital.
I thought that there was a chance they were going to make a move with that and add a fourth pretty good player to that, which they haven't done yet. But there's always up until the trade deadline for them to do that. So they have young draft assets, young kids and Wiggins' contract to match money if they need to.
Right now, they're second in ticket count but nothing as far as large wagers.
Which Team Will Represent Value As This Season's Suns?
EH: Let's move on to NBA title longshots — after what we saw from the Suns (opening at 40-1 to win it all last season). Is there any long-shot that you think could similarly surprise, or was Phoenix an anomaly?
JS: The path the Suns had had last year, in each round that they went through, they encountered a better team with injury issues. Whether it was Anthony Davis in the first round, Jamal Murray in a second, then Kawhi (Leonard) in the next round and even Giannis (Antetokounmpo) at the start of the finals even though he rebounded and was able to play through it. They just had a path that was fortunate for them last year. We're at 20-1 (+2000) right now on them.
The Hawks aren't going to creep up on anyone like they did last year, and we took money on them at 200-1 (+20000) last season. It's tough beyond what you're expecting at the top for a title contender.
I don't like the changes with the Mavs, and they're still sitting at 50. I think Boston could be a good regular season team, but I don't consider them a realistic title contender. For Chicago, it went down from 100 to 60 after the offseason, but again I think you're going to be built more for the regular season than the postseason. The Bulls could be one of the teams not necessarily built as a title contender, but they could present value on an individual game basis.
Memphis getting Jaren Jackson Jr. back and Ja Morant making some improvements, I like the direction that team's going. But I wouldn't bet them at 150-1 (+15000).
EH: Does Any 2021-22 NBA Futures "Value" Exist?
JS: The only one I could suggest is, from a hopeful standpoint, maybe the 76ers (best available odds: ). Maybe a situation works out whether Simmons comes back and plays, or he's traded and they get something for him. They have the other in place already that they could be a title contender in relation to the other teams out there in the East.
Kyrie Irving Vaccination Controversy On Betting Market
EH: From an individual game perspective, with Kyrie Irving not able to play as of now because of the COVID-19 vaccine issue, what's that worth to you against the spread?
JS: I don't think it's going to last the whole season. In the short term, I bumped the Nets' season win total down one (from 55.5 to 54.5). For the opening night game at Milwaukee, I was as high -1.5 on Brooklyn to a pick'em. So it was a small adjustment.
He even said that it's not about the vaccine; it's about sticking up for people in other ways. I think he'll get to a point where he'll have made his voice heard, and he can get on with things and get back to the team.
Ben Simmons' Next Move
EH: How might Ben Simmons impact 2021-22 NBA odds if he gets dealt from Philadelphia?
JS: Let's just say he went to a team like Minnesota, Sacramento, those types of teams. There's talk they (the 76ers) want to move him to a Western Conference team. If they did, it wouldn't be something where they turn into a title contender. It'd be marginal, and we probably make a small dip in the odds, but nothing that would make them lead to title contender status as if it was a major player.
2021-22 NBA Odds: MVP Futures And Contenders
EH: Where's your biggest liability for NBA MVP odds?
JS: We took a $5,000 wager on (Luka) Doncic at five-to-one (+500). He's not the largest liability, but at the top of the contenders he is. So I've lowered him to four-to-one (+400) while raising some other people up.
We're seeing some support for Joel Embiid at 12-to-one (+1200); he's down to ten-to-one. But I bumped LeBron up to as high as 20-1 (+2000). I think that (the Lakers are) going to restrict his minutes and even some games a little bit more than they have in the past. In terms of long shots, we have some liabilities like Bradley Beal recently at 100-1 (+10000).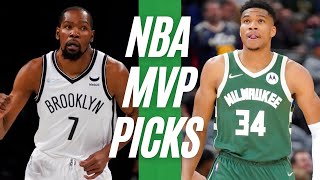 The interesting thing about this market for me is that I included Kawhi Leonard and Jamal Murray, and they're coming off those serious leg injuries. I put them up at 1,000-1 (+100000), and I've actually taken money. Somebody in Nevada hit both at $100 apiece, so that moved them down to 500. Then in Colorado, I took an accumulation of $300 there on Kawhi at 500. So we've got some six-figure liability there too.
I think some people are anticipating that he might come back earlier than what's been portrayed out there. From my perspective, even if he does come back, he's always had load management. When you come back from an injury like that, you just don't go out there and play 30-40 minutes a game. It would be managed minutes, manage days, and it'd be eased into such that I don't think those guys are realistic contenders.
NBA Rookie of the Year: Money Talks
EH: How about for 2021-22 NBA odds on Rookie of the Year?
JS: We've seen a lot on (the Rockets') Jalen Green. We had $5,000 on him at four-to-one (+400). Now, we're even less than two-to-one (+200) on him. I bumped some other guys up, like Cade Cunningham, because he hasn't even played the preseason with his injuries, and he hasn't seen too much support (in the market).
We're starting to see some money show up on Josh Giddy on the Oklahoma City Thunder. He had a decent preseason, and he's down from 40 to 25.