The MLB schedule is a long journey lasting more than half of the year. While that makes it a grind, it also makes it a tremendous betting opportunity. It gives our MLB picks ample time to build a sample and hopefully overcome variance, and it provides the biggest menu of bets (and potential value) when compared to almost any other sport.
For the 2022 MLB season, bettors interested in following some daily betting angles can find write-ups here.
Free Pick'Em Contests! Compete for prizes every day by entering our free betting games. NFL, MLB, golf and more!
MLB Picks For Tuesday, May 31
For ongoing discussion, betting adds, and other discourse around MLB bets, be sure to join our Discord. MLB picks will be posted there as they're made (so you can potentially get better prices), and many other bettors can help provide various angles.
Kansas City Royals At Cleveland Guardians
Unfortunately, this game is no longer bettable by my numbers, so just skip ahead if you want to get to more actionable stuff. The market came in very strongly on the Royals overnight, moving the line around 20 cents. Daniel Lynch has gone from a pretty terrible pitcher last year to a relatively decent one via increases to his swinging strikes and chase rate. Cal Quantrill, meanwhile, remains pretty awful by every measure besides ERA. He has lost 1.7 mph on his fastball and his 23.5% called strike+whiff rate sits way below average. Additionally, while Cleveland's offense has been solid overall, they've stunk versus lefties with a 78 wRC+.
Monitor the continued progress of the Royals offense. They've been bad but Bobby Witt Jr. is on fire of late. If Whit Merrifield wakes up and joins the 2022 season and MJ Melendez continues mashing, they could be interesting going forward.
Current best price: Royals
Tampa Bay Rays At Texas Rangers
Probably don't tail this because I can't win a bet fading the Rangers and I can't win a bet fading Martin Perez. I just can't help myself here, though. The Rangers have smacked lefties pretty nicely so far with a 111 wRC+ but I just can't see how that's sustainable with this lineup. Even their platoon bats — Sam Huff, Charlie Culberson, Andy Ibanez and Eli White — just don't move the needle for me. The Rays have a couple of legitimate right-handed stars in their lineup in Randy Arozarena and Wander Franco, both of whom have crushed lefties.
And when does Perez start to regress? I think some of his improvement is legitimate, from vastly increasing use of his sinker. But I expect something like a 3.7 ERA going forward — matching his 3.63 SIERA — and not the 1.6 ERA he's currently running.
Current best prices: Rays
Atlanta Braves At Arizona Diamondbacks
I simply can't get a Charlie Morton start right, and this looks like my latest L since the market moved the other way. He's a very tricky evaluation because his season numbers stink, but if you isolate since his May 8 start, his slash line (3.48 ERA/3.48 FIP/3.66 xFIP) looks basically how he was projected coming in. As his velocity and pitch mix looks normal, I'm not really sure whether the 38-year-old has hit a cliff or not. Regardless, even a diminished Morton should be far better than Humberto Castellanos, a replacement-level arm with replacement-level peripherals across the board.
The Braves offense should break out at some point. They have a league-average wOBA but Statcast says they've been rather unlucky, giving them the sixth-best xSLG and ninth-best xWOBA.
Current best price: Braves
What to know about using MLB Picks
Generally, when looking over these MLB lines and breakdowns, there are a few things to keep in mind.
First, it's a long season. There will be hot and cold streaks. Swings of 20+ units will happen. While I've had multiple winning seasons, there's no guarantee I'll come out ahead this year or any other. Always bet responsibly, and always line shop using our MLB page to find the best lines available at legal sportsbooks in your state. That will give you the best chance of turning a profit.
Furthermore, note that because of the process I'll be using (attacking overnight markets), lines may shift significantly by the time you read this if you're checking it out on game day. Hopefully the lines have moved in my favor, and if that's the case – use your best judgment as to whether you still think the bet is as good as the current line.
I'll base my plays heavily on starting pitchers, like most any MLB bettor. If you want to learn more about baseball so you can do your own handicapping, start with these resources breaking down a variety of useful metrics:
If you prefer your MLB previews in video form, subscribe to the YouTube channel of TheLines' sister site, PlayPicks. We'll go over daily breakdowns there with the Coast 2 Coast crew.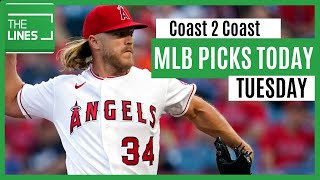 MLB Sportsbook Promos
If you are new to betting on MLB or new to betting on sports in general, a great way to get started is by taking advantage of one of the many sign-up offers online sportsbooks promote to new users like you. TheLines has partnered with many of these sportsbooks to help provide the very best promotions to pass along to you.
All you have to do is click on the link in the banners below and type in the promo code provided (if necessary), register a new account with the sportsbook, and you're on your way to getting risk-free bets, odds boosts and/or deposit matches, depending on which sportsbook and state you reside in.
RANK
OPERATOR
BONUS
INFO
ACTION