The MLB schedule is a long journey lasting more than half of the year. While that makes it a grind, it also makes it a tremendous betting opportunity. It gives our MLB picks ample time to build a sample and hopefully overcome variance, and it provides the biggest menu of bets (and potential value) when compared to almost any other sport.
For the 2022 MLB season, bettors interested in following some daily betting angles can find write-ups here.
Free Pick'Em Contests! Compete for prizes every day by entering our free betting games. MLB, UFC, golf and more!
MLB Picks For Wednesday, June 29
For ongoing discussion, betting adds, and other discourse around MLB bets, be sure to join our Discord. MLB picks will be posted there as they're made (so you can potentially get better prices), and many other bettors can help provide various angles.
San Diego Padres At Arizona Diamondbacks
Fading Madison Bumgarner seems to be a staple of my wagering this year and it's certainly one of the things that has gone consistently well. I like the matchup again today for a Padres offense that has been much better against left-handed pitching with a 108 wRC+. Even if Manny Machado sits, which I expect, the Padres should do well. Mike Clevinger has also been solid for the Padres when healthy. Both xERA (3.72) and SIERA (3.8) say he's done good work, and he has managed contact well with an 87.7 mph exit velocity and just four barrels allowed all season. His chases are down but they've never been a big part of his game and he should do fine against this weak offense.
Current best price: Padres
LA Dodgers At Colorado Rockies
Back to the well for the Rockies to round out this all-NL West card. They came through yesterday and I'm going to gun for the sweep with what looks like another plus matchup for this perennial underdog. I like that German Marquez seems to be peaking with his fastball velocity on the rise and two of his three best game scores coming in his last three games. Given his sterling track record, I'm willing to bet he's turning it around and becoming the pitcher he should be. On the other side of the ball, the Rockies hit lefties much, much better with a near elite 116 wRC+, which makes sense given their lineup. Lefty masher Kris Bryant being back in the fold helps, and Julio Urias' fly ball tendencies also play into the Rockies' hands given both their ground ball lean and the park.
Current best price: Rockies
What to know about using MLB Picks
Generally, when looking over these MLB lines and breakdowns, there are a few things to keep in mind.
First, it's a long season. There will be hot and cold streaks. Swings of 20+ units will happen. While I've had multiple winning seasons, there's no guarantee I'll come out ahead this year or any other. Always bet responsibly, and always line shop using our MLB page to find the best lines available at legal sportsbooks in your state. That will give you the best chance of turning a profit.
Furthermore, note that because of the process I'll be using (attacking overnight markets), lines may shift significantly by the time you read this if you're checking it out on game day. Hopefully the lines have moved in my favor, and if that's the case – use your best judgment as to whether you still think the bet is as good as the current line.
I'll base my plays heavily on starting pitchers, like most any MLB bettor. If you want to learn more about baseball so you can do your own handicapping, start with these resources breaking down a variety of useful metrics:
If you prefer your MLB previews in video form, subscribe to the YouTube channel of TheLines' sister site, PlayPicks. We'll go over daily breakdowns there with the Coast 2 Coast crew.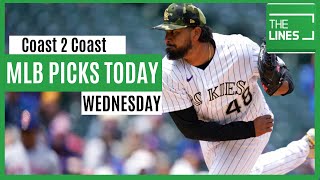 MLB Sportsbook Promos
If you are new to betting on MLB or new to betting on sports in general, a great way to get started is by taking advantage of one of the many sign-up offers online sportsbooks promote to new users like you. TheLines has partnered with many of these sportsbooks to help provide the very best promotions to pass along to you.
All you have to do is click on the link in the banners below and type in the promo code provided (if necessary), register a new account with the sportsbook, and you're on your way to getting risk-free bets, odds boosts and/or deposit matches, depending on which sportsbook and state you reside in.
RANK
OPERATOR
BONUS
INFO
ACTION