The MLB schedule is a long journey lasting more than half of the year. While that makes it a grind, it also makes it a tremendous betting opportunity. It gives our MLB picks ample time to build a sample and hopefully overcome variance, and it provides the biggest menu of bets (and potential value) when compared to almost any other sport.
For the 2022 MLB season, bettors interested in following some daily betting angles can find write-ups here.
Free Pick'Em Contests! Compete for prizes every day by entering our free betting games. NBA, MLB, golf and more!
MLB Picks For Monday, May 23
For ongoing discussion, betting adds, and other discourse around MLB bets, be sure to join our Discord. MLB picks will be posted there as they're made (so you can potentially get better prices), and many other bettors can help provide various angles.
Colorado Rockies At Pittsburgh Pirates
The market has backed the Pirates in a major way overnight, moving them from around -120 to closer to the -140 range. I think that has created some value on the Rockies here with the resurgent Chad Kuhl facing off against JT Brubaker. The two slider-centric right-handers have historically pitched on opposite ends of their peripherals with Kuhl outpitching them and Brubaker underpitching his numbers. Kuhl has even kicked his swinging strikes up to a career-best 12.5% while also hitting a career-best first-pitch strikes at 60%. He's just pitching pretty solidly and given the market's tendency to overrated Brubaker, I like the Rockies a bit down to +115.
Current best price: Rockies
Chicago Cubs At Cincinnati Reds
Drew Smyly has done a rather radical makeover in just one offseason. He has gone from a fly-ball pitcher who gets high strikeouts and high walks to a ground-baller with low strikeouts and low walks. Overall, the formula seems to be working. Despite a high homer-run rate, he has a 3.97 ERA and a 3.81 SIERA. He has cut use of his four-seamer, formerly his best pitch, in favor of his cutter and curve which perform better in more recent years. He's attacking hitters and getting a great first-pitch strike rate (71.2%) while also getting more chases. Only Zach Eflin has a lower exit velocity allow among qualified pitchers. I'm optimistic the performance bump is real, and Vlad Gutierrez is a sub-replacement level arm.
Current best price: Cubs
Philadelphia Phillies At Atlanta Braves
I got in at a great price on the Phils but I still think this one's bettable despite some steam in my favor. I'm not a big believer in Tucker Davidson. The lefty is just a bit better than replacement level and the Phillies have done solid work against them despite building a lot of their offense around Bryce Harper and Kyle Schwarber. Alec Bohm, Nick Castellanos and Rhys Hoskins have all hit significantly better against opposite-handed pitching. And Zack Wheeler, despite a bit of a slow start in terms of runs allowed, looks mostly about the same as last year even with a velocity dip. That has started to correct back upwards and I expect borderline elite performance from here on out.
Current best price: Phillies
What to know about using MLB Picks
Generally, when looking over these MLB lines and breakdowns, there are a few things to keep in mind.
First, it's a long season. There will be hot and cold streaks. Swings of 20+ units will happen. While I've had multiple winning seasons, there's no guarantee I'll come out ahead this year or any other. Always bet responsibly, and always line shop using our MLB page to find the best lines available at legal sportsbooks in your state. That will give you the best chance of turning a profit.
Furthermore, note that because of the process I'll be using (attacking overnight markets), lines may shift significantly by the time you read this if you're checking it out on game day. Hopefully the lines have moved in my favor, and if that's the case – use your best judgment as to whether you still think the bet is as good as the current line.
I'll base my plays heavily on starting pitchers, like most any MLB bettor. If you want to learn more about baseball so you can do your own handicapping, start with these resources breaking down a variety of useful metrics:
If you prefer your MLB previews in video form, subscribe to the YouTube channel of TheLines' sister site, PlayPicks. We'll go over daily breakdowns there with the Coast 2 Coast crew.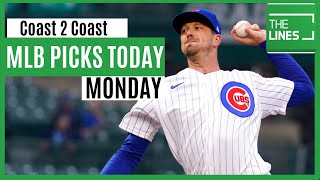 MLB Sportsbook Promos
If you are new to betting on MLB or new to betting on sports in general, a great way to get started is by taking advantage of one of the many sign-up offers online sportsbooks promote to new users like you. TheLines has partnered with many of these sportsbooks to help provide the very best promotions to pass along to you.
All you have to do is click on the link in the banners below and type in the promo code provided (if necessary), register a new account with the sportsbook, and you're on your way to getting risk-free bets, odds boosts and/or deposit matches, depending on which sportsbook and state you reside in.
RANK
OPERATOR
BONUS
INFO
ACTION