The MLB schedule is a long journey lasting more than half of the year. While that makes it a grind, it also makes it a tremendous betting opportunity. It gives our MLB picks ample time to build a sample and hopefully overcome variance, and it provides the biggest menu of bets (and potential value) when compared to almost any other sport.
For the 2022 MLB season, bettors interested in following some daily betting angles can find write-ups here.
Free Pick'Em Contests! Compete for prizes every day by entering our free betting games. NFL, NBA, college basketball and more!
MLB Picks For Thursday, May 26
For ongoing discussion, betting adds, and other discourse around MLB bets, be sure to join our Discord. MLB picks will be posted there as they're made (so you can potentially get better prices), and many other bettors can help provide various angles.
Chicago Cubs At Cincinnati Reds
Hunter Greene has already cost me several times this year, but I suppose this is what happens when you have a SIERA under 4 but an ERA north of 6 for much of the season. Greene has had the flammable combo of too many walks and too many homers. His 12.3% walk rate seems inflated considering his zone% is normal and his first-strike rate isn't the worst. His home run rate looks insane at 2.75 per 9 although he's allowing way too many high-value barrels (average launch angle of 20 degrees). The good news: he has recently started throwing his slider — worth -6 runs according to Statcast — more than his four-seamer, worth +9 runs (remember, negative is good for pitchers).
Hopefully, he can keep using this formula to succeed as his last two starts have been pretty encouraging with two runs allowed in 13.1 IP. The market certainly seems to agree the Reds were underpriced. I'd bet them to -105.
Current best price: Reds
Kansas City Royals At Minnesota Twins
After a rough debut in 2021, Daniel Lynch has looked quite a bit better this year for the Royals. The talented lefty (No. 74 prospect in MLB per FanGraphs) has bounced back a bit, hitting the zone more frequently, getting more swinging strikes and inducing more chases. He's looking like a viable pitcher with a 4.06 xERA after a 6.35 last year. It's not thrilling to back a mediocre lefty against the Twins, who hammer southpaws so far, but they are throwing an even less impressive lefty in Devin Smeltzer. Smeltzer features a sub-90 heater and his future probably lies in the bullpen. He has more walks than Ks in his 10.1 innings this year and sports a career 4.73 SIERA despite pitching out of the pen frequently.
This price just looks like too much to lay on a pitcher in whom you can't have any confidence.
Current best price: Royals
Toronto Blue Jays At LA Angels
A pitcher in whom you can have confidence: Shohei Ohtani. He's been unreal so far with ERA estimators all under 3 and a whopping 16.3% of his pitches ending with whiffs. Don't worry, he's also cut his walks to a career-best level. This would have looked like a tough matchup for him at the start of the season, but the Jays lineup has disappointed to a staggering degree, stumbling out of the gate to a 96 wRC+. The Angels, on the other hand, have crushed the baseball and lead MLB with a 118 wRC+. Hyun Jin Ryu has really struggled this year after a poor season by his standards in 2021. His called strike+whiff rate has crashed to 23.2%, five points below his career average. Unless his figures it out in a hurry, the Angels look way underpriced here.
Current best price: Angels
What to know about using MLB Picks
Generally, when looking over these MLB lines and breakdowns, there are a few things to keep in mind.
First, it's a long season. There will be hot and cold streaks. Swings of 20+ units will happen. While I've had multiple winning seasons, there's no guarantee I'll come out ahead this year or any other. Always bet responsibly, and always line shop using our MLB page to find the best lines available at legal sportsbooks in your state. That will give you the best chance of turning a profit.
Furthermore, note that because of the process I'll be using (attacking overnight markets), lines may shift significantly by the time you read this if you're checking it out on game day. Hopefully the lines have moved in my favor, and if that's the case – use your best judgment as to whether you still think the bet is as good as the current line.
I'll base my plays heavily on starting pitchers, like most any MLB bettor. If you want to learn more about baseball so you can do your own handicapping, start with these resources breaking down a variety of useful metrics:
If you prefer your MLB previews in video form, subscribe to the YouTube channel of TheLines' sister site, PlayPicks. We'll go over daily breakdowns there with the Coast 2 Coast crew.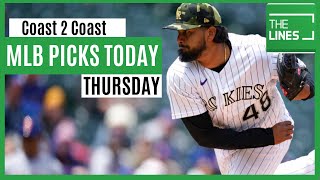 MLB Sportsbook Promos
If you are new to betting on MLB or new to betting on sports in general, a great way to get started is by taking advantage of one of the many sign-up offers online sportsbooks promote to new users like you. TheLines has partnered with many of these sportsbooks to help provide the very best promotions to pass along to you.
All you have to do is click on the link in the banners below and type in the promo code provided (if necessary), register a new account with the sportsbook, and you're on your way to getting risk-free bets, odds boosts and/or deposit matches, depending on which sportsbook and state you reside in.
RANK
OPERATOR
BONUS
INFO
ACTION