The MLB schedule is a long journey lasting more than half of the year. While that makes it a grind, it also makes it a tremendous betting opportunity. It gives our MLB picks ample time to build a sample and hopefully overcome variance, and it provides the biggest menu of bets (and potential value) when compared to almost any other sport.
For the 2022 MLB season, bettors interested in following some daily betting angles can find write-ups here.
Free Pick'Em Contests! Compete for prizes every day by entering our free betting games. NFL, MLB, golf and more!
MLB Picks For Tuesday, May 17
For ongoing discussion, betting adds, and other discourse around MLB bets, be sure to join our Discord. MLB picks will be posted there as they're made (so you can potentially get better prices), and many other bettors can help provide various angles.
Cincinnati Reds At Cleveland Guardians
Only a lunatic would get in line to bet on a 28-year-old non-prospect pitching for the worst team in MLB but that's exactly what I'm doing here. Connor Overton is as unexciting as they come, projecting a hair above replacement-level and failing to miss almost any bats so far in the show. However, Zach Plesac doesn't project much better. He's working on his second straight season of about a 4.7 SIERA. His only good performance came in the pandemic-shortened 2020 season — he was also pretty poor in his only other MLB season in 2019. He's just a below-average pitcher who is working with a fastball more than a full tick worse than his career velocity, and I don't think the Guardians' offense is far enough ahead of Cincy's — they're actually hitting with a 102 wRC+ since May 1 — to merit being this large of favorites.
Current best price: Reds
Seattle Mariners At Toronto Blue Jays
I tried the Mariners yesterday and it worked out poorly as they failed to get to Yusei Kikuchi. Alas, I'm back at the well here due to the massive struggles of Jose Berrios. Normally he lives up to his nickname "The Machine," but Berrios seems to have fallen apart completely unexpectedly in 2022. The biggest issue seems to stem from leaving too many pitches in the zone, specifically in the inner to middle parts to righties. Berrios' zone rate has jumped from around 51% most seasons to above 56% this season and batters are teeing off with a whopping 13.3% barrel rate. The Mariners make excellent contact in the zone, ranking fourth. I think they could also take advantage of a depleted Toronto relief corps here. The status of closer Jordan Romano looks cloudy due to an illness, while set-up man Tim Mayza just hit the IL.
Current best price: Mariners
Pittsburgh Pirates At Chicago Cubs
The Pirates failed to come home for me yesterday, and today, I'm swapping sides and betting the Cubs. Keegan Thompson has been a horrible starter for them but has performed much better since the team moved him to a multi-inning relief role. Small samples, but his wOBA allowed is more than 100 points better in relief. Statcast likes his work there this year, with a 2.94 xERA. A bullpen game from the Cubs rates to play out a bit better than the pitching of JT Brubaker, who just can't seem to pitch to his peripherals. The market agrees with this play and the line has moved in my favor, but I think there's still room to play it below -145.
Current best price: Cubs
LA Angels At Texas Rangers
Two mediocre lefties take the hill in this one, but I'm much more bullish on two things that point me to the Angels. For one, Reid Detmers just has way more talent than Taylor Hearn. No-hitter and .174 BABIP luck aside, Statcast thinks he has at least earned a decent performance with a 3.84 xERA. Hearn not so much with a 5.97 mark there. He has missed more bats than Detmers but has also been barreled up frequently at 16.2% with a hefty 91.4 mph average exit velocity. The reason he misses bats is he has a nice slider that he fires away at a 31% clip, but that's the other place I have concern for him in this matchup. The Angels have a couple of the best lefty killers in Mike Trout and Anthony Rendon, and any barrels they get are likely to go a long way here. Both teams have hit lefties well, I just have more confidence the Angels' performance has more sustainability behind it.
Current best price:
What to know about using MLB Picks
Generally, when looking over these MLB lines and breakdowns, there are a few things to keep in mind.
First, it's a long season. There will be hot and cold streaks. Swings of 20+ units will happen. While I've had multiple winning seasons, there's no guarantee I'll come out ahead this year or any other. Always bet responsibly, and always line shop using our MLB page to find the best lines available at legal sportsbooks in your state. That will give you the best chance of turning a profit.
Furthermore, note that because of the process I'll be using (attacking overnight markets), lines may shift significantly by the time you read this if you're checking it out on game day. Hopefully the lines have moved in my favor, and if that's the case – use your best judgment as to whether you still think the bet is as good as the current line.
I'll base my plays heavily on starting pitchers, like most any MLB bettor. If you want to learn more about baseball so you can do your own handicapping, start with these resources breaking down a variety of useful metrics:
If you prefer your MLB previews in video form, subscribe to the YouTube channel of TheLines' sister site, PlayPicks. We'll go over daily breakdowns there with the Coast 2 Coast crew.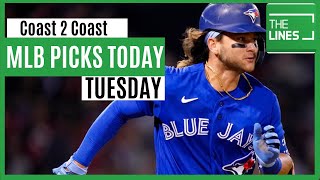 MLB Sportsbook Promos
If you are new to betting on MLB or new to betting on sports in general, a great way to get started is by taking advantage of one of the many sign-up offers online sportsbooks promote to new users like you. TheLines has partnered with many of these sportsbooks to help provide the very best promotions to pass along to you.
All you have to do is click on the link in the banners below and type in the promo code provided (if necessary), register a new account with the sportsbook, and you're on your way to getting risk-free bets, odds boosts and/or deposit matches, depending on which sportsbook and state you reside in.
RANK
OPERATOR
BONUS
INFO
ACTION