The MLB schedule is a long journey lasting more than half of the year. While that makes it a grind, it also makes it a tremendous betting opportunity. It gives our MLB picks ample time to build a sample and hopefully overcome variance, and it provides the biggest menu of bets (and potential value) when compared to almost any other sport.
For the 2022 MLB season, bettors interested in following some daily betting angles can find write-ups here.
Free Pick'Em Contests! Compete for prizes every day by entering our free betting games. NBA, MLB, golf and more!
MLB Picks For Thursday, June 2
For ongoing discussion, betting adds, and other discourse around MLB bets, be sure to join our Discord. MLB picks will be posted there as they're made (so you can potentially get better prices), and many other bettors can help provide various angles.
San Francisco Giants At Miami Marlins
Sandy Alcantara is a tremendous pitcher off to a great start with a 2 ERA and a 2.54 xERA. Even projecting him to beat his peripherals, which I'm baking in, I don't have him that far ahead of Alex Wood, though. The computers agree, giving them similar projections. Wood's 4.81 ERA looks ugly but his estimators are all normal, with a 3.4 SIERA his best ever. He has dropped some swinging strikes but not enough for me to be super concerned. The Marlins stink against lefties with the second-worst wRC+ so far after being fourth-worst last year.
Given the close pitching and the Giants' edges on offense and in the bullpen, I can't get Miami to being this big of favorites and like the Giants down to +110.
Current best price: Giants
San Diego Padres At Milwaukee Brewers
It'll be a theme throughout these picks, but here we have another team that doesn't hit lefties well. This time, the Brewers, who has the fourth-worst wRC+ thus far and have definitely built their team with more of a left-leaning lineup. The top lefty killer on the team, Hunter Renfroe, is on the shelf, so that doesn't help. And they face a good lefty in Sean Manaea here. I have him rated significantly better than Adrian Houser, but I do foresee some success for Houser since his grounder-heavy ways match up well with the grounder-heavy Pads lineup. Under isn't a bad look here either.
The market has moved with me here, and I'd only bet this at better than -110.
Current best prices: Padres
Chicago Cubs At St. Louis Cardinals
I'm backing yet another lefty here in Matthew Liberatore. This is mostly a bet on the projections. The computers don't hate Liberatore but they really don't like Keegan Thompson, who has been good so far. But, he has little minor league or prospect pedigree and will probably regress pretty heavily, especially that LOB% north of 93. Top hitter Seiya Suzuki is out injured for the Cubs, and Ian Happ will flip around and bat from his much weaker right side here against Liberatore. The rookie has struggled with walks, but the top of the Cubs lineup is not particularly disciplined or scary without Suzuki, and Liberatore's defense will clean up some of his mistakes.
Current best price: Cardinals
What to know about using MLB Picks
Generally, when looking over these MLB lines and breakdowns, there are a few things to keep in mind.
First, it's a long season. There will be hot and cold streaks. Swings of 20+ units will happen. While I've had multiple winning seasons, there's no guarantee I'll come out ahead this year or any other. Always bet responsibly, and always line shop using our MLB page to find the best lines available at legal sportsbooks in your state. That will give you the best chance of turning a profit.
Furthermore, note that because of the process I'll be using (attacking overnight markets), lines may shift significantly by the time you read this if you're checking it out on game day. Hopefully the lines have moved in my favor, and if that's the case – use your best judgment as to whether you still think the bet is as good as the current line.
I'll base my plays heavily on starting pitchers, like most any MLB bettor. If you want to learn more about baseball so you can do your own handicapping, start with these resources breaking down a variety of useful metrics:
If you prefer your MLB previews in video form, subscribe to the YouTube channel of TheLines' sister site, PlayPicks. We'll go over daily breakdowns there with the Coast 2 Coast crew.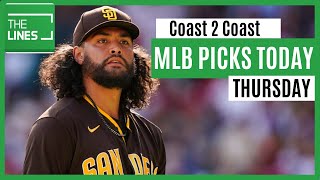 MLB Sportsbook Promos
If you are new to betting on MLB or new to betting on sports in general, a great way to get started is by taking advantage of one of the many sign-up offers online sportsbooks promote to new users like you. TheLines has partnered with many of these sportsbooks to help provide the very best promotions to pass along to you.
All you have to do is click on the link in the banners below and type in the promo code provided (if necessary), register a new account with the sportsbook, and you're on your way to getting risk-free bets, odds boosts and/or deposit matches, depending on which sportsbook and state you reside in.
RANK
OPERATOR
BONUS
INFO
ACTION