The MLB schedule is a long journey lasting more than half of the year. While that makes it a grind, it also makes it a tremendous betting opportunity. It gives our MLB picks ample time to build a sample and hopefully overcome variance, and it provides the biggest menu of bets (and potential value) when compared to almost any other sport.
For the 2022 MLB season, bettors interested in following some daily betting angles can find write-ups here.
Free Pick'Em Contests! Compete for prizes every day by entering our free betting games. NFL, MLB, golf and more!
MLB Picks For Thursday, July 14
For ongoing discussion, betting adds, and other discourse around MLB bets, be sure to join our Discord. MLB picks will be posted there as they're made (so you can potentially get better prices), and many other bettors can help provide various angles.
Atlanta Braves At Washington Nationals
Anibal Sanchez represents a rather unique and interesting case from a projections perspective. It's not often we find 38-year-old pitchers coming in to start two years removed from last throwing a major league pitch. But that's where Sanchez sits, and he was poor when we last saw him with a 6.62 ERA and mid-5s estimators. It seems hard to believe he's still an MLB-caliber arm and I see some pretty big blowout potential in the Braves' favor here. Along that same line of thinking, the Nationals just lost one of their high-leverage relievers, Tanner Rainey, and the pen was already poor.
I laid the big juice, but I think given the high total and the large potential right tail to Sanchez's outcomes, you can attack this a number of ways. I don't mind playing the Braves on runlines, alternate run-lines, or parlaying with the over as a correlation play.
Current best price: Braves
Seattle Mariners At Texas Rangers
The Rangers just continue to mash lefties. They have raised themselves up to third in MLB with a 118 wRC+ thanks to the likes of Marcus Semien and Jonah Heim. Today's matchup looks particularly good for them against slow-balling southpaw Marco Gonzales. With his fastball reaching the Dallas Keuchel threshold of no longer being MLB-caliber, Gonzales has leaned all the way into his excellent changeup, throwing it 33% of the time (most in his arsenal) after just 20% last year. Texas excels against the cambio, ranking third again, and they hit sinkers quite well too.
The market has moved with this play. I wouldn't bet it past -125, which means the current price is right on the border.
Current best price: Rangers
Houston Astros At LA Angels
The Angels are a complete wreck compared to what they looked like early in the season, at least presuming Mike Trout sits once again with an ailing back. Yet another superhero performance from Shohei Ohtani carried them to victory yesterday but he's only playing one side of the ball today. With something called Michael Stefanic batting leadoff and the likes of Jo Adell (career wRC+ of 69), Kurt Suzuki (76 wRC+ last year), and David Mackinnon (career wRC+ of 54) in today's projected lineup, slim pickings remain.
That shouldn't play against the borderline elite Framber Valdez, especially with the Angels poor against lefties (24th in wRC+) and against sinkers (26th) and curves (27th). Even without Yordan Alvarez, I see a big edge here for the Astros, and the market agreed, betting this all the way to -190 this morning before a bit of buy back settled the line. I agree with the initial move and would bet this to -190.
Current best price: Astros
What to know about using MLB Picks
Generally, when looking over these MLB lines and breakdowns, there are a few things to keep in mind.
First, it's a long season. There will be hot and cold streaks. Swings of 20+ units will happen. While I've had multiple winning seasons, there's no guarantee I'll come out ahead this year or any other. Always bet responsibly, and always line shop using our MLB page to find the best lines available at legal sportsbooks in your state. That will give you the best chance of turning a profit.
Furthermore, note that because of the process I'll be using (attacking overnight markets), lines may shift significantly by the time you read this if you're checking it out on game day. Hopefully the lines have moved in my favor, and if that's the case – use your best judgment as to whether you still think the bet is as good as the current line.
I'll base my plays heavily on starting pitchers, like most any MLB bettor. If you want to learn more about baseball so you can do your own handicapping, start with these resources breaking down a variety of useful metrics:
If you prefer your MLB previews in video form, subscribe to the ThLines' YouTube channel. We'll go over daily breakdowns there with the Coast 2 Coast crew.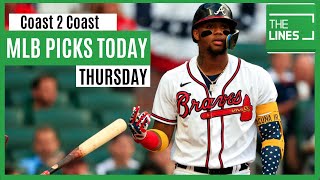 MLB Sportsbook Promos
If you are new to betting on MLB or new to betting on sports in general, a great way to get started is by taking advantage of one of the many sign-up offers online sportsbooks promote to new users like you. TheLines has partnered with many of these sportsbooks to help provide the very best promotions to pass along to you.
All you have to do is click on the link in the banners below and type in the promo code provided (if necessary), register a new account with the sportsbook, and you're on your way to getting risk-free bets, odds boosts and/or deposit matches, depending on which sportsbook and state you reside in.
RANK
OPERATOR
BONUS
INFO
ACTION