The MLB schedule is a long journey lasting more than half of the year. While that makes it a grind, it also makes it a tremendous betting opportunity. It gives our MLB picks ample time to build a sample and hopefully overcome variance, and it provides the biggest menu of bets (and potential value) when compared to almost any other sport.
For the 2022 MLB season, bettors interested in following some daily betting angles can find write-ups here.
Free Pick'Em Contests! Compete for prizes every day by entering our free betting games. MLB, UFC, golf and more!
MLB Picks For Wednesday, July 27
For ongoing discussion, betting adds, and other discourse around MLB bets, be sure to join our Discord. MLB picks will be posted there as they're made (so you can potentially get better prices), and many other bettors can help provide various angles.
Houston Astros At Oakland A's
The Astros skunked me yesterday due to a combination of poor sequencing and playing their little league lineup. I'm hoping the latter situation and the two-game skid means the starters will be out there again today and they'll take this one seriously. Assuming that's the case, the offense should do fine against a middling starter in Cole Irvin.
But where I really see the Astros having an edge is on the other side of the ball, with Cristian Javier facing a right-handed heavy lineup of the A's. Javier has been incredibly dominant against right-handed batters in his career with a .249 wOBA allowed. That has increased only slightly to .259 this year as he has pitched less out of the pen. The lefties the A's do have — Stephen Vogt, Vimael Machin and Tony Kemp — scare absolutely nobody, so Javier should have his way today.
Current best price: Astros
Miami Marlins At Cincinnati Reds
I've nailed the first two games in this series, so why not try to make it three in a row?
A rare official totals play from me, but I really don't see these offenses getting much done against these starting pitchers. Luis Castillo has been incredible of late, even better than usual since increasing his fastball usage to more than 40%. It's been his best pitch with a 1.77 pitch value per 100 and he's up to 98 on it as his velocity has slowly crept up from the 94 he sat early in the season. The punchless, injury-ravaged Marlins lineup should have little chance. And on the other side, Braxton Garrett has been pretty great for the Fish. It's pretty tough to fake a 37.8% chase rate and a 31.2% called strike+whiff rate. These are elite figures. The bullpens and the park bring some danger here, but I'll be surprised if these offenses have any real success.
The market seems to be creeping to the over, though, so you might get a better number than I did.
Current best price: Under
Tampa Bay Rays At Baltimore Orioles
Tyler Wells has been an elite horse and I'm not abandoning him after a couple of subpar recent starts. I have him rated slightly better than Drew Rasmussen, and combined with home field, it was enough to nudge me to a small wager on the Orioles. The market just still seems to be a bit behind on the Orioles after they already won the first two games in this series as small underdogs. When looking over these lineups in particular, I just don't see much reason to expect the Rays to hit significantly better. The bottom of the lineup is atrocious, filled with guys who really have no business as anything but defensive subs. Even a guy like Isaac Paredes, who was producing big time, has a .291 xWOBA and has meaningfully outperformed his Statcast numbers.
I had this as wrong team favored when the Orioles were underdogs in the overnight markets, but at anything minus, I can't recommend a play. Keep an eye out for any buy back here.
Current best price: Orioles
St. Louis Cardinals At Toronto Blue Jays
Not an exciting spot here and the market does not seem to be a fan of this play. I just have a hard time getting the Jays quite this big of favorites even without Paul Goldschmidt and Nolan Arenado on the field. The Cardinals still have some solid hitters in Dylan Carlson, Tommy Edman, Nolan Gorman and Tyler O'Neill. Yes, Kevin Gausman is great. But basically, with a solid starter on the mound in Adam Wainwright and an MLB-caliber lineup — the unvaxed Royals this is not — I had the Jays at -200. So, if you can get +215 or better, this is worth a small play, although it's admittedly a tough game to handicap.
Current best price: Cardinals
What to know about using MLB Picks
Generally, when looking over these MLB lines and breakdowns, there are a few things to keep in mind.
First, it's a long season. There will be hot and cold streaks. Swings of 20+ units will happen. While I've had multiple winning seasons, there's no guarantee I'll come out ahead this year or any other. Always bet responsibly, and always line shop using our MLB page to find the best lines available at legal sportsbooks in your state. That will give you the best chance of turning a profit.
Furthermore, note that because of the process I'll be using (attacking overnight markets), lines may shift significantly by the time you read this if you're checking it out on game day. Hopefully the lines have moved in my favor, and if that's the case – use your best judgment as to whether you still think the bet is as good as the current line.
I'll base my plays heavily on starting pitchers, like most any MLB bettor. If you want to learn more about baseball so you can do your own handicapping, start with these resources breaking down a variety of useful metrics:
If you prefer your MLB previews in video form, subscribe to the ThLines' YouTube channel. We'll go over daily breakdowns there with the Coast 2 Coast crew.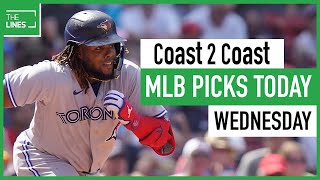 MLB Sportsbook Promos
If you are new to betting on MLB or new to betting on sports in general, a great way to get started is by taking advantage of one of the many sign-up offers online sportsbooks promote to new users like you. TheLines has partnered with many of these sportsbooks to help provide the very best promotions to pass along to you.
All you have to do is click on the link in the banners below and type in the promo code provided (if necessary), register a new account with the sportsbook, and you're on your way to getting risk-free bets, odds boosts and/or deposit matches, depending on which sportsbook and state you reside in.
RANK
OPERATOR
BONUS
INFO
ACTION