The MLB schedule is a long journey lasting more than half of the year. While that makes it a grind, it also makes it a tremendous betting opportunity. It gives our MLB bets ample time to build a sample and hopefully overcome variance, and it provides the biggest menu of bets (and potential value) when compared to almost any other sport.
For the 2022 MLB season, bettors interested in following some daily betting angles can find write-ups here.
MLB Bets For Monday, May 16
For ongoing discussion, betting adds, and other discourse around MLB bets, be sure to join our Discord. Bets will be posted there as they're made (so you can potentially get better prices), and many other bettors can help provide various angles.
Seattle Mariners At Toronto Blue Jays
Current best price: Mariners
Houston Astros At Boston Red Sox
Current best price: Red Sox
Pittsburgh Pirates At Chicago Cubs
Current best price: Pirates
What to know about using MLB bets
Generally, when looking over these MLB lines and breakdowns, there are a few things to keep in mind.
First, it's a long season. There will be hot and cold streaks. Swings of 20+ units will happen. While I've had multiple winning seasons, there's no guarantee I'll come out ahead this year or any other. Always bet responsibly, and always line shop using our MLB page to find the best lines available at legal sportsbooks in your state. That will give you the best chance of turning a profit.
Furthermore, note that because of the process I'll be using (attacking overnight markets), lines may shift significantly by the time you read this if you're checking it out on game day. Hopefully the lines have moved in my favor, and if that's the case – use your best judgment as to whether you still think the bet is as good as the current line.
I'll base my plays heavily on starting pitchers, like most any MLB bettor. If you want to learn more about baseball so you can do your own handicapping, start with these resources breaking down a variety of useful metrics:
If you prefer your MLB previews in video form, subscribe to the YouTube channel of TheLines' sister site, PlayPicks. We'll go over daily breakdowns there with the Coast 2 Coast crew.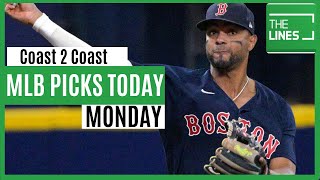 MLB Sportsbook Promos
If you are new to betting on MLB or new to betting on sports in general, a great way to get started is by taking advantage of one of the many sign-up offers online sportsbooks promote to new users like you. TheLines has partnered with many of these sportsbooks to help provide the very best promotions to pass along to you.
All you have to do is click on the link in the banners below and type in the promo code provided (if necessary), register a new account with the sportsbook, and you're on your way to getting risk-free bets, odds boosts and/or deposit matches, depending on which sportsbook and state you reside in.
RANK
OPERATOR
BONUS
INFO
ACTION