Continuing the theme of variety after last week's team event, the PGA TOUR shakes things up once again. This time, it heads over to Puerto Vallarta, Mexico for the inaugural 2022 Mexico Open at Vidanta. It's a welcomed return back to the usual individual stroke play format we're used to seeing. As always, we'll take a look at the Mexico Open odds in our course preview.
With no prior course history or event history draw from, we have to take a different approach this week. But, we've still got you covered in this tournament preview for all the need-to-know stats and characteristics of this course before Mexico Open at Vidanta odds are released.
MEXICO OPEN ODDS: THE FAVORITES
Scroll to the bottom for complete outright odds and to compare prices across legal U.S. sportsbooks in your state. When the full odds hit the board on Monday, you can find the top favorites listed here.
THE FIELD AT A GLANCE
This week marks a difficult position on the TOUR schedule for the big names. Most of the elites skipped the Zurich Classic, but Puerto Vallarta still sits 2,500 miles away from next week's Wells Fargo Championship. That's roughly the same as a trip from LA to NY. Wells Fargo will also offer a purse of $9M to its field versus the $7.3M at stake at the Mexico Open. Combine that with all the complications that come with international travel these days, and you've got a recipe for an empty field.
Somewhat inexplicably, former world No. 1 Jon Rahm has elected to make the trip. He will be a man amongst boys in this field, despite some lackluster recent form. Of all the players in the field, only Rahm ranks in the top 30 in terms of SG: TOT over the last 36 rounds. Yikes.
Abraham Ancer, Daniel Berger and Tony Finau join Rahm as the only others here to rank inside the OWGR rankings top 25. Looking at the top 75 golfers, the field also includes Kevin Na, Patrick Reed, Cameron Tringale, Christiaan Bezuidenhout and Sebastian Munoz.
Over the last 50 rounds, Rahm ranks first in Total Strokes Gained with 93.1. Daniel Berger ranks second with 57.1, and Mark Hubbard (!) third with 43.8. The difference between No. 1 and 3 is the same as the difference between No. 3 and No. 66, Rafa Cabrera Bello. Despite Rahm's and Berger's presences, I would expect this to rank as the weakest non-opposite field event that we see in 2022.
INTRODUCTION TO VIDANTA VALLARTA
From the information available, we know the course will be long, just under 7,500 yards at sea level with slow and sticky Paspalum grass throughout. High winds could come into play sitting just off the Pacific Ocean coast line. That will favor the players with the longest carry distance and will set up a second-shot course with emphasis on strong approach play. As for putting, Paspalum greens tend to act as a great neutralizer to both weak and strong putters alike.
So, it's actually pretty easy to narrow down the player pool this week. Of the "bombers with great irons" group, we can target a subset of Latino golfers who are ambassadors of the game in Spanish-speaking countries. Sergio Garcia, Jhonattan Vegas, Joaquin Niemann and Mito Pereira fit. We can also look at elite ball strikers who've found success on recent resort, bomber courses like Viktor Hovland, Bryson DeChambeau, Sam Burns and Will Zalatoris. This course should, however, open itself up to volatility. So, it's also a great opportunity for young hitters like Taylor Pendrith, Lucas Herbert and Cameron Young to notch a win against a very beatable field.
Wait, what's that? Not a single one of those players are in the field this week? Well damn, maybe this will be more a challenge than we thought.
At least we know a bit about the course, thanks to its designer, Greg Norman.
Norman has designed over 100 courses across the world. That portfolio spans from this week's course, a signature, and one of his nicest works, to Pompano Beach Municipal Golf Course. That one is…less nice, but one I play very often when I'm in Florida. That qualifies me as a Greg Norman course expert.
The Greg Norman Signature
Norman's footprint spans predominantly across resort properties, bringing a player-friendly feel that does not require a ton of risk-reward decision making. In the months leading up to this event, Vidanta has made concerted efforts to add some bite to this course and present more of a test to professionals. To do so, they've converted two par 5s to long par 4s and transformed from a par 73 to a par 71. They've also overhauled and reconstructed the 55 bunkers on property and lengthened the course by about 200 yards.
The course is described as having large landing areas off the tee, but is dotted with numerous bunkers and consistent water hazards in play for approach shots. So, it looks like a bona fide second-shot course where players can freely hit driver off the tee for all par 4s and par 5s.
With no penalty from the rough and wide open fairways, it's definitely advantage, bombers this week. Particularly those with the longest carry distance, as we expect little rollout on sticky fairways. Long hitters, elite approach players and situationally strong players from out of the sand will make up the ideal profile.
If we take the tournament operators at their word, they believe the course's length and susceptibility to wind will be its best defense. We've seen, however, that courses which rely on distance and the elements have actually not done much to impose PGA TOUR-level talents. That profile fit at Caves Valley, the Plantation Course at Kapalua and TPC Craig Ranch. Each surrendered winning scores of at least -25 this past year. Assuming winds are not significant, I expect a similar range of -22 to -25 as the winning score this week.
VIDANTA VILLARTA COURSE SPECS
Yards: 7,456
Par: 71 (5x 3s / 9x 4s / 4x 5s)
Greens: Paspalum
Architect: Greg Norman
Comp Courses: TPC Craig Ranch, Coco Beach, Corales, Caves Valley, Congaree, Plantation Course at Kapalua, CC of Jackson, TPC Louisiana
Hole-by-hole Breakdown:
COURSE COMPS
Obviously, we'll skip past the usual course horses section. Instead, let's dive a bit further into comp courses. It becomes paramount to identify the correct comp courses as a reference. In the case of Vidanta Vallarta, there is a solid list of comp courses we've seen in recent years that ask for a similar profile of bombing off the tee with little penalty for missed fairways, and instead emphasize strong approach play and making a high percentage of putts.
The Best Comp Courses
Coco Beach, host of the Puerto Rico Open and Corales Golf Club, host of the Corales Puntacana Championship are the two clear-cut best comps. Each are resort-style courses exposed to high winds, featuring Paspalum grass throughout. They also each rely on distance as their core defense, each sitting at over 7,400 yards. For the most part, they do not penalize players for wayward drives off the tee. And as an added bonus, each annually draws some of the weakest fields we see all year.
Previous winners of the Corales Puntacana Championship and Puerto Rico Open in the field this week include Chad Ramey, Ryan Brehm, Martin Trainer, D.A Points, Tony Finau, Graeme McDowell, Brice Garnett and Scott Brown. The top-10 players in SG: TOT between these two courses are Nate Lashley, Garnett, Ramey, Emiliano Grillo, Alex Smalley, Aaron Baddeley, Andrew Putnam, Vincent Whaley, Kelly Kraft and Brandon Wu.
Between these two comps, I expect Vidanta Vallarta to play most like Coco Beach. At Corales, shorter hitters have been able to find as much success as the bombers. Ramey, Joel Dahmen, McDowell and Garnett have won in five of its first six years. Corales gets a majority of its length from several 600-plus yard par 5s. That neutralizes some of the distance advantage when no players can reach in two. At Coco Beach, we've seen more success from bombers like Brehm, Viktor Hovland and Finau.
Other Comp Courses
I think it's important to also look beyond these two comps and glean further insights from similar courses equipped with ShotLink data. We may get a more holistic view of translatable performance.
TPC Craig Ranch came to mind when considering comps in the continental US. Like Vidanta Vallarta, TPC Craig Ranch was a very player-friendly course which attempted to toughen up for tournament play by extending tee boxes in its first year. Despite record rainfall, it featured minimal rollout on Zoysia fairways and rewarded players with long carry distance. Daniel Berger, Scott Stallings and Joseph Bramlett logged top-10 finishes at the 2021 Byron Nelson. All will play this week.
Caves Valley also presents an interesting comp as a brand new course in 2021 which relied on length as its main defense. It could not prevent the longest of hitters from bombing and gouging it into a birdie-fest anyway. Caves Valley featured extreme elevation changes and thick rough, the antithesis of Vidanta Vallarta's identity. But, I believe the same profile of player will find success.
Congaree was another new TOUR addition which favored bombers with generously wide fairways, although it played significantly firmer and faster than this week's event will. The Plantation Course at Kapaulua, CC of Jackson and TPC Louisiana round out a list of comp courses which favor the longest hitters in the field and discount the need for driving accuracy or elite skillsets around the green.
Comp Course Performers
Combine performance across each of these comps, and the top-10 players in Comp Course History from this week's field are Jon Rahm, Daniel Berger, Nata Lashley, Alex Smalley, JT Poston, Joseph Bramlett, Pat Perez, Emiliano Grillo, Chad Ramey and Patrick Reed.
Lastly, it's worth noting that Vidanta Vallarta could not be any more opposite to the other two PGA TOUR courses we see in Mexico. Although Mayakoba El Camaleon in Riviera Maya is another Paspalum Greg Norman course, it plays about 600 yards shorter and rewards an entirely different style of play. Club de Golf Chapultepec, former host of the WGC Mexico in Mexico City, offered a much more complete test of golf on Poa greens and thick Kikuyu rough. It also featured dramatic elevation changes and yielded winning scores in the mid-teens under par.
KEY STATS TO CONSIDER
Driving Distance
SG: APP / SG: Ball Striking
SG: T2G (Recent Form)
Birdie or Better Gained
Prox 200+
Sand Saves Gained
SG: T2G (>7,400 Yard Courses)
SG: TOT (Easy Scoring Conditions)
Comp Course History
It will require some leaps of faith to model key stats for this week, having not seen this course play out in a PGA TOUR event before. With that said, we have enough information to deduce that Driving Distance is a huge bonus and SG: APP will continue to be necessary for scoring. The top-10 longest hitters over the last 36 rounds are Wyndham Clark, Joseph Bramlett, Brandon Hagy, Trey Mullinax, Cameron Champ, Jon Rahm, Peter Uihlein, Callum Tarren, Gary Woodland and Curtis Thompson. The top Approach players in this week's field are Daniel Berger, Russell Knox, Luke Donald, Tony Finau, Rahm, Woodland, Lanto Griffin, Kevin Na, Mark Hubbard, and Aaron Rai.
I'm not looking very closely at any Short Game stats this week beyond Sand Saves Gained. The greens complexes seem to be very straightforward here and Paspalum tends to level the playing field as mentioned.
Simple Selection?
So if this is as simple as who can can drive it the farthest and knock their irons the closest, just eight players rank top-40 in both Driving Distance and SG: APP. Those players: Rahm, Woodland, Austin Smotherman, Aaron Wise, Robert Garrigus, Bramlett, Carlos Ortiz, and Scott Gutchewski.
It's anyone's guess how difficult this course will actually play. The unknown of possibly severe winds ultimately makes that guess even more difficult. But I will go on a limb to say that the extreme efforts to lengthen this course and revamp all the bunkers means they know this course can be a feast for these players, so I'll be looking more closely at scoring stats for this event. The top-10 in Birdies or Better Gained are Scott Brown, Danny Lee, Sebastian Munoz, Rahm, Chad Ramey, Adam Svensson, Davis Riley, Ben Griffin, Lanto Griffin and Seth Reeves. The top-10 in SG: TOT (Easy Scoring Conditions) are Rahm, Berger, Aaron Wise, Lanto Griffin, Doug Ghim, Hayden Buckley, Taylor Moore, Wesley Bryan, Michael Thompson and Adam Schenk.
Just five players in the field rank above average in each of the listed key stat categories: Woodland, Charles Howell III, Alex Smalley, Munoz and Andrew Novak.
PLAYER SPOTLIGHT: ISIDRO BENITEZ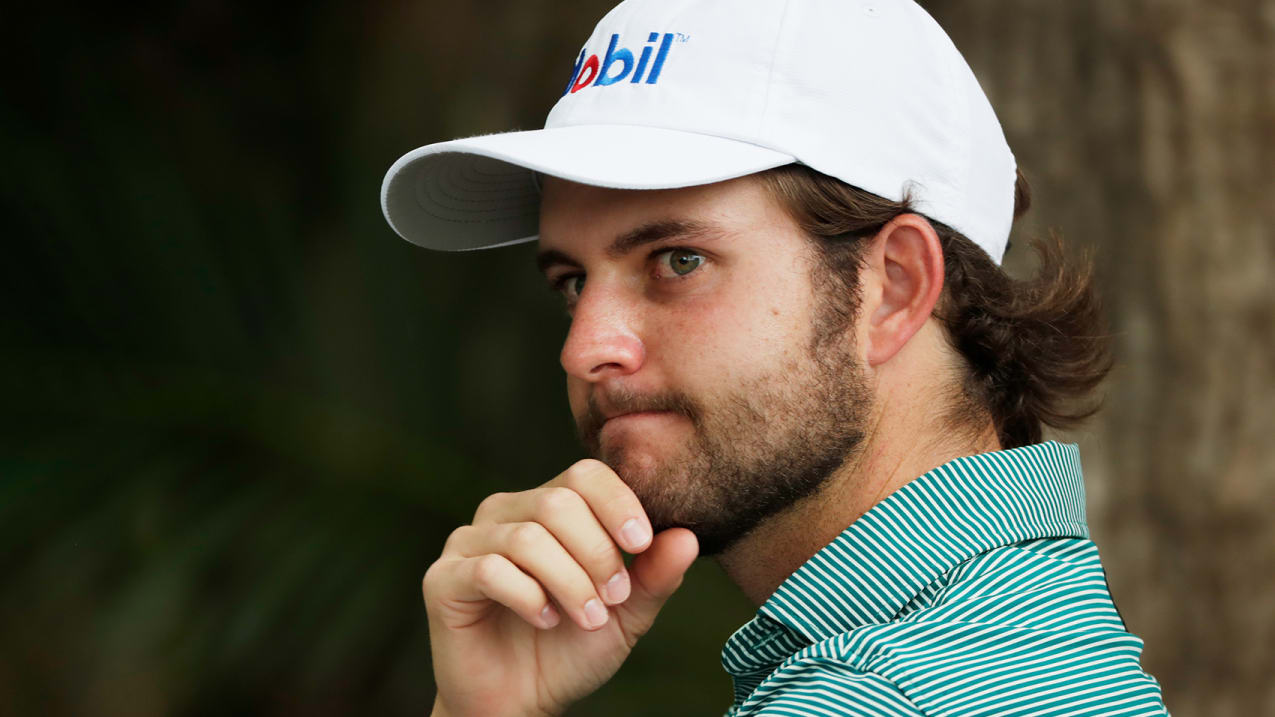 Isidro Benitez is a Mexican bomber who rides into Puerto Vallarta hot off a T19 finish at the PGA Tour Latinoamerica's 90 Abierto del Centro memorial Eduardo Gato Romero ptdo por Telecom.
Okay I'm kidding. The field is awful, but we're not that desperate.
PLAYER SPOTLIGHT: SCOTT STALLINGS
We'll see uncomfortable odds across the board this week with so few viable options. With the help of a MC in his previous start at the RBC Heritage — where he gained the most strokes on Approach since the 2021 Rocket Mortgage Classic — Stallings is one of very few respectable names in this field who suits the course and may actually catch a drift on odds.
Vidanta Vallarta requires muscle to maneuver, and Scott Stallings has muscle. He ranks 20th in Driving Distance over the last 12 rounds and is the only player on TOUR sponsored by an actual fitness company.
We've started to see Stallings find repeated success on the courses which encourage players to pull driver regularly instead of laying up to strategic angles. Over the last two years, he's had top-25 finishes at the Valero Texas Open, Valspar Championship, Phoenix Open, Bermuda Championship, Fortinet Championship, Rocket Mortgage, Byron Nelson and Sanderson Farms. Valspar excepted, you can hit driver off the tee consistently and rely on distance to gain strokes at these courses, without much penalty for missed fairways.
With this course pushing to almost 7,500 yards, we should expect a premium on Proximity from 200+ yards. Stallings ranks 11th over the last 12 rounds. Distance metrics aside, Stallings is well-rounded across the board for this week's key stats, ranking top-40 in Comp Course History, BoB Gained, Sand Saves Gained and SG: TOT (Easy Scoring Conditions).
He also carries an explosive putter, gaining 4+ strokes putting in three of his last seven starts. Stallings stacks up well to go low in Puerto Vallarta this week.
WHAT TO WATCH FOR AT THE 2022 MEXICO OPEN AT VIDANTA
I am not looking forward to seeing the odds in store for this tournament with such a weak crop of talent. We could conceivably see a 20-to-1 Cameron Tringale or 40-to-1 Nate Lashley. But above all else, I'm dreading that the obligatory Sebastian Munoz FRL bet will likely to be at shorter than 30-to-1 odds. In any case, somebody's got to win, and it sets up to favor a longer card of longshots.
With all the course-fit profiles in mind, I'm leaning early towards the below player pool. Naturally, I'm looking their way in the 2022 Mexico Open odds as well. I've broken the list down by projected pricing/odds tier for DraftKings.
In my model this week, I'm emphasizing Comp Course History, Recent Form (SG: T2G), SG: APP and Driving Distance, followed by a more balanced mix of SG: T2G (>7,400 Yard Courses), SG: TOT (Easy Scoring Conditions), BoB Gained, Prox 200+ and Sand Saves Gained.
Jon Rahm and Daniel Berger are an unavoidable 1-2 punch this week, head and shoulders above the talent of the rest of this field across all strokes gained categories. It'll be interesting to see how much of an odds and pricing premium they receive on Monday. Gary Woodland, Charles Howell III, Aaron Wise, Lanto Griffin, Tony Finau, Matt Jones, Joseph Bramlett and Chris Kirk round out a bleak top 10 in my model.
When 2022 Mexico Open odds hit boards, I'll be looking Scott Stallings' and Nate Lashley's way. Depending on where the value lies, I could see myself starting at 40-to-1 odds and building a much longer card with a fade of above-average players with short odds at the top.
Check back in later this week for more updates. Best of luck navigating 2022 Mexico Open odds!
COMPARE 2022 MEXICO OPEN ODDS