For golf bettors, The Masters is one of the most exciting challenges each year. Navigating Masters prop bets adds an additional layer of handicapping from the flashy outrights market.
Let's take a look at some golfers to watch and potentially target in head-to-head matchups and perhaps markets like top-10 or top-20 finish. Click on odds anywhere in this article to bet now.
Search Masters Prop Bets By Player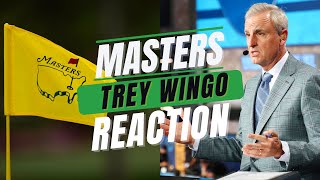 Players To Watch At The Masters
Given that Augusta National Golf Club is the only major championship played on the same course every year, we have a substantial, and a relatively consistent amount of historical data that can be used to determine the prototypical style of golfer that has found success at The Masters.
In recent years, some of the most significant statistics have been: Driving Distance, SG: Around the Green, Strokes Gained: Total and course history.
Viktor Hovland
The fourth-ranked golfer in the world, Viktor Hovland will look to capture his first major. The 24-year old Norwegian is coming off three victories worldwide in his last ten starts, with a top 10 in seven of those events.
Hovland finished T21 and T32 in his first two starts at Augusta National, and despite struggling around the green in recent weeks, he's gaining nearly 0.6 strokes off the tee, in addition to 1.02 strokes on approach, which ranks third on the PGA TOUR.
One place to potentially target Hovland is a full-tourney matchup, where I will look to play him at plus money over Rory Mcilroy. You can also find odds for him in Top European and Top Continental European markets below.
Jordan Spieth
There aren't many golfers on the PGA TOUR who have accomplished anything close to what Jordan Speith has in his career at Augusta National. In his 2014 Masters' debut, Spieth shared a 54-hole lead with eventual champion Bubba Watson, even having led the field by two strokes on Sunday in what would have made him the youngest champion to ever win in Augusta. Fortunately, he went on to accomplish that feat in the following year.
In his short Masters career, Spieth has four top-10 finishes, including a third-place finish in 2021. Despite the extreme volatility of his play in recent years, only having won once since 2017, Jordan has some of the most essential characteristics a golfer needs to thrive in Augusta.
Despite his alarming inconsistency on the greens, Jordan has gained nearly 0.7 strokes from tee-to-green, while also consistently gaining over 0.32 strokes on approach this season.
Although I'm not betting him to win, his play around the green, in addition to his top-25 driving distance, make him somebody to consider in the top-10 market.
Xander Schauffele
Xander Schauffele has not lost strokes in any statistical metric this season:
1.067 strokes T2G
0.4 strokes OTT
0.4 strokes APP
Schauffele ranks top 15 on the PGA TOUR in SG:TOT and top 50 on TOUR in every efficiency metric other than Strokes Gained: Putting.
At last year's Masters, Xander was in contention for the green jacket for the better part of four days, eventually finishing T3 behind champion Hideki Matsuyama. Schauffele also finished T2 in 2019.
Given his impressive history at Augusta, along with four top-15 finishes in seven PGA TOUR starts this year, it's very possible we will once again see Xander in one of the final groups this weekend. Another name to consider in head-to-heads.
Will Zalatoris
Will Zalatoris is quickly establishing himself as one of the best young golfers on the PGA TOUR. The 25-year old Wake Forest grad finished second at Augusta National in 2021. Plus, Zalatoris has finished inside the top 10 three times this season, including another runner up at the Farmers Insurance Open and sixth-place finish at The American Express.
His statistical ranks are stellar:
T2G: first
APP: second
OTT: top 10
TOT: top 10
Driving Distance: top 20
Zalatoris has both course history and strokes gained efficiency to make a run at the green jacket in 2022.
Louis Oosthuzien
In what will be Oosthuzien's fourteenth appearance at Augusta National, the South African had his best Masters finish in 2012 with a runner-up finish.
This year, Louis ranks in the top 15 on the PGA TOUR in both SG: OTT, and SG: ARG. Over 25 rounds this year, Oosthuzien has gained 0.52 strokes off the tee and roughly 0.38 around the green.
Despite his sizable volatility putting, his course history at Augusta National combined with his around-the-green touch make him a candidate to contend. Odds of +360 to finish in the top 10, and +130 to finish in the top 20 peaked my interest. He is also plus money for top South African below.
More Masters betting coverage:
Masters Prop Bets For Finishing Position
Top-Five Finish
Top-10 Finish
Top-20 Finish
Top-30 Finish
Top-40 Finish
To Make The Cut
Masters Prop Bets By People Groups
Top Former Champion
Top Finish By Senior Player
Top Left-Handed Player
Top Debutant
Masters Prop Bets By Nationality
Top American
Top Australian
Top Asian
Top Canadian
Top English
Top European
Top Continental European
Top British and Irish
Top Irish
Top South African
Top South Korean
Top Spanish
Top Rest of the World
Masters Prop Bets For Placement After Round 1
Leader After Round 1
Top Five After Round 1
Top 10 After Round 1
Top 20 After Round 1