It's the most wonderful time of the year. It's Masters week! After putting in the hours this year grinding research for pass-over events like the Valero Texas Open, Honda Classic, and The AmEx, we are finally rewarded with the first Major of the year. It's the Super Bowl of golf, and 2022 Masters odds have been shifting for months.
This is the one tournament most players on the PGA TOUR want to win most, given the history, tradition, and historical significance. And for golf obsessives like ourselves, it's one of the few times each year we can take our casual sports friends under our wing and soak this tournament in together. With a Tiger Woods comeback now upgraded to a game time decision, this tournament is sure to dominate headlines across all Sports and pop culture outlets throughout the week, so I couldn't be happier to to start diving into the research and preview for this year's festivities. Without further ado, let's get into everything we need to know about Augusta National ahead of the 2022 Masters!
More Masters odds action! Check back Wednesday for a free Masters contest from TheLines
FAVORITES IN 2022 MASTERS ODDS
Scroll to the bottom of the article to compare full outright odds across legal U.S. sportsbooks. New sportsbook users can click on the odds they want and cash in on the fantastic Masters promos noted at the top of each column.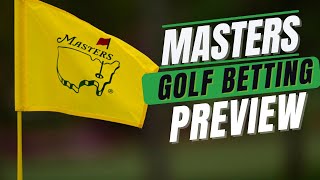 THE FIELD AT A GLANCE
As of this writing Sunday morning, the field is set at 90 players. At the moment, that list is inclusive of Tiger Woods (hyperventilating after he tweeted he's a "game-time decision") and exclusive of the vacant qualifier spot held for this weekend's Valero Texas Open winner. If the winner at Valero is not already qualified for The Masters, they will be chartered to Augusta Sunday night to make this a field of 91.
As is tradition (unlike any other) at The Masters, any previous winner holds a lifetime spot in the field. The list of previous winners who are not active on the PGA TOUR, but will be teeing it up this week without much of a hope to contend includes Sandy Lyle, Jose Maria Olazabal, Vijay Singh, Larry Mize, Mike Weir, Fred Couples, Padraig Harrington, and Bernhard Langer.
As is also Masters tradition, there are an additional six spots held for Amateur qualifiers, which includes Aaron Jarvis, Austin Greaser, James Piot, Laird Shephard, Stewart Hagestad, and Keita Nakajima. Although I love Nakajima and think he's a prodigal Japanese talent who will be inspired to fill Hideki Matsuyama's shoes one day at this tournament, we can realistically remove these amateurs and older past winners from contention and consider this a bona fide field of 76.
For that remaining list of 76, players have qualified for the most exclusive field of all Majors by way of a win in another Major within the last 3-5 years, a top-four finish in the most recent year's Majors, a top-12 finish at the previous Masters, a PGA TOUR win at a primary event within the last year, a top-30 finish in the previous year's FedEx Cup, or Top-50 OWGR standing as of the week prior to The Masters. Phil Mickelson and Harris English are the only active PGA TOUR players eligible for The Masters who will not be teeing it up due to shame/injury.
There is also a fairly long list of players who are limping into this event off of injury, including Paul Casey, Bryson DeChambeau, Abraham Ancer, Webb Simpson, and defending champion, Hideki Matsuyama. It will be interesting to monitor their health status throughout the week, as we would expect players to give it a go at The Masters and not withdraw, even if not playing at 100% health.
INTRODUCTION TO AUGUSTA NATIONAL
The one course each year that needs no introduction must be Augusta National, but we will dive on in for good measure anyway. The Masters has been played on these same grounds every year since the tournament's inception in 1934. Horton Smith won with a prize of $1,500 that year, and we can only hope a similar pay day is in store for our 2022 Masters bets.
Augusta National is a massive property, stretching beyond 7,500 yards this week on the scorecard for the first time in its storied history. With heavy rainfall in Augusta over the last few weeks leading in, we should expect the course to play even longer than the scorecard suggests, with limited rollout expected on these fairways.
Creativity Required
The course features some of the most dramatic undulations and elevation changes both in its fairways and around the greens complexes, demanding creativity from shotmakers off of uneven lies.
Amen Corner (No. 11, 12, and 13) will be prominently featured on this week's broadcast, as tournaments have been won or lost here on these three iconic holes. This stretch includes a 500-yard Par-4, a treacherous 155-yard Par-3, and a risk/reward 510 yard Par-5 where a good tee shot can set up eagle opportunities and a poor tee shot will leave players scrambling for par. Rae's Creek has claimed countless victims over the years on this three-hole stretch, and it never disappoints on drama come Sunday.
Looking down the list of players who have won here over the years, the simple summation would be elite, in-form players with the ability to work the ball in both directions on drives and approach shots and who possess crafty touch around the greens. With wins from Bubba Watson, Phil Mickelson, and Mike Weir over the years, as well as a top-10 finish from Robert MacIntyre in his 2021 debut, it's no stretch to say the grounds favor lefties with a right-to-left ball flight.
With that said, the beauty of Augusta National is that many holes are set up for a left-to-right approach after a right-to-left tee shot. You have to be comfortable abandoning your stock shot shape here at times to create the most scoring opportunities.
Toss November 2020 Masters Odds And Results?
There is no asterisk that comes with the 2020 November Masters, and Dustin Johnson deserves praise for breaking the Masters scoring record at -20, but for the purposes of researching the 2022 Masters, I'll largely be overlooking performance that year, given the absence of patrons, different season, and softer conditions than usual.
It will be important to monitor weather over the course of the week this go around, given the rumors of wetter conditions, which may result in lower scores than what we've seen historically.
How It Breaks Down
Augusta is a Par-72, slightly elongated to 7,510 yards this go around. It features four reachable risk/reward Par-5s, which are the only holes on property with a scoring average under par. Players who take advantage of birdie-or-better opportunities on these four holes have gone on to find the most success. So, there is certainly a distance advantage for longer hitters who can hold these green in two.
As we've come to expect from Major championship venues, the par-4s are much longer than what we typically see on TOUR, which has in part helped make Augusta one of the most challenging golf venues we see each year. Nine of the 10 par-4s play over 440 yards and three of the par-4s play over 490 yards.
Augusta features some of the widest fairways we see all year, and although players are hitting them much higher than the TOUR average rate (about 70%), it's important to hit the correct side of the fairway to set up your next shot, so Augusta is still far from a second-shot course. We also see top-5 difficulty amongst PGA TOUR courses in terms of Par-4 Scoring, Par-3 Scoring, Putting, and Around The Green. Players who excel in long Par-4 Scoring and Short Game have been able to separate themselves here over the years.
The greens at Augusta National are Bentgrass, and extremely firm and fast. They are also cited by TOUR pros and caddies as the most complex and nuanced greens to read, which puts an added emphasis on course experience; course history is more predictive of future success for Masters odds than any other course on TOUR. Given how difficult these greens are to read, there is an argument that it plays to the advantage of weaker putters just as much as the elite putters in the field, with players like Hideki Matsuyama and Sergio Garcia able to pick up victories in recent years despite being notoriously poor putters.
2022 Course Adjustments
While the grounds at Augusta National are one of the few constants in golf year to year, seldom making a change, it is notable that two holes – No. 11 and No. 15 – have incurred slight modifications.
The tee box on the Par-4 11th hole has been pushed back and to the left by 15 yards, with the fairway recontoured and several trees removed on the right side. This modification now makes the 11th hole play longer than the par-5 on the other side of Amen Corner.
The tee box on the par-5 15th has also been pushed back by 20 yards with additional recontouring of the fairways, potentially adding one extra club for players to challenge the green in two. All in all, these are not significant alterations, but it does push the total length of the course just over 7,500 yards now.
AUGUSTA NATIONAL COURSE SPECS
Yards: 7,510
Par: 72 (4x 3's / 10x 4's / 4x 5's)
Greens: Bent
Architect: Bobby Jones and Alister MacKenzie
Historic Cut Line: +3
Median Four-Round Score: +1 ('21), -3 ('20), -4 ('19), -1 ('18), +2 ('17)
Comp Courses: None
Comp Courses (If we must): Muirfield Village, Plantation Course at Kapalua, Bay Hill, Riviera CC, Accordia Golf Narashino, Torrey Pines, Quail Hollow
Past Winners: Hideki Matsuyama -10 ('21), Dustin Johnson -20 ('20), Tiger Woods -13 ('19), Patrick Reed -15 ('18), Sergio Garcia -9 ('17)
Hole-by-hole Breakdown:
EVENT HISTORY AND COURSE COMPS
Of all the tournaments on the PGA TOUR schedule each year, there is none with more predictive course history than The Masters. Whether that be a credit to the pressure-packed atmosphere, its consistent fixture on the schedule in April of each year, or the intricacies and nuances to the greens complexes which are second to none, it has proven to be a course that players either thrive at with great consistency, or a code they've never been able to crack. This helps narrow down the list of potential contenders even further.
Over the last five years, there are 13 players with multiple T10 finishes: Jon Rahm, Dustin Johnson, Jordan Spieth, Justin Rose, Rory McIlroy, Cameron Smith, Patrick Reed, Tony Finau, Webb Simpson, Brooks Koepka, Marc Leishman, Xander Schauffele, and Corey Conners. Given what we know about the sticky course history here, it would be a safe bet to consider any of these players to contend once again in 2022. Conversely, notables who have failed to crack the top-20 at The Masters over the last five years include Shane Lowry, Kevin Kisner, Max Homa, Joaquin Niemann, Gary Woodland, and Billy Horschel.
Tiger Woods
The last time I bet Tiger Woods was at the 2020 ZOZO Championship at Sherwood CC. I will not be clicking Tiger Woods on the Masters odds board this week, but it's impossible to write a 2022 Masters Preview without spending some time talking about Tiger, who by all indications is trending towards making his first trip back to Augusta (with patrons) since his 2019 victory.
Tiger's track record is ridiculous on any given PGA TOUR course, but it's especially absurd at The Masters, where he's piled up five career victories, just one behind Jack Nicklaus. In his first Masters win, Tiger broke Jack's scoring record with a winning total of -18 in 1997. Tom Kite, a top-30 player in the world at the time, brought his A-game all week, only to get dusted by 12 strokes to a 22-year-old Tiger Woods.
Woods picked up his fifth green jacket 22 years later, edging past a crowded list of elite names who faltered down the stretch in his shadow. In 2019, Tiger leaned on his experience and course knowledge to tactically, yet conservatively, maneuver through Augusta National, avoiding bogeys and setting up birdie putts on the select gettable holes. To this day, the final Sunday round of these two bookended Masters victories for Tiger are my two most-watched YouTube videos.
There are no shortage of question marks surrounding Tiger this week, making it nearly impossible to project with any conviction how he'll perform. Judging off the last event we saw him in, the PNC Championship alongside his son Charlie, he still had a long way to go on his road to recovery. Even while riding in a golf cart, he was clearly laboring as he walked through the course and was erratic with driver, despite showing glimpses of his vintage self with a few long-iron approaches.
About six months have passed since that event, and it is Tiger Woods we're talking about, so it's incredibly plausible he's improved his conditioning to the point of passable ball striking. I do not believe Tiger would appear at The Masters just to ceremoniously walk the course for two days; if he plays, it's because he believes he's recovered enough to compete, otherwise I'd expect he'd delay his comeback announcement elsewhere (e.g. The Open in July).
In both his 2019 Masters press interviews and initial post-car accident interviews, Tiger has notably referenced his hands, and that despite the necessary rehabilitation needed from the rest of his body, he hasn't lost his touch with his short game. If he has the stamina to withstand the grueling walk at Augusta National, it's not far-fetched to picture Tiger Woods making it through the cut this week on the basis of his short game alone. Either way, I'll be abstaining from any Tiger bets this week and simply hoping for the best from him.
Others Excelling At The Masters
The top 10 in total strokes gained Course History at Augusta National over the last 36 rounds includes Brooks Koepka, Jon Rahm, Xander Schauffele, Dustin Johnson, Justin Thomas, Tony Finau, Louis Oosthuizen, Scottie Scheffler, Hideki Matsuyama, and Patrick Reed. It's very interesting to note that seven of those top names have never won here, but consistently circled the top of the leaderboard.
There are 12 players who have avoided missing the cut in four consecutive trips to The Masters: Jon Rahm, Hideki Matsuyama, Jordan Spieth, Justin Thomas, Cam Smith, Tony Finau, Marc Leishman, Xander Schauffele, Louis Oosthuizen, Adam Scott, Matt Fitzpatrick, and Bryson DeChambeau. Of that group, only Rahm, Thomas, and Oosthuizen have finished inside the top-30 each of the last four years.
Course Comps
It is sacrilegious to compare any golf course to Augusta National, but we've got to try, or else risk going back to 2016 for a 24-round sample size of Course History. So if simply looking for courses played over the last year featuring similar characteristics to Augusta National, I would rattle off Muirfield Village, Plantation Course at Kapalua, Bay Hill, Riviera CC, Accordia Golf Narashino, Torrey Pines, and Quail Hollow as top comps.
I wouldn't single out any of these courses as a top one-to-one comp, though Accordia Golf Narashino is intriguing for the fact that its first two winners as host of the ZOZO Championship are the last two April Masters winners: Hideki Matsuyama and Tiger Woods. Muirfield Village, Torrey Pines, Bay Hill, and Quail Hollow each share similar length and difficulty in scoring conditions which tend to reward the top all-around players, though each features far more prevalent and penal rough than Augusta.
Riviera CC is another difficult test featuring a strong field which asks players to shape the ball in both directions off the tee and on approach. We've also seen cross-over winners like Bubba Watson, Dustin Johnson, Phil Mickelson, Adam Scott, and Mike Weir at both events. Although the Plantation Course at Kapalua just hosted one of the biggest birdie fests in recent memory, it does feature a massive property of wide, severely undulated fairways, bearing plenty of similarities to Augusta when not flooded with rainfall.
KEY STATS TO CONSIDER
SG: T2G
Driving Distance
SG: ARG
SG: APP
Par 4: 450+ / Prox 200+
Par 5 Scoring
3-Putt Avoidance / SG: Short Game (Firm & Fast Conditions)
SG: TOT (Majors L5 Years) / SG: TOT (Difficult Comp Courses)
Course History
We don't have the luxury of strokes gained data easily available to model top correlated stat categories from, but there is a very clear profile of player who've found repeatable success at Augusta National.
Starting with the basic stats, SG: ARG, Driving Distance, Par 5 Scoring, 3-Putt Avoidance, and Course History are the five main pillars I'm looking for in a player at Augusta. A look down the list of past winners will consistently check off at least four of these five boxes. With these greens being the most intricate and difficult to read on TOUR, there is a distinct advantage for veterans who have seen these breaks before without the aid of a greens book. The firm & fast qualities of these greens also make SG: Around The Green and 3-Putt Avoidance crucial, as players will need deft touch to save par on a course which yields only 60% greens in regulation. The top-10 players in SG: ARG entering this week are Danny Willett Luke List, Kevin Na, Sungjae Im, Talor Gooch, Russell Henley, Harold Varner III, Tyrrell Hatton, Rory McIlroy, and Louis Oosthuizen.
Lag putting has also been crucial year-over-year to avoid 3-putts and move on with pars on the difficult Par-4 stretches; the top-10 in 3-Putt Avoidance entering this week are Talor Gooch, Xander Schauffele, Cam Smith, Tyrrell Hatton, Jason Kokrak, Adam Scott, Patrick Reed, Marc Leishman, Patrick Cantlay, and Sam Burns.
Distance is not a must, as players like Jordan Spieth, Patrick Reed, and Zach Johnson have shown, but it provides a distinct advantage to hold these firm and fast greens on approach shots if players can loft a shorter club into them. The top-10 players in Driving Distance in this field are Bryson DeChambeau, Matthew Wolff, Rory McIlroy, Cameron Young, Jon Rahm, Cameron Champ, Luke List, Gary Woodland, Justin Thomas, and Scottie Scheffler, though I'm more likely to simply weed out the bottom 25% of this field in Driving Distance when refining down a player pool.
The four Par 5s are the only holes at Augusta with a scoring average under par, so distance will go hand-in-hand here for players with the ability to generate Eagle opportunities. The top-10 players in Par-5 Scoring entering this week are Patrick Cantlay, Bryson DeChambeau, Scottie Scheffler, Matt Fitzpatrick, Max Homa, Cam Smith, Seamus Power, Tyrrell Hatton, Justin Thomas, and Dustin Johnson.
With these key stats coupled with the aforementioned Course History, there are just four players in this week's field to rank above field average in each: Justin Thomas, Xander Schauffele, Scottie Scheffler, and Marc Leishman.
Scoring In Difficult Conditions
What makes a Major course unique from the typical week-to-week venues? Aside from the legacy-defining stakes at hand and presence of all the world's best in the field, Major venues are designed to test a player's all-around skillset from tee-to-green, expose the flaws in a given players game, and ultimately reward the best all-around golfer that week.
The most consistent, common practice to do so across all Major venues is to stretch out the distance of the par-4s and firm up the greens. That is precisely the case at Augusta National where nine out of ten par-4s play over 440 yards, so P4: 450+ Scoring and SG: Short Game in Firm & Fast Conditions should translate well. The top-10 players on these longer par-4s entering this week are Justin Thomas, Matthew Wolff, Luke List, Cameron Young, Jon Rahm, Hideki Matsuyama, Sungjae Im, Scottie Scheffler, Danny Willett, and Patrick Cantlay. It should not come as much of a surprise how correlated this stat is with Driving Distance and performance at other recent Majors.
With Short Game, it takes particular touch to navigate the undulations at Augusta, and while few other courses can truly simulate the same conditions, it's helpful to reference Short Game stats on other Firm & Fast courses on the regular TOUR circuit. Looking at comp Firm & Fast courses of Bay Hill, East Lake, GC of Houston, Kiawah Island, Quail Hollow, and Torrey Pines, the top-10 players in SG: Short Game are Webb Simpson, Christiaan Bezuidenhout, Louis Oosthuizen, Sungjae Im, Matthew Fitzpatrick, Lucas Herbert, Patrick Reed, Jordan Spieth, Billy Horschel, and Talor Gooch.
In addition to projecting difficult conditions across comp courses, we can also look at long-term results in Majors over the last five years. To little surprise, Brooks Koepka is no. 1 in SG: TOT in Majors over that span, followed by Jon Rahm, Xander Schauffele, Dustin Johnson, Justin Thomas, Tony Finau, Louis Oosthuizen, Scottie Scheffler, Hideki Matsuyama, and Patrick Reed.
There are ten players who rate out top-40 in Recent Form (SG: T2G L36), Course History, Major History, and Comp Difficult Course History: Scottie Scheffler, Jon Rahm, Justin Thomas, Rory McIlroy, Xander Schauffele, Hideki Matsuyama, Will Zalatoris, Louis Oosthuizen, Paul Casey, and Webb Simpson.
There are an infinite number of ways to splice the data this week and hone in on top candidates to play at The Masters. To me, the perfect formula consists of a player who is above-average to the field in Masters & Major History, Driving Distance, Par-5 Scoring, and P4: 450+, and Top-30 in Recent Form (SG: T2G) & SG: ARG. Only three players satisfy that criteria: Scottie Scheffler, Justin Thomas, and Rory McIlroy.
PLAYER SPOTLIGHT: RORY MCILROY
The time is now for Rory McIlroy to pick up his elusive first green jacket.
A top-10 finisher in six of his last eight Masters appearances, there is nothing to question in terms of Rory's course fit for Augusta National. He's a creative shot-shaper, able to work the ball in both directions, possesses the distance to easily reach each of the Par-5s in two, skies his irons and woods to the apex needed to hold these firm and fast greens, and of course has the luxury of experience that a majority of the other top names in golf are lacking, as he prepares to make his 14th career Masters appearance.
Rory has picked up two wins since his last trip down Magnolia Lane, with victories at the 2021 Wells Fargo Championship and 2022 CJ Cup, so he should be feeling confident about the state of his game. Over that same span of time, McIlroy has gained strokes Off The Tee in all but one tournament, and carried a streak of four consecutive events with 2+ strokes gained OTT leading into his tune up at last week's Valero Texas Open.
At this stage in Rory's career, it's clear that he's motivated primarily by Majors and legacy-defining moments, so the appearance at the Valero Texas Open was nothing more than a refresh to his Masters prep. He was outspoken in press interviews earlier this year that playing loose and taking the pressure off of himself to win or play perfectly at the Wells Fargo and CJ Cup, were the keys to his success, rather than getting over-technical with his mechanics and preparation. The decision to play in an event the week prior to The Masters for the first time since 2013 was simply that, a commitment to staying fresh and removing himself from over-preparation at Augusta. Speaking from personal experience as someone who just shot the best round of his life despite playing hungover on 2 hours of sleep on a bachelor party, playing loose and not over-thinking it on the golf course can be a good thing!
This is all a longwinded way for me to say that I put no stock behind the Valero Texas Open MC, and will be happy to capitalize on the depressed DFS ownership, while the consensus pivot to Justin Thomas, Cameron Smith, or Xander Schauffele in this price range. It's also a platform for me to gloat about my herculean hungover performance in Scottsdale. Seriously guys, the odds of me walking 18 holes in the desert sun that morning were about as questionable as Tiger teeing it up this week, and we shot -2 in a four-man Scramble using each and every one of my shots tee to green. Where's my green jacket?
Back to Rory, he rates out no. 4 in my model this week, top-10 in the key stat categories of SG: T2G, Course History, Recent Major History, SG: ARG, Driving Distance, and P4: 450+. It's going to be an exciting tournament to follow with so many of the game's top talents peaking ahead 0f The Masters, but my money will be on Rory as a standout in the sub-20-1 odds range.
WHAT TO WATCH FOR AT THE 2022 MASTERS
At the 2021 Masters, the storylines included Spieth pandemonium post-Valero win, mass speculation of the firmness of the greens in response to Dustin Johnson's 2020 thrashing, and questions of whether Jon Rahm would skip mid-tournament for the birth of his first-born child. A lot has changed in a year, but these are some of the biggest storylines I'm looking forward to in 2022.
Will Tiger Woods he play 14 months after his horrific car crash, and how will he look if he does?
Jon Rahm, Justin Thomas, Rory McIlroy, and Xander Schauffele vying for their first Masters victory after years of close calls riding excellent form
Questionable health from top contenders like Hideki Matsuyama, Paul Casey, Abraham Ancer, and Bryson DeChambeau
New expectations from Scottie Scheffler making his first start as world no. 1
With all the course-fit profiles in mind and DFS pricing and odds already released, I'm leaning early towards the below player pool. Naturally, I'm looking their way in the 2022 Masters odds as well. I've broken the list down by actualized pricing/odds tier for DraftKings.
In my model this week, I've put an emphasis on SG: T2G, Masters History, Major History, SG: ARG, Driving Distance, and Par-5 Scoring, followed by a more balanced mix of P4: 450+, SG: TOT (Difficult Comp Courses), SG: Short Game (Firm & Fast), and 3-Putt Avoidance.
For the first time this year in an event that features Jon Rahm, he is not No. 1 in my model. Instead, that honor goes to Justin Thomas, who despite not having a win at The Masters or on the PGA TOUR in the last calendar year, has circled closer and closer to both recently, and is trending perfectly for this event. After Thomas, the rest of the top-10 is rounded out by Scottie Scheffler, Jon Rahm, Rory McIlroy, Patrick Cantlay, Hideki Matsuyama, Sungjae Im, Xander Schauffele, Cameron Smith, and Luke List.
As it currently stands, I have future bets on Rory McIlroy (18-1), Sungjae Im (66-1), and Keita Nakajima (200-1). I'll be looking to add a couple more names to the card this week, and expect odds to drift come Monday once the field is locked and sportsbooks begin to compete amongst each other for action. Be sure to check back in later this week for more updates.
We've got a long weekend of Masters odds content ahead. Thank you for reading this far, best of luck navigating 2022 Masters odds!
Have Masters odds questions? Join our free Discord channel to ask our golf betting community what they think.
CURRENT MASTERS ODDS
Be sure to check out the available sign-up promos at the top of each Masters odds column here if you do not already have an account at that sports book.