The growth of legalized sport betting in the United States has played a bigger role than you'd think in the career of UFC flyweight 'Lucky' Lauren Murphy. One story in particular, might really surprise you.
In the years since sports betting began spreading across the US, numerous pundits, politicians and other opinion leaders have worried about the effect sports betting might have on athletes – particularly those that are still in college. Professional sports leagues pushed the concept of an integrity fee as the cost of ensuring that games remain fair and winners remain objectively determined.
However, few have actually thought to ask the athletes themselves.
Lauren Murphy certainly qualifies as one of those athletes. At 15-4, she is the No. 3 fighter in her weight class and is set to be the next challenger for Valentina Shevchenko's championship belt at UFC 266 on Saturday, Sept. 25.
Murphy also trains at Gracie Barra Katy in the Houston area, where she graciously agreed to sit down and talk with a 40-something blue belt who writes about betting when he's not being twisted in odd directions.
Embracing Being An Underdog In the Odds
Athletes don't exist in a vacuum. Even though they have their own techniques for mental focus, it's hard not to notice when media figures or oddsmakers express an opinion about them. Murphy confirmed as much, saying that she sometimes sees her odds on television screens right as she's about to walk to the Octagon. Does seeing the odds right before a fight affect her mindset?
"Honestly, the odds don't matter to me anymore. If I'm the favorite, then I can feed confidence off of that. If I'm the underdog, there's no pressure on me now. There's no expectations, and I can just go perform to my fullest and show them why they're wrong. I think that it's kind of what you make it. You can find pressure either way."
But Lauren Murphy likes being the underdog for a variety of non-betting reasons. For one thing, it's her usual spot, as she is often underestimated due to her late and unconventional start in the sport. Murphy never trained before the age of 26, and had her first professional MMA fight six months after beginning her training, having never competed on an amateur level. So, it has been easy to overlook her chances of winning in fights past.
Murphy also said that she likes being the underdog because she likes to win money for people. She gets a thrill when, after emerging victorious, she receives messages through social media that people collected on their bets.
Alternatively, she also enjoys the karma of one of her detractors lamenting that Murphy "keep(s) f***ing up his parlays."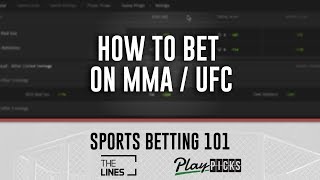 If you bet on her, don't tell her
While the odds don't matter to Murphy, one aspect of sports betting does. She said that it does bother her if friends, family, or people she knows tell her that they've made a wager on her to win before the fight.
"I tell my good friends not to tell me if they've bet on me because, to me, that does increase pressure."
She also recounted an incredible story along these lines about her 2020 fight with Andrea Lee. The fight at UFC 247 in Houston ended with Murphy securing a thin split-decision victory. Sometime after the fact, she found out that her coach and cornerman, Alex Cisne, had bet $1,000 on her to win prior to the match. In other words, he was coaching her and sweating his bet on her at the same time.
His faith paid off in a big way. Murphy was an underdog by more than 2:1 in the fight, which meant that Cisne collected a nice payday. However, the bigger gain may have been in the support that Murphy felt from her coach. She understood that he'd bet on her because he believed in her and believed that she was going to win.
Strangers have approached Murphy too, telling her that she has to win, due to the amount of money that they've wagered on her. It's an odd statement, considering that the gambler is not the one who has to figure out how to beat someone up.
"I think,'Buddy, you're not the only one that's got a lot invested in this fight!'"
For Murphy, these comments are another way that people unknowingly create pressure, and that it's something she has to put out of her mind. If someone tells her that he or she is wagering tens of thousands of dollars on her, Murphy just has to shrug her shoulders about it.
A Payout Promise From A Stranger
One of the more head-turning stories Lauren Murphy shared with TheLines was a promise from a stranger to give a portion of his winnings if she prevailed in the fight.
The bettor approached Murphy at her gym, no less, and asked if she was going to win the fight. Then, he told her that he planned to bet $50,000 on her, and that he'd give her 10% if she won. She did win, but his bookmaker only let him bet $30,000. So, Murphy received $3,500 from this complete stranger instead.
When I heard this story, the sports purist in me sounded the alarm. I thought that Dana White and the UFC would not consider this kind of thing kosher. Murphy didn't think the UFC would have any issues with this kind of arrangement. I was shocked by her response:
"They would probably love it. They'd laugh, I'm sure. Dana would probably think it's good business and say, 'Good for you!'"
Fighters Betting On Themselves
We also discussed fellow UFC fighter Justin Jaynes betting his fight purse on himself. Murphy said unequivocally that she would never do the same thing, citing the increased pressure as unnecessary. Furthermore, Jaynes lost the match, meaning that he got beat up without any compensation. In fact, he's in the hole, due to his training costs.
Interestingly enough, though, one thing that Jaynes does not have to worry about, at least with regard to the bet, is his status with the UFC itself.
I asked Murphy if she or any other fighters had received warnings or cautions from the UFC about sports betting, and she said that she hadn't. In fact, on the contrary, she thought that the UFC doesn't mind it at all.
"The UFC likes a good storyline. It's a good way to draw attention to the sport, and the UFC loves that."
Are there any integrity issues?
Of course, the notion of storylines and the UFC led into a discussion about any monkey business Lauren Murphy has encountered throughout her career. I asked her if the UFC ever tried to dictate how a fight might go or pressured her to behave in a certain way. She said that the organization never had done anything like that, and even mentioned that more experienced UFC personnel had told her the same thing.
"The UFC doesn't mess around like that. If they did, Conor McGregor would be undefeated. I think Dana and the Fertittas understand that if you start fixing fights, then you start losing fans."
I also wondered if Murphy had ever been approached by someone outside of the UFC regarding the outcome of her fights. There's little doubt that some rough characters have taken an interest in past fighters. To this day, Sonny Liston's death is still thought by some to be Mafia-related. Plus, we've all seen crime movies where unsavory types or degenerate gamblers put the squeeze on athletes.
Thankfully, Murphy said that nobody has ever asked her to take a dive in a fight.
—
Lauren Murphy's next fight is in the co-main event Saturday, Sept. 25 for the UFC Women's Flyweight Championship.
She said that she is training hard with Cisne at Gracie Barra Katy to try and take the belt from Shevchenko.
Murphy is also training with Bob Perez at Houston's Main Street Boxing and Muay Thai, as well as with her husband, Joe Murphy, at Renzo Gracie Jiu Jitsu in Sugar Land.
There's no doubt that she's in for the fight of her life. FanDuel's opening odds placed Murphy at +520 for the fight. Bettors have made her a bigger longshot now at .
However, it's safe to say that there are very few fighters in the world more comfortable with being the underdog than Lauren Murphy.