Tonight, the NBA Eastern Conference playoffs continue with Game 2 of the Milwaukee Bucks versus the Brooklyn Nets. Just like in the other Eastern Conference Semifinal, a major injury subplot has cropped up involving a superstar player. In this case, it's a James Harden hamstring injury.
Harden has already been announced out for Game 2, though he may return at some point this series as the injury has been called "tightness" rather than a tear.
Still, there are reasons to be pessimistic as well. When Harden originally hurt his hammy in early April, he missed all but four minutes of the next 21 games. When he did return, he played only 25 minutes each of the next two games.
Let's take a look some lineup data and stats and see how the market is pricing in the absence of Harden for Game 2 and potentially beyond.
Claim Your $1,050 Bonus at DraftKings Sportsbook

1
Up to $1,050 FREE
New User Bonus. T&Cs Apply.
NFL Promo: Bet $5 Win $200
PLUS $50 Free On Deposit

PLUS Up to $1,000 Deposit Bonus

To Claim: Click Play Now
How do the Nets Perform Without James Harden?
It may surprise some readers to learn that Harden's on/off numbers from this year with Brooklyn don't paint the picture of a player crucial to his team's success. In fact, it didn't seem to matter much that a James Harden hamstring injury took him off the court during the regular season as well.
Nets with Harden on court: +5.1 per 100 possessions
Nets with Harden off court: +4.8 per 100 possessions
That's the luxury of having two more franchise players in Kevin Durant and Kyrie Irving. The team's offense suffered a hit, dropping by about 3.4 points per 100 possessions, but the defense improved by nearly the same amount to leave his net rating at just +0.3.
In the playoffs so far, it's been a different story. Obviously the sample is much smaller. But, Harden has been +25.1 with the team -3.0 without him.
As far as regular season performance goes, there isn't much data to go off. That's because most of the lineups that included Irving and Durant but not Harden played with a true center. Brooklyn coach Steve Nash seems to be leaning toward a small-ball route in the playoffs as Nicolas Claxton's 14 minutes were the only ones played by a center.
In the regular season, the two lineups most representative to how Brooklyn will play without Harden went +12.4 and +23.2 in about 60 minutes combined. Those lineups included the two healthy stars, Blake Griffin, Bruce Brown and a shooter (either Landry Shamet or Joe Harris).
Related: Find The Best Odds On NBA Finals Futures In Your State
Market Skeptical of Game 1 Success
Obviously, these lineups also performed pretty well in Game 1 as the Nets walked away with a 115-107 win. That margin understates the magnitude of the win, too, as they went -6 in the fourth quarter when the outcome wasn't really in doubt.
However, there are reasons to be skeptical.
Publicly available shot tracking metrics from ShotQuality paint a starkly different picture from the final score. They use more than 90 inputs including the ability of the shooter, and their numbers believe the Bucks "deserved" to win by about four if everyone on the court shot according to their true talent levels.
Role players Griffin, Harris and the ultra-anonymous Mike James shot a combined 11-for-22 from deep. Griffin and James rated as two of the more inefficient 3-point shooters relative to the quality of their looks during the season, so they might be hard-pressed to duplicate that.
Bucks stars Jrue Holiday and Khris Middleton, meanwhile, left a whopping 20 points on the court as they continually missed quality looks in an ugly 13-for-42 performance.
The Nets opened around -4 for Game 1. A downward adjustment for the winning team in Game 1 isn't unusual, and that's what happened for Game 2 as the Nets opened around -2.5.
The market has already made its opinion known. The Nets now sit at for Game 2. The series line, meanwhile, has barely budged from it's pre-Game 1 price, currently sitting at Nets -220 despite a 1-0 lead.
If you're skeptical of the Nets after the James Harden hamstring injury, the time for getting value on the Bucks may have passed. If you believe Durant, Irving and the role players can carry the load without him, though, now's an enticing time to buy in at these reduced prices.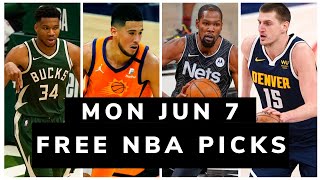 Eastern Conference Futures