After the Arizona Department of Gaming announced its sports betting licensees, Arizonians know what legal sportsbooks they have access to. However, some may still have questions about the procedures pertaining to Arizona sportsbook signup processes online.
Among common questions are what makes a person eligible for an account with a regulated sportsbook in AZ, what hopeful bettors need to provide to verify that eligibility, and what the best way to go about doing that is. This post has all that information plus details on how to take advantage of offers from AZ sportsbooks.
Best Arizona mobile sportsbooks
Click any (or all) of these legal Arizona sportsbooks and take advantage of the free money bonus offers!
RANK
OPERATOR
BONUS
INFO
ACTION
Answers to common Arizona sportsbook signup questions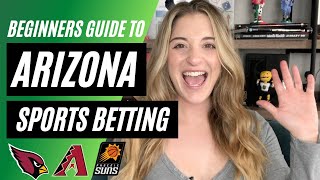 According to Arizona law, there are two points of qualification for sports betting. You must be at least 21 years of age to register. Also, if your name appears on any of the state's gambling self-exclusion lists, you're ineligible. If you're eligible on both of those points, then you're good to go as far as the state is concerned.
Another important point is to note whether you've previously bet with the AZ sportsbook you want to use. For example, several of the new AZ operators also run online sportsbooks in neighboring Colorado and Nevada. If you've already registered accounts with apps like DraftKings Sportsbook and FanDuel Sportsbook, you shouldn't try to create a new account for use in AZ.
Instead, just sign into the app using your existing credentials. AZ law only allows you to have one account with each sportsbook. This is part of responsible gambling standards to prevent things like money laundering. It's also important so you can take advantage of any rewards you may have built up in those apps.
For those Arizonians who are new to at least one of the various sportsbooks or sports betting altogether, creating an account from scratch is not only easy but free and quick. A big part of that convenience is that you can do it completely on your phone.
How do I register a new account on my phone?
It's a pretty painless process, actually. All you need is an Internet connection and enough battery power on your device for a few minutes. If you don't need to register a new account but simply sign in to an existing one, these first few steps are for you, too.
At this point, the process is pretty much identical whether you're on a device that uses the Android or iOS operating systems. For iOS users, it's pretty much irrelevant whether you're on an iPad or iPhone, too.
The first step is to visit either the App Store or Google Play Store. Then, search for the app of the sportsbook you want to use. After the app downloads and installs, open the app. This is where the process diverges based on whether you need to create a new account or not.
If you already have an account with the sportsbook, simply sign in and follow any on-screen prompts to verify your eligibility to use the app in AZ. It should be pretty quick. If you've never used the sportsbook before, there are a few more steps.
In much the same way, follow the on-screen prompts for account registration. To complete the signup, you'll need to provide the sportsbook with a few pieces of identifying information. That includes your:
Date of birth
Email address
Last four digits of your Social Security Number (to verify your age and identity)
Legal name
Mailing address
If you choose to use a desktop computer to register instead, the process is quite similar. Visit the sportsbook's website and follow the on-screen prompts to either sign in or sign up. The sportsbook will need the same information from you.
After the sportsbook verifies your Arizona sportsbook signup eligibility, you're ready to start using the app. It's also time to take advantage of some of the best offers from AZ sports betting apps, too.
Don't get in too much of a hurry and miss out on deals
At this time, the sportsbooks will likely prompt you to deposit some funds so you can place bets. However, you shouldn't do so without checking out our guides to AZ sportsbook offers. Depending on the operator, here's all you need to know:
If you don't live in AZ but you plan on traveling there soon and doing some betting, you should note that you don't have to wait until you get to the Grand Canyon State to sign up for any AZ sportsbook. You can complete the registration process and get in on these offers from anywhere.
You will have to physically be somewhere in AZ to actually place your bets, though. For that purpose, you will need to enable location services on your mobile device. The sports betting app won't let you place a bet unless it can verify you are in AZ.
The same goes for betting on a desktop. The sportsbook might require downloading geolocation software on your computer. It's necessary for compliance with the law on not only your part but the sportsbook's as well.
All in all, it should only take you a few moments to get your account ready to go in AZ. Hopefully, that leads to many more moments of responsible entertainment on the same apps.