Golf fans around the world are eagerly awaiting the resumption of the 2020 PGA Tour schedule with the Charles Schwab Challenge set to tee off Thursday, June 11. To help bridge the gap in competitive golf, Rory McIlroy and Dustin Johnson will go head-to-head with Rickie Fowler and Matthew Wolff in the TaylorMade Driving Relief charity event Sunday, May 17, and DraftKings Sportsbook is offering betting odds on the match.
A form of match play, the teams will compete to win each hole and the monetary value associated with it. If a hole is halved (tied), the money will carry over to the next hole(s), meaning multiple holes can be won or lost on a single putt. The $3 million prize purse will then be given to charity in the golfers' names.
Seminole Golf Club will host the team skins match May 17. The event will raise money for COVID-19 relief initiatives. The COVID-19 pandemic forced the cancelation or postponement of all PGA Tour events since the first round of The Players Championship concluded Thursday, March 12.
RANK
OPERATOR
BONUS
INFO
ACTION
TaylorMade Driving Relief: Betting odds and predictions
DraftKings opened the odds with McIlroy and Johnson as heavy -225 moneyline favorites over Fowler and Wolff (+163) in the skins match. The odds have since moved toward McIlroy/Johnson to -235 as of Monday morning.
McIlroy and Johnson currently rank first and fifth, respectively, in the Official World Golf Ranking. They have combined for 38 career PGA Tour victories, including five majors, with another 21 wins on the European Tour.
Fowler and Wolff, two alumni of Oklahoma State University, rank 27th and 110th in the world, respectively. They've combined for six PGA Tour titles, including Wolff's first and only win at last season's 3M Open.
The easy bet to make is McIlroy and Johnson as the two higher-ranked, more successful, and more experienced golfers. McIlroy, especially, was in top form before the PGA Tour went on break with seven straight top-five finishes dating back to October's Zozo Championship.
There's a fair amount of chalk involved in these odds, however, as a $10 bet on McIlroy and Johnson to win the skins event would return a profit of just $4.30. The same bet on the underdog Fowler-Wolff pairing (+175) would fetch a profit of $17.50.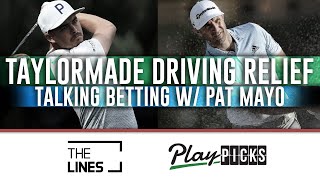 TaylorMade Driving Relief: What you need to know
The pride of June Beach, Fla., Seminole Golf Club was designed by famed architect Donald Ross. The course measures 6,836 yards and plays to a par of 72. Seminole has never before hosted a professional event.
How to watch
The TaylorMade Driving Relief charity event will air on NBC Sunday, May 17, from 2-6 p.m. ET. Mike Tirico will provide commentary from his home in Michigan. Analysts Paul Azinger and Gary Koch, and play-by-play announcer Rich Lerner will be in an off-site production facility. Reporters Jerry Foltz and Steve Sands will be on-site at Seminole Golf Club.
The event will also air on GOLF Channel, NBCSN and Sky Sports while being digitally streamed on PGA Tour Live, GOLFPASS, and GOLFTV.
When will the PGA Tour return?
Along with the TaylorMade Driving Relief event, Tiger Woods and Phil Mickelson will pair up with future Hall of Fame NFL quarterbacks Tom Brady and Peyton Manning in The Match: Champions for Charity. This event will be held Sunday, May 24, at 2 p.m. ET, at Medalist Golf Club in Hobe Sound, Fla.
The next tournament on the PGA Tour schedule is the Charles Schwab Challenge June 11. The tournament is scheduled to be played at Colonial Country Club in Fort Worth, Texas, and will take place without fans permitted on the course.
McIlroy spoke recently on "The Today Show" to promote the TaylorMade event and also addressed concerns over the PGA Tour returning amid the pandemic.
"I think golf can return to doing things like this," McIlroy said, via Golfweek. "We can keep ourselves socially distant, keep ourselves in different carts, and stay obviously more than six feet away from one another and that's really important."
Two-time PGA Tour winner Brendon Todd also discussed the upcoming return of professional golf. He says it will rely heavily on strict testing procedures and golfers policing themselves.
"We'll be trying to stay 6 feet away but you're not going to stay 6 feet from your caddie at all times," Todd said, via ESPN. "We would strive to do that as best as we can do. I don't see us wearing masks out there even though that would probably be a smart precaution but I just can't see teeing it up with a mask on. We'll probably break every CDC recommendation there.
"I'm willing to take on that risk with everybody taking a test before we leave and again on site," he said. "We're controlling some of that risk. That's a better situation than going to a crowded grocery store."
As for the PGA Tour's 2020 major schedule, The Open Championship has been canceled, while the PGA Championship is set for Aug. 6-9. The US Open was postponed to Sept. 17-20 and will be apart of the 2020-21 Tour schedule. The Masters will be held Nov. 12-15 and also be part of the 2020-21 season.