Finally, the Georgia Bulldogs put the nightmare title drought to bed. In 2022, they face massive pressure to follow up that 2021 season, particularly on defense– a challenge with weight that might crush the players underneath it. Kirby Smart has cemented himself as one of the SEC's elite coaches and elite recruiters. He's put together a deep team that should be able to rebound well, but the expectation now is title or bust. Will Georgia's preseason odds amount to be too much pressure?
This page will serve as a one-stop shop for everything you need to know about the Georgia Bulldogs for the 2022 season. Where do they stand on college football odds tables in their pursuit of a back-to-back championship?
Week 1 Odds: Georgia vs. Oregon
Georgia handles Oregon at "neutral" Mercedes-Benz Stadium in Atlanta as a heavy favorite. Given the over/under, oddsmakers expect Georgia to keep Oregon under 17 points in this one.
It's a quick reunion for Dan Lannging– the Dawgs' DC last year that was hired by Oregon as head coach. Lanning has a talented roster, specifically on defense, that could cause issues for Georgia in this opening game. Familiarity with the program certainly has its pros and cons, but expect Oregon's defense to be able to hang with Georgia's offense, at least at first.
Defensively is where Georgia reigns supreme. Oregon returns all five starters in what should be one of the nation's best OLs, but they have ample talent on their defensive line to match what the Ducks bring to the table. Oregon has little returning starters at skill positions, giving Georgia a massive leg-up in matchup. Given Oregon's national fanbase and the ease of access to Atlanta, expect the Ducks to be well-represented. However, the Bulldogs have a major advantage in not traveling back three time zones.
Forecast
The line at market makers is moving in favor of Georgia this summer. While Oregon's defense should be able to put a relative cap on Georgia's offense, there's not many realities that exist in which the Ducks move the ball a lot. A play here might be the first half under () as Lanning knows Georgia's offense from being on staff. Bo Nix– now heading Oregon– is 0-3 in his career against Georgia from his time at Auburn.
Georgia vs. Oregon full Week 1 betting preview
TheLines Podcast: Win Totals, Week 1 Odds & Bets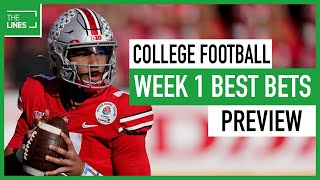 Georgia odds, 2022 team preview
Just three starters from last year's historic defense return for Georgia in 2022, but they're still primed to be one of the top units in the nation. They never allowed more than 17 points in the regular season and finished 2021 with a nation's-best 10.2 points per game allowed (that includes the 41 points they allowed to Alabama in the SEC Championship Game). Star Jalen Carter leads a next-man-up group on the defensive line and will likely be Georgia's next first-round DL drafted.
Carter is joined by outside backer Nolan Smith, who opted to return to Athens despite likely being an NFL Draft pick. Interior linebacker has some holes after two high-round picks were drafted, but the secondary is anchored by preseason All-American Kelee Ringo. Repeating last year's record-breaking season on defense is unrealistic to ask of this unit, but they will still be elite.
Offensively, much more production returns, including super- super- super-Senior Stetson Bennett (entering his seventh year of college eligibility). Bennett is protected by three returning starters on the OL and one of the better receiving corps in the nation. Rising sophomores Ladd McConkey and Brock Bowers helped produce the nation's sixth-most explosive offense in the nation in 2021. Expect continued reliance on the run game, with two talented backs continuing the trend of "RBU."
After the Dawgs open with Oregon, they have just four true road games– South Carolina, Missouri, Mississippi State, and Kentucky. Per ESPN's FPI, Georgia' schedule is the second-easiest in the SEC, behind only Kentucky. Before the season begins, Georgia is projected to be favored in every game on their schedule.
Expect Georgia to be in the SEC Championship Game in December and to be right in the CFP mix once again.
Players to watch
DL Jalen Carter: Despite Georgia losing its entire defense almost to the draft, including All-American Jordan Davis, they're set up front with Jalen Carter. He racked up 37 tackles (8.5 for a loss) and three sacks on the interior as a sophomore. Despite being the most talented player on Georgia's defense, opposing offenses likely can't afford to lend too many hands to him as other talented defenders like Nolan Smith with draw attention, as well.
CB Kelee Ringo: Ringo is just a rising sophomore, but he lands on Athlon Sports' preseason first team All-American team and Phil Steele's second team. He sealed the National Championship win last year with a pick-six late in the game. Ringo is one of two returning starters in the secondary, will handle his fair share of elite SEC receivers, and leads all returning Dawgs with eight passes defended.
TE Brock Bowers: Bowers established himself as one of the best tight ends in the nation as a true freshman, earning second-team All-America honors in 2021. Despite a talented corps of wide receivers, Bowers will be the top target for Georgia this coming season. He hauled in 882 yards and 13 touchdowns, leading the team in all receiving categories.
Follow TheLines on Twitter for more college football content
Georgia schedule and betting odds
| Date | Game | Time (ET) | Spread |
| --- | --- | --- | --- |
| 9/3/22 | vs. Oregon | 3:30 p.m. | -17 |
| 9/10/22 | vs. Samford | 4:00 p.m. | OTB |
| 9/17/22 | at South Carolina | 12:00 p.m. | -15 |
| 9/24/22 | vs. Kent State | 12:00 p.m. | OTB |
| 10/1/22 | at Missouri | TBA | OTB |
| 10/8/22 | vs. Auburn | TBA | -21.5 |
| 10/15/22 | vs. Vanderbilt | TBA | OTB |
| 10/22/22 | BYE | BYE | |
| 10/29/22 | vs. Florida | 3:30 p.m. | -14.5 |
| 11/5/22 | vs. Tennessee | TBA | -15.5 |
| 11/12/22 | at Mississippi State | TBA | OTB |
| 11/19/22 | at Kentucky | TBA | -16 |
| 11/26/22 | vs. Georgia Tech | TBA | -28 |
| 12/3/22 | SEC Championship | 4:00 p.m. | |
Georgia Bulldogs futures odds
College football futures odds will continue to shift as the season progresses. Because of the length of college football schedules, futures odds may shift dramatically week-to-week.
Georgia win total
Georgia will likely be favored by double-digits in every game this season. Already, they're more than two-touchdown favorites in all lines that are out, including against Oregon (-17.5), Florida (-14.5), and Tennessee (-15.5). Because of that, the Dawgs are pegged for the maximum over wins this year.
Odds to win 2023 National Championship
The defending champions are to repeat this coming season– only behind Alabama and competing with Ohio State. While their schedule is favorable, playing in the SEC and the inevitability of needing to beat Alabama at least once hinders their National Championship odds slightly.
Odds to win SEC Championship
See above. Georgia is a heavy favorite to win the SEC East (), but winning the entire SEC requires a win over Alabama (or a team good enough to beat them like Texas A&M). Georgia has odds to win the SEC in 2022.
Bet on the Georgia Bulldogs
Click on PLAY NOW in the banner below to take advantage of sportsbook promos curated to your state.
RANK
OPERATOR
BONUS
INFO
ACTION