The morning line Fountain of Youth odds are here for the next stop Saturday on the Road to the Kentucky Derby.
Fifty Kentucky Derby qualifying points awaits the winner, comprising a practical win-and-in-your-in scenario for the May 7 Run for the Roses. The 1 1/16-mile showcase takes place at Gulfstream Park in Hallandale, Fla. The field of 12 goes off at 5:42 PM ET.
Get Up to $200 Back If Your First Bet Loses
$200 BONUS
If Your Bet Loses
Get Your First Single-Horse Win Wager Back
Up to $200 If You Lose
Use Promo Code: 200TVG

The Morning Line: 2022 Fountain Of Youth Odds
Click on the odds below to bet now. In horse racing, your odds are not final until the gate opens and may shift. The morning line favorite in post 12, Mo Donegal, has scratched from the race.
| Post | Horse | Odds | Trainer | Jockey |
| --- | --- | --- | --- | --- |
| 1 | Markhamian | 15-1 | Juan Carlos Avila | Marcos Menesses |
| 2 | Simplification | 7-2 | Antonio Sana | Jose Ortiz |
| 3 | Howling Time | 15-1 | Dale Romans | Joseph Talamo |
| 4 | In Due Time | 6-1 | Kelly Breen | Paco Lopez |
| 5 | Dean Delivers | 15-1 | Michael Yates | Miguel Vasquez |
| 6 | Rattle N Roll | 6-1 | Kenneth McPeek | Brian Hernandez |
| 7 | A.P.'s Secret | 20-1 | Saffie Joseph | Tyler Gaffalione |
| 8 | Emmanuel | 9-2 | Todd Pletcher | Luis Saez |
| 9 | High Oak | 8-1 | William Mott | Junior Alvarado |
| 10 | Giant Game | 15-1 | Dale Romans | Corey Lanerie |
| 11 | O Captain | 30-1 | Gustavo Delgado | Javier Castellano |
| 12 | Mo Donegal | scratched | | |
| 13 | Galt | 12-1 | William Mott | Joel Rosario |
More Saturday Kentucky Derby Prep Race Betting Guides
Fountain of Youth Past Performances
Many have used this now $400,000 event as a springboard to subsequent major victories, but none have gone on to win the Kentucky Derby since Orb in 2013.
1. Markhamian (15-1)
Won at Gulfstream over 6 1/2 furlongs with an ideal stalking trip outside two early frontrunners at 7-2 in Maiden Special Weights. Advanced to the Pasco Stakes at Tampa Bay and won in more difficult style at 7 furlongs. Had every reason to lose after being embroiled in a speed duel, but found another gear and triumphed at 5-1. More gritty than flashy, a hard knocker moving up in class and distance.
2. Simplification (7-2)
Figures to be a major factor. Won the Mucho Macho Man at Gulfstream in front-running fashion. Blew the start in the Holy Bull. Showed resilience and picked off the field one by one, but came up short, finishing second. Nosed Mo Donegal, the now scratched pre-race favorite, and may assume his role as the chalk in Fountain of Youth odds. A better start could make him the horse to beat.
3. Howling Time (15-1)
Possible change in running style? Won at Churchill Downs as a closer, then bolted to the front in Kentucky Jockey Club Stakes last November. Had the lead after a non-contentious pace but was overrun by the closers. Not in the final conversation. Probably will run somewhere between those last two races. Hard to gauge.
4. In Due Time (6-1)
Came in due time to notch a definitive and impressive Allowance Optional Claiming victory in his last outing. Sat behind a hot pace and won authoritatively behind Paco Lopez at 10-1. This is a good horse to watch regardless of where this race ends up. Improving, could have something to say if the pace is hot again.
5. Dean Delivers (15-1)
Sharp second in the Swale Stakes. Broke alertly, was taken back, came again and battled eventual winner Prankster all the way to the wire. Question is whether he can stride out to 1 1/16 miles.
6. Rattle N Roll (6-1)
Able to rock and roll to an impressive victory in the $500,000 Breeders Cup Futurity last fall. Much to like. He came out of a 13-horse field, similar to the pack he will face here. Stayed at the back of the first pack, stealthily moved up and took the lead coming for home. First outing this year. Layoff could be a concern, as is Gulfstream's speed-favoring oval. Connections may be priming him for the Louisiana Derby on March 26. But he goes in some tickets for me.
7. A.P.'s Secret (20-1)
Nothing wrong with the allowance optional claiming triumph in just his third effort. Took the lead early, battled through an honest pace and had just enough to win at 4-5. Takes a major step up in class and adds a turn, going to 1/16 miles. Ambitious placing. Could be speed factor.
8. Emmanuel (9-2)
Two for two, including a formidable debut in Maiden Special Weights company at Gulfstream in Dec. Got the lead early, persevered through wicked fractions and won handily with only gentle urging from Luis Saez. Follow-up race at Tampa Bay looked like a breezing workout. Got the lead at 1-5 odds and prevailed by as much as he wanted.
Great expectations, deserved short odds. Has given the impression that the best is yet to come. Only concern is that he's never had to fight for the lead. In a big field, that could happen here.
9. High Oak (8-1)
Two factors not in his favor: he ran a distant fourth in the Hopeful at Saratoga last September and he hasn't run since. One factor in his favor: that was a Grade I race. Early odds indicate respect for the level of race he graduated from. But he only ran evenly down the stretch at 5-2. Nothing he did in that race or since indicates that he's in the best position here. May be racing into shape for bigger things.
10. Giant Game (15-1)
Ran hard for six furlongs but disappeared in the Holy Bull. Looked like he just hit the wall of better talent. Has to come back against some of these. Hard to like off of last, although horses do come back sometimes after running a clunker.
11. O Captain (30-1)
Ambitiously placed. Was a distant third in the six-furlong Limehouse at Gulfstream Park. Was running late if that's a nugget for those who believe he's bred to go longer, but otherwise this is asking a lot.
12. Mo Donegal (scratched)
13. Galt (12-1)
Used the rail and held the lead for nearly a mile in the Holy Bull. Was passed down the lane by Simplification and Mo Donegal. If one projects an improvement of 2-3 lengths – which can simply happen if the horse feels good – he can be part of the picture. Much of this depends on whether he's clear on the early lead or in traffic.
Triple Crown Schedule
Betting Strategies For 2022 Fountain of Youth Odds
What's your major angle in handicapping the Fountain of Youth odds? Mine is that both Simplification and Emmanuel hit the top three, and I will proceed that way. I thought Mo Donegal was going to be a false favorite and divert money to the others, but now that he's scratched, the payoffs change.
Win bets should pay well enough. Anything at 5-2 or better is fair for me to put a win bet on Simplification. But Rattle N Roll and Emmanuel also figure prominently into my tickets.
I like the projected improvement of Simplification with a sharp break and the early performance of Emmanuel. I will put them both in trifecta boxes and will mix in the 4, in Due Time, and the 6, Rattle N Roll and will risk the fact they have to close. I will toss Galt at the bottom of the super, in case speed holds.
So, a win bet on the 2, an exacta box 2-8, a 50-cent trifecta box 2 ,6, 8, 4. Isolated win bet on the 6 on a hunch.
Will live with the fact that the Todd Pletcher-Luis Saez combo could drive down the odds of Emmanuel. Bettors love that pairing of the leading-money trainer and top jockey at this track.
One superfecta attempt: 2-8 with 2-8 with 13, 4, 6, with 13, 4,6. Cost is $12 for the $1 super.
Tempted to spread a little more but if the initial angle is right, the payoffs won't be huge. There are many angles to choose from, involving layoff, class and distance considerations. That's why there is still good money to be made at this time of the season with three-year-olds and why a suddenly-improving horse can surprise – like Un Ojo did in the Rebel Stakes at 75-1.
Good luck finding your edge in 2022 Fountain of Youth odds.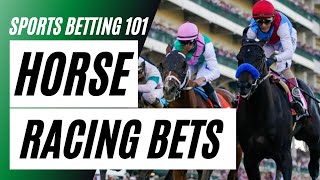 Road To Kentucky Derby Point Standings
The top-20 healthy horses in the standings after all KY Derby prep races have completed will be eligible to enter the Run for the Roses on the first Saturday in May. These standings are as of Friday, March 4.
| Rank | Horse | Points | Trainer |
| --- | --- | --- | --- |
| 1 | Epicenter | 164 | Steven M. Asmussen |
| 2 | Zandon | 114 | Chad Brown |
| 3 | White Abarrio | 112 | Saffie Joseph, Jr. |
| 4 | Mo Donegal | 112 | Todd Pletcher |
| 5 | Tiz the Bomb | 110 | Kenny McPeek |
| 6 | Cyberknife | 100 | Brad Cox |
| 7 | Crown Pride (JPN) | 100 | Koichi Shintani |
| 8 | Taiba | 100 | Tim Yakteen |
| 9 | Simplification | 74 | Antonio Sano |
| 10 | Smile Happy | 70 | Kenny McPeek |
| 11 | Classic Causway | 66 | Brian Lynch |
| 12 | Tawny Port | 60 | Brad Cox |
| 13 | Barber Road | 58 | John Ortiz |
| 14 | Un Ojo | 54 | Anthony W. Dutrow |
| 15 | Messier | 40 | Tim Yakteen |
| 16 | Zozos | 40 | Brad Cox |
| 17 | Summer Is Tomorrow | 40 | Bhupat Seemar |
| 18 | Charge It | 40 | Todd Pletcher |
| 19 | Happy Jack | 30 | Doug O'Neill |
| 20 | Pioneer of Medina | 25 | Todd Pletcher |
| 21 | In Due Time | 24 | Kelly Breen |
| 22 | Ethereal Road | 22 | D. Wayne Lukas |
| 23 | Rich Strike | 21 | Eric Reed |
| 24 | Rattle N Roll | 20 | Kenny McPeek |
More Horse Racing Coverage From TheLines