Florida State is going through its most adverse stretch in program history, not posting a winning season since 2017. Rolling into 2022, the athletic department became serious about spending and the coaching staff hit the transfer portal hard. Below, we'll look at Florida State odds for their win total, their ACC odds, and what the team might look like this coming season.
This page will serve as a one-stop shop for everything you need to know about the Florida State Seminoles for the 2022 season.
Week 1 Odds: Florida State (1-0) vs. LSU (0-0)
In Week 1, Florida State () takes on LSU in "neutral" New Orleans as college football's annual Sunday night game. It's the first look the nation gets at the Brian Kelly-led LSU Tigers that bring in as many transfers as anyone in the country. FSU's improved defense benefits from LSU not committing to a QB in the offseason; will it be Jayden Daniels? Garrett Nussmeier? While it's tough to game plan for, LSU won't have had much cohesion time and the 'Noles can use that opportunity to get an early start.
Despite having a talented and experienced secondary, FSU will have their hands full with LSU's Kayshon Boutte, who is one of the nation's top receivers. The 'Noles will be starting two new cornerbacks. Albany transfer Jared Verse and the rest of Florida State's front seven will be able to attack LSU's inexperienced offensive line and getting to the QB will limit Boutte's impact on the game.
Expect new LSU DC Matt House to run more man than zone in this game, as that's something Travis struggled with big time last season. A pair of transfers get the start at corner for LSU, who are more talented than FSU's receiving corps. House relies on physical play from his corners, so the 'Noles will have to get off jams and give Travis more time to throw the ball.
LSU vs. Florida State full Week 1 betting preview
TheLines Podcast: Win Totals, Week 1 Odds & Bets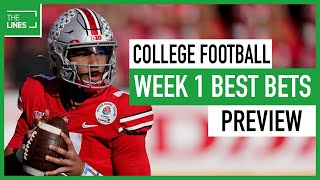 Game Forecast
Since LSU is an entirely new team from top to bottom, action might be limited on their side. A field goal seems to be about what this number is going to stay at leading up to kickoff. Books do offer the number at +3.5, which would be worth consideration for FSU. While this isn't really a neutral game (NOLA is just an hour from Baton Rouge), FSU will be well-represented. Under is absolutely in play since LSU counters the Seminoles' offense really well and LSU is completely new on offense with no real QB decision.
Florida State odds, 2022 team preview
Mike Norvell is in the best position in Tallahassee he's ever been. Florida State hit the transfer portal hard, signing the 11th-best transfer class, per 247Sports. That class is headlined by sophomore Verse, who should be one of the best pass rushers in the ACC if not the nation. He's joined by UCF transfer Tatum Bethune, who recorded over 100 tackles in 2021. The Seminoles' defense should continue to improve, as they showed bits of excellence last year, though it was derailed by meltdowns on third down.
Verse and Bethune join a talented front seven, anchored by tackle Fabien Lovett. Lovett was expected to bolt for the NFL last season, but decided to stick it out one more year with FSU. In the secondary, safety Jammie Robinson is a highly-touted player who lands on multiple preseason All-ACC lists. The concern with the unit is at corner, with two new starters who have limited experience.
FSU's potentially-most improved unit should be their offensive line. They return four of five starters up front, including All-ACC candidate Dillan Gibbons. In total, the 'Noles return 16 starters and sit 17th nationally in returning production (78%). Quarterback Jordan Travis is enough to get the job done when healthy, something he struggled with last year as the starter.
Most projections view Florida State as an improved team that should find themselves bowl-eligible come December for the first time since 2019. The holdback is their schedule, which features LSU, Louisiana, and Florida out of conference; games at NC State and Miami; and a home date with Clemson.
Players to watch
QB Jordan Travis: Travis was a lot better of a QB than most remember last season. He struggled against man defense, averaging nearly seven yards per attempt more against zone. However, the 'Noles went 5-2 down the stretch under Travis with a shoddy group of weapons. What Travis' season hinges on is his ability to stay on the field– the best ability is availability and he hasn't shown that yet.
EDGE Jared Verse: Verse was one of the top transfer lands nationally, coming up from FCS Albany. The move from FCS to Power 5 has yielded really mild results in the past, but Verse was a standout at spring practice, often dominating Florida State's experienced OL. He's the prototypical size (6′ 4″, 250+ pounds) and has the athleticism to be a high first-round NFL Draft pick and fill a massive void left by Jermaine Johnson.
SAF Jammie Robinson: In his first year with Florida State, Robinson earned All-ACC honors and led the team in tackles and interceptions. He found a fit as a true safety instead of a floating nickel DB and that was a foundational piece to FSU's defense turning a corner in the second half of last year. Robinson landed on the first team for Athlon Sports and Phil Steele's All-ACC preseason list.
Follow TheLines on Twitter for more college football content
Florida State schedule and betting odds
| Date | Game | Time (ET) | Spread |
| --- | --- | --- | --- |
| 8/27/22 | vs. Duquesne (FCS) | 5:00 p.m. | -44.5 |
| 9/4/22 | vs. LSU | 7:30 p.m. | +3.5 |
| 9/10/22 | BYE | BYE | |
| 9/16/22 | at Louisville | 7:00 p.m. | OTB |
| 9/24/22 | vs. Boston College | TBA | OTB |
| 10/1/22 | vs. Wake Forest | TBA | OTB |
| 10/8/22 | at NC State | TBA | OTB |
| 10/15/22 | vs. Clemson | TBA | OTB |
| 10/22/22 | BYE | BYE | |
| 10/29/22 | vs. Georgia Tech | TBA | OTB |
| 11/5/22 | at Miami FL | TBA | OTB |
| 11/12/22 | at Syracuse | TBA | OTB |
| 11/19/22 | vs. Louisiana | TBA | OTB |
| 11/26/22 | vs. Florida | TBA | +1.5 |
| 12/3/22 | ACC Championship | TBA | |
Florida State Seminoles futures odds
College football futures odds will continue to shift as the season progresses. Because of the length of college football schedules, futures odds may shift dramatically week-to-week.
Florida State win total
Oddsmakers see Florida State as a fringe-bowl team– that's aligned with most team assessments. They're lined for over wins, likely held down by a difficult schedule ranked fourth-toughest in the ACC (30th nationally).
Odds to win 2023 National Championship
Florida State is a championship longshot.
Odds to win ACC Championship
Being in a division with Clemson, upstart NC State, and talented Wake Forest severely hinders Florida State's route to an ACC Championship. The 'Noles are longshots to do so.
Bet on the Florida State Seminoles
Click on PLAY NOW in the banner below to take advantage of sportsbook promos curated to your state.
RANK
OPERATOR
BONUS
INFO
ACTION