For the third time in the past calendar year, we're headed back to sunny San Diego for one of the biggest non-major golf events of the year. 2022 Farmers Insurance Open odds will open Monday, and as the Farmers Insurance adage goes, we know a thing or two, because we've seen a thing or two.
This event will be the polar opposite of what we've seen so far in the early 2022 season. It's one of the strongest fields we'll see in a non-major all year. It's the longest course we'll see all year. Plus, par will be a good score on a majority of the holes played, testing players' short game and scrambling ability.
Here's a look at everything you can expect at the 2022 Farmers Insurance Open. Click on odds to bet now.
2022 Farmers Insurance Open Favorites
For full outright odds, scroll to the bottom of the article. You can compare prices across legal U.S. sportsbooks there as markets open and also browse top-5, top-10, etc.
Farmers Insurance Open History
Most recently, it was at the 2021 U.S. Open where the Torrey Pines South Course played host to Jon Rahm's first career Major Championship. The Farmers Insurance Open has been a mainstay on the PGA TOUR every January since 1952 and has been contested at the Torrey Pines North & South courses since 1968.
We are at the home of "Expect anything different" where Tiger Woods has dominated with seven career Farmers Insurance Open wins to go along with that infamous playoff victory over Rocco Mediate at the 2008 U.S. Open.
With no Tiger in the field this week, Rahm will look to fill that role of asserting his dominance over Torrey Pines; he too has a U.S. Open victory and Farmers Insurance Open victory and has finished inside the top 10 in four of his five career trips to the Farmers.
Change In Farmers Insurance Open TV Schedule
Notably, the 2022 Farmers Insurance Open will tee off on Wednesday for the first time ever, concluding on Saturday to avoid overlapping the NFL Conference Championship games. A smart move considering these conference championships are the highest-rated TV programs and often the most betting handle of the year outside of Super Bowl betting; although I'm not sure how I'll balance work on Friday with post-cut golf action. We'll figure it out!
THE FIELD AT A GLANCE
Outside of Major Championships, the Farmers Insurance Open has attracted one of the strongest fields of the season each year, and the 2022 field will be no different.
Six of the OWGR top-10 players are in the field this week. Jon Rahm will make his first trip back to these grounds since winning the 2021 U.S. Open. Dustin Johnson will make his 2022 debut; he has typically skipped this event but after missing the Tournament of Champions, has chosen to finally kick the rust off at this event. Hometown favorite Xander Schauffele is back, and although he has some inexplicably poor history at Torrey Pines, he should be riding some confidence after an encouraging T2 finish at the 2021 Farmers. Hideki Matsuyama is also in the field making his first start since his 2022 Sony Open victory.
Jon Rahm has two wins at Torrey Pines; one at last year's U.S. Open and another at the 2017 Farmers. Jason Day ('18, '15), Brandt Snedeker ('16, '12), and Phil Mickelson ('01, '00, '93) round out the list of multi-winners of this event. Patrick Reed, the defending 2021 Famers Open champion is back this week, and former winners Marc Leishman, Justin Rose, Scott Stallings, and Nick Watney round out the list of players looking to get their second win at Torrey Pines.
INTRODUCTION TO TORREY PINES NORTH & SOUTH COURSES
This week we're back to a two-course rotation as players will rotate between the North and South courses on Wednesday and Thursday. After the standard 36-hole cut, the top 65 and ties will play Friday and Saturday from the South Course. ShotLink is only equipped on the South Course, which played host to all four rounds of the 2021 U.S. Open, so any historical Strokes Gained data at The Farmers will only go as far as the South Course will show us.
Why The North Course Matters
Scoring on the North Course is significantly easier than on the South, playing as another Par-72, 500 yards shorter. On average, the North Course has played a 2-3 strokes easier than the South Course. It's crucial to post a low number on your one round at the North Course, and we've seen players win or lose this tournament based on that one round.
In 2021, Patrick Reed opened with an 8-under 64 on the North Course. He shot 6-under over his next three rounds on the South Course, and could have won by only shooting 2-under across those three days. In 2019, Justin Rose opened with a 9-under 63 on the North Course and won after shooting a collective 12-under over his next three days on the South Course. In 2018, Jason Day shot an 8-under 64 on the North Course, shot three rounds in the 70s on the South Course, and still won at 10-under par.
All that to say, with winning scores falling at -15 or lower in eight of the last nine years, it's crucial to go low on your one round at the North Course. Historically speaking, if you don't post a round in the 60s on the North Course, you've effectively eliminated yourself from winning this tournament.
Torrey Pines Weather
Since we're right on the coast of San Diego, weather will be a factor here, primarily on the South Course. Dramatic winds and rain have shifted the dynamic of this event in years past, most notably for Brandt Snedeker's win in 2016. He posted a final score of -6 with a round of 69 on Sunday. Sunday's round was cut short due to unplayable weather and trickled into Monday where storming conditions consisted. Scott Brown was the co-leader going into Sunday and shot 87 to finish in 49th; one of the worst T40 beats of all time to this day.
One of the Longest Courses
Torrey Pines is not the most glamorous course on TOUR from an architectural standpoint, as it's a fairly simplistic, linear design. The identity of the course, however, is its length. Since 2015, the South Course at Torrey Pines has played as the longest course on TOUR, including the Majors, standing at 7,765 yards long.
In 2021, the Farmers Insurance Open layout played as the third longest on TOUR, behind the Ocean Course at Kiawah Island and the elongated version on the South Course at the U.S. Open. With that said, it hasn't exactly been a bomber's paradise as evidenced by wins from recent shorter hitters like Patrick Reed, Marc Leishman, and Brandt Snedeker.
Torrey Pines yields one of the highest missed fairway percentages on TOUR with its narrow fairways. The influence of the weather and small, firm greens have also yielded a lower-than-average Greens In Regulation percentage, which puts an emphasis on class short game and scrambling. The South Course at Torrey Pines has also played as the most difficult course for putting, given the tricky Poa greens, offering a distinct advantage to players who are experienced on Poa and who have found success putting at Torrey Pines historically.
TORREY PINES COURSE SPECS
Yards: 7,258 (North), 7,765 (South)
Par (North & South): 72 (4x 3s / 10x 4s / 4x 5s)
Greens: Bent (North), Poa (South)
Architect (North): William Bell (Tom Weiskopf renovation in 2016)
Architect (South): William Bell (Rees Jones renovation in 2001)
Historical Cut Line: -2
Median 4-round Score: -2 ('21), -4 ('20), -7 ('19), -1 ('18), -4 ('17)
Comp Courses: Muirfield Village, Bethpage Black, Quail Hollow, Club De Golf Chapultepec, Bay Hill, Accordia Golf Narashino
Recent Winners: Patrick Reed ('21), Marc Leishman ('20), Justin Rose ('19), Jason Day ('18, '15), Jon Rahm ('17)
EVENT HISTORY AND COURSE COMPS
Jon Rahm leads the way in terms of Course History at Torrey Pines, with his aforementioned two wins and four top 10s. The rest of the top 10 in Course History is rounded out by Tony Finau, Jason Day, Patrick Reed, Brandt Snedeker, Marc Leishman, Keegan Bradley, Hideki Matsuyama, Ryan Palmer, and Gary Woodland. There are various ways to find success at Torrey Pines, but the over-arching theme amongst those players, at least to me, is strong Around The Green play.
Looking at recent finishes, this will be another week to consider chasing course history. There are 11 players who have posted multiple T10 finishes over the last five years: Jon Rahm, Tony Finau, Jason Day, Patrick Reed, Brandt Snedeker, Marc Leishman, Keegan Bradley, Ryan Palmer, Justin Rose, and Patrick Rodgers. Three other players also have multiple T15 finishes over the last five years: Lanto Griffin, Tom Hoge, and Michael Thompson.
I'm going to lean pretty heavily on comp course history in my research this week to navigate 2022 Farmers Insurance Open odds, as recent form metrics are going to be skewed by the slew of birdie fests we've seen to start this year and close out the Fall Swing, which are anything but the conditions we've seen at the Farmers Insurance Open. The set up will be easier than what we see at Majors, so I'm looking closely at performance on the most difficult non-Major courses, including, Muirfield Village, Bethpage Black, Quail Hollow, Club De Golf Chapultepec, Bay Hill, and Accordia Golf Narashino.
The top-10 players in SG: TOT at these comp courses are Jon Rahm, Dustin Johnson, Patrick Reed, Xander Schauffele, Bryson DeChambeau, Hideki Matsuyama, Justin Thomas, Brooks Koepka, Talor Gooch, and Tony Finau. It's little surprise to see this group filled with Major winners and perennial Major contenders.
KEY STATS TO CONSIDER
Driving Distance / SG: OTT

SG: APP

SG: Short Game / Scrambling Gained

Par 4: 450-500 / Par 5: 550-600

Prox: 200+
SG: P (Poa)
Course & Comp Course History
We have seen players who lack distance still find success here; however, sacrificing distance to the field on a 7,765 yard course is going to put enormous pressure on your short game at this course. For that reason, I'm looking to hone in on players who are at least above-average in Driving Distance this week. We'll also see a premium on scoring in the P4: 450-500 and P5: 550-600 ranges, and an emphasis on Proximity 175+, as over 50% of approach shots at Torrey Pines have come from at least 175 yards out. There are seven players who rate out top-50 in each of these "distance" metrics: Jon Rahm, Hideki Matsuyama, Justin Thomas, Talor Gooch, Tony Finau, Luke List, and Maverick McNealy.
The ideal blueprint for success here, in theory, is to hit it long and accurately off the tee, while also having a strong short game, particularly on Poa. There are five players who rate out above-average in Driving Distance, Driving Accuracy, Scrambling, SG: Short Game, and SG: Putting (Poa): Jon Rahm, Sam Burns, Talor Gooch, Hayden Buckley, and Alex Smalley.
Poa putting is of particular importance this week, as we really only get to see these green types during the California swing, usually favoring the local Californians. Year over year, Torrey Pines has proven to be the most difficult course on TOUR to hit putts inside 15 feet, so identifying the players who are most comfortable on Poa greens will be crucial. The top-10 Poa putters in this week's field are Brandt Snedeker, Wyndham Clark, Brian Stuard, Maverick McNealy, Patrick Reed, Patrick Rodgers, Peter Malnati, Jon Rahm, Bryson DeChambeau, and Daniel Berger.
The top-10 players SG: P at the Farmers Insurance Open are Adam Hadwin, Brandt Snedeker, JJ Spaun, Patrick Reed, Justin Thomas, CT Pan, Sepp Straka, Rory Sabbatini, Jonas Blixt, and Patrick Rodgers.
Players with above-average distance who specialize in approach play and short game, particularly on Poa greens, should be expected to rise to the top this week. There are six players who are above-average in Driving Distance and top-50 in SG: APP, SG: ARG, Scrambling, and Poa Putting: Jon Rahm, Justin Thomas, Hideki Matsuyama, Sam Burns, Talor Gooch, and Luke List. It's notable to see that players like Thomas, List and Matsuyama who struggle putting at most TOUR events, qualify as top-tiered putters on Poa.
Looking at the top-correlated stats for this week, SG: APP, SG: Short Game, and P5: 550-600 make the most notable jump inside the top 10 at the Farmers Insurance Open. The importance of Par-3 Scoring and SG: OTT is relatively less at this event than TOUR average. Across the board, Distance and Short Game stats like Proximity to the Hole from 200+, Driving Distance, SG: ARG, and 3-Putt Avoidance saw the largest jump in importance compared to TOUR average, while Fairways Gained saw the least correlation with success.
Taking each of the above key stats into account, there are 12 players who rate out above average in all 10 categories: Jon Rahm, Tony Finau, Sam Burns, Sungjae Im, Talor Gooch, Aaron Wise, Cameron Tringale, Maverick McNealy, Adam Hadwin, Hayden Buckley, Will Zalatoris, and Jhonattan Vegas.
PLAYER SPOTLIGHT: SAM BURNS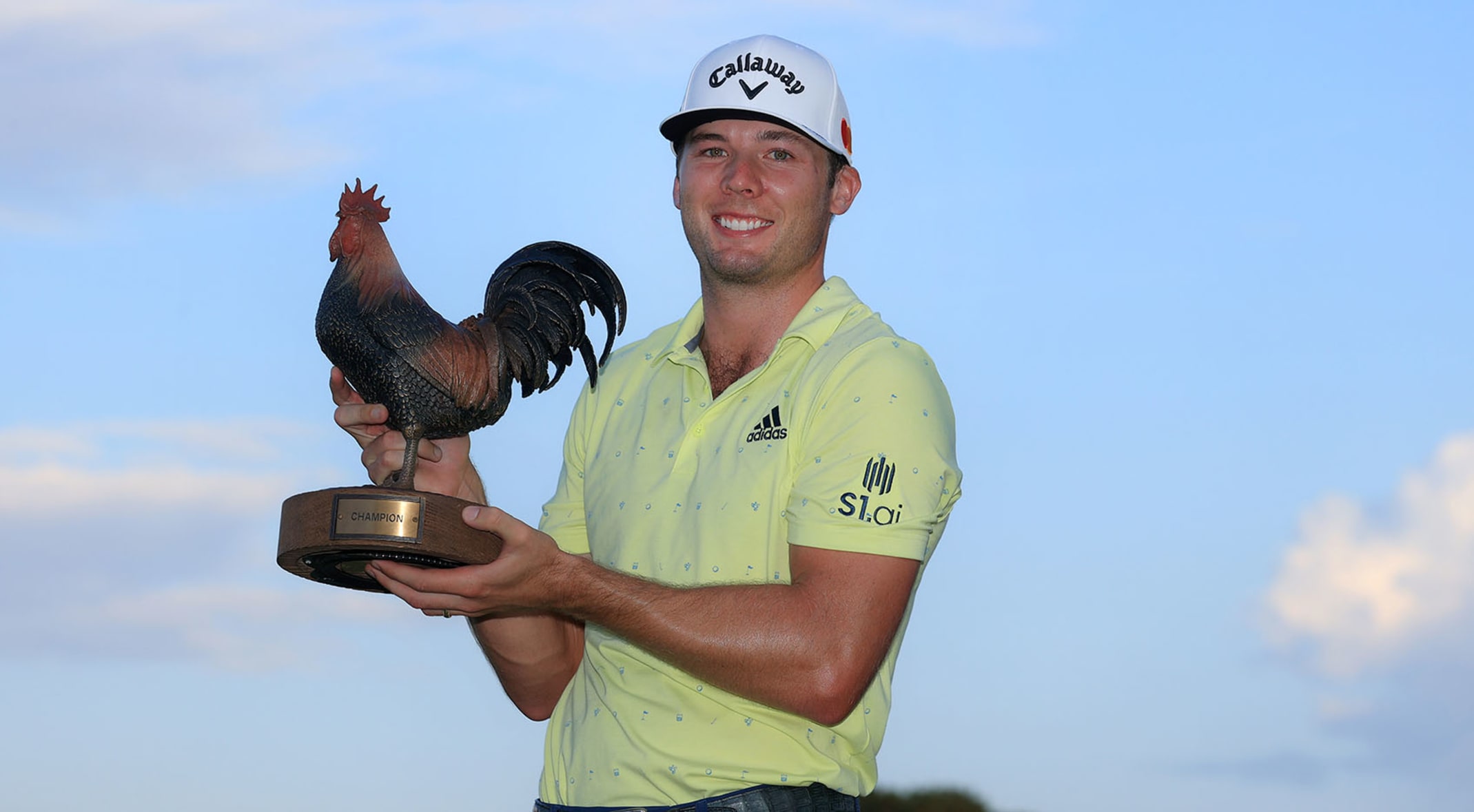 At stake for Sam Burns this week is an accomplishment never before seen in the history of the PGA TOUR. With a win at the Farmers Insurance Open, Burns would be become the first player to sweep the farms in the same season. He was victorious this past October at the Sanderson Farms, and a win this week would make him a certified Farm Specialist. Louis Oosthuizen watches from home with bated breathe.
In his early career, Burns has developed the reputation as someone you only want to play on Bermuda courses, or in birdie fests. Even if the results haven't quite been there yet for Burns in Majors and difficult scoring events, the stats show us he profiles as exactly the type of player who should.
And while each of his first two career wins have come on Bermuda greens, his prominence as one of the best Bermuda putters in the world has overshadowed the fact that he's also been very good on Bent and Poa as well. In last year's California swing, Burns gained seven strokes putting across the Farmers, AT&T Pro-Am, and Genesis, all played on Poa greens. At the Farmers last year, Burns' 0.2 strokes gained putting is a bit misleading, as he'd gained 3.2 strokes over the first three days, only to lose two strokes putting on the very first hole on Sunday with a four-putt double bogey.
Fast forward a year later, and Burns has dispelled the rumors that he can't close out a tournament on Sundays, picking up two wins since. Burns has seen an exponential trajectory since picking up that first win at the Valspar, with six T10s over his next 14 starts, establishing himself as one of the TOUR's most elite talents.
It's a unique proposition at the Farmers Insurance Open, as you need to be aggressive on your one round at the North Course to post a number, but you also need a well-rounded skillset and strong short game to hold your own for three rounds on the South Course. Burns may possess the best combination of those skillsets of anyone in this field; he's No. 1 in Bogey Avoidance and No. 3 in Birdies or Better Gained. He's also No. 1 in SG: TOT over the last six months.
I'll be looking to start my card with him this week if odds open at 20-1 or longer.
WHAT TO WATCH FOR AT THE 2022 FARMERS INSURANCE OPEN
Last year, Patrick Reed stole the show at Torrey Pines. Unfortunately, it was not because of his lights-out short game and cruising victory but because of the infamous embedded ball controversy. Reed isn't owed the benefit of the doubt at this stage of his career, given all the gamesmanship he's tried to employ tournament to tournament, but truth be told, I thought he got a raw deal here last year.
He followed the correct protocol and called over a rules official, they cleared it and he played on. He went on to win by an emphatic five strokes, but even still, Jim Nantz used the first half of the post-Sunday interview to press him on the controversy. In an event where no other player reached double-digits under par, Reed was dominant and really did not deserve to have that winning moment marred in that way.
Reed aside, the rest of the leaderboard was cluttered with elites, as there was a log-jam at T2 here in 2021, including Xander Schauffele, Tony Finau, and Viktor Hovland amongst others. That's the leaderboard you'd expect to see at a Major, and since this was a literal Major Championship venue seven months ago (albeit enhanced with more challenges), I expect to see another top-heavy leaderboard again this week.
With all the course-fit profiles in mind, I'm leaning early towards the below player pool. It's broken out by projected pricing/odds tier.
FINAL THOUGHTS ON 2022 FARMERS INSURANCE OPEN ODDS
For my model in Fantasy National this week, I'm prioritizing Comp Course History, SG: APP, SG: Short Game, and Bogey Avoidance, with a secondary balance of Scrambling, SG: P (Poa), SG: OTT, Prox 200+, P4: 450-500, and P5: 550-600.
Reigning U.S. Open champion Jon Rahm continues to hold the No. 1 spot in my model and we should once again expect him to open at single-digit odds at the 2022 Farmers Insurance Open. After Rahm, my model's top 10 is rounded out by Sam Burns, Sungjae Im, Talor Gooch, Will Zalatoris, Aaron Wise, Matthew Wolff, Hideki Matsuyama, Adam Hadwin, and Justin Thomas.
It's going to be interesting to see where odds open this week. Rahm will be the favorite, likely to open around 9-1 odds. After Rahm, we should expect a collection of elite players like Justin Thomas, Xander Schauffele, Dustin Johnson, and Bryson DeChambeau to be bunched together with odds in the mid-teens. I'll be looking to start my card with Sam Burns if he starts anywhere north of 20-1 odds.
As a stark contrast to the last few birdiefests we've seen, this has the makings of a tight card this week, as I'll be looking to concentrate my exposure to players under 60-1 odds. Check back below here to see where odds open on Monday!
Thanks for reading, and good luck navigating 2022 Farmers Insurance Open odds!
2022 FARMERS INSURANCE OPEN ODDS Board