Suddenly looking like a fringe title contender after dealing away Kristaps Porzingis, the Mavericks head to Brooklyn, which tries to see if it can sustain its scary form without Kyrie Irving. Then, the Warriors try to continue building momentum with Draymond Green back in the fold in a tough matchup against Boston. What do ESPN NBA player props have to say about tonight's TV games?
Each week throughout the season, TheLines will look at some matchups for the televised slates and try to figure if there are any ESPN NBA player prop bets worth a look. You can also search ESPN NBA player props using our tool below.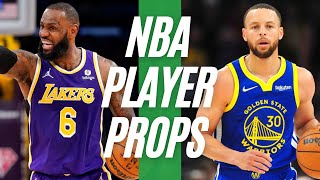 ESPN NBA player props tool: Search By Player Name
Click on the odds anywhere in this post to bet now. If some prop markets are not yet open for those players, the player tiles will show futures markets. Check back later if this is the case.
Dallas Mavericks at Brooklyn Nets
Brooklyn has won four straight and its stars are absolutely on fire. Kyrie Irving had 60 on 20-for-31 shooting last night against Orlando. Kevin Durant dropped 53 the game before that. Irving had another 50-piece against the Hornets, and the other game say the team romp to a 29-point win over the rival Sixers.
Of course, three of those games went down on the road. Only the Knicks game was at home, and it's probably instructive that even the 53 from Durant only got them a narrow win over the lowly Knicks. With no Irving tonight, we can expect another big volume night from KD, if not quite to the level of the 37 he hoisted.
The Nets do actually have a pretty strong differential with Durant as the single star in the lineup, +11.6 per 100 possessions according to Cleaning The Glass.
Dallas has integrated the shot creation of trade addition (trade afterthought?) Spencer Dinwiddie to a shockingly effective degree. Only a no-show in New York has marred their recent form. Dinwiddie and Doncic sharing the court has yielded a +7.7 differential with a 94th-percentile offense, according to Cleaning The Glass.
Kevin Durant And Andre Drummond Props
Dallas has an excellent defense, and they have a couple of wing defenders to throw at Durant in Reggie Bullock and Dorian Finney-Smith.
Obviously, if Durant takes 37 shots again, the early prop numbers around 29.5 are going to look silly. But, keep in mind that not only does Dallas play good defense, they play at the league's slowest pace, which could drag Durant down a bit.
The Nets might play a bit smaller here to try to contain Luka Doncic in the pick-and-roll attack. Andre Drummond seems unlikely to hold up there. If so, that could boost Durant's rebounding numbers a bit as well. Again, though, playing down in pace looms.
Still, Drummond under on the glass could be a decent look. Dallas rebounds surprisingly well in their smaller lineups, and Drummond won't play as many minutes as most starters, if recent history is any judge.
Luka Doncic Props
Brooklyn's subpar defense will certainly have a tough time containing Doncic, but the market seems well aware considering some early prop numbers are north of 30 on his points.
What about Doncic's assists, though? Early numbers are at 7.5 assists, and Doncic is averaging well north of that at 8.6 for the season. The Nets don't figure to provide much resistance at the rim, so if you can get decent juice on over 7.5, that doesn't seem like a bad play. There should be plenty of lanes open for cutters like Brunson and Dinwiddie as well as lob threat Dwight Powell.
Boston Celtics at Golden State Warriors
If you like defense, buckle up, because this game is going to feature two of the very best this season. ESPN's numbers have them deadlocked atop the league, while Cleaning The Glass has Boston as its No. 1 defense with Golden State in third.
Golden State is slightly above the median in pace while Boston lags in the bottom 10, so the total is a comparatively low .
Obviously, the big news here is the return of Draymond Green. On a minutes limit and coming off the bench in his return to the court, Green still posted a 6-7-6 line and by far a team-best +24 against Washington. It's a little bit tricky to bet this based on Green, though, because we don't know when he'll move back into the starting lineup and play his normal minutes.
Stephen Curry And Klay Thompson Props
Few teams have the capability of defending perimeter ball-handlers the way the Celtics do. They allow an interesting mix of shots, with teams taking a middling volume of 3s against them but making a league-worst percentage. Are they lucky or awesome at contesting and forcing teams into tough looks?
Curry's points prop is pretty low at 24.5, though. Given that he averages almost 26 per game, and Boston brings the heat on defense, there isn't a ton of room to fire the under here unless you can find some plus-money.
The player we should be more skeptical of here is probably Klay Thompson. Not only are his percentages not lighting the world on fire, but the team has finally responded to his mediocre play. The Warriors promoted Jordan Poole to the starting lineup and he has a pretty decent usage rate. Additionally, he's just been a more effective player than Thompson.
Under 20.5 points here looks pretty good for Thompson given he's lost a share of the offense and facing a tough opponent.
Jayson Tatum And Jaylen Brown Props
Jayson Tatum has been in the zone lately and pushed his efficiency to another level with some monster performances. He's reading the floor well and mixing up his attack, hitting the Nets from all three levels in a high-profile game.
However, Golden State does look like a notably difficult matchup for them. They are excellent at forcing opposing scorers into the mid range and Tatum has been mediocre converting from there, below the median percentile according to Cleaning The Glass.
With a hefty 29.5 prop the consensus number, he's going to have his work cut out for him to go over.
Jaylen Brown might do slightly better. Sporting a lower prop around 23, he's been more efficient jump-shooting than Tatum, particularly from "long mid," where he's at a nearly Nowitzkian 48% compared to Tatum's 39%.