UPDATE: DraftKings Sportsbook is launching in New York on Saturday, Jan. 8! Sign up early and get $100 FREE — no deposit required!
Claim Your $1,050 Bonus at DraftKings Sportsbook
New User Bonus. T&Cs Apply.

NFL Promo: Bet $5 Win $200

PLUS $50 Free On Deposit

PLUS Up to $1,000 Deposit Bonus

To Claim: Click Play Now

If at some point today, you felt more certain and uncertain about the same thing, you probably read the DraftKings Sportsbook New York tweet.
At 11:59 a.m. Eastern, the sports-betting giant tweeted a graphic that read: "Arriving just in the knick of time. New York DraftKings sportsbook is coming soon."
It didn't quite break Twitter, but it did evoke a wide range of responses from the Twittersphere. At best, the sportsbook's cryptic tweet is an encouraging sign that a NY sports betting launch may be just around the corner.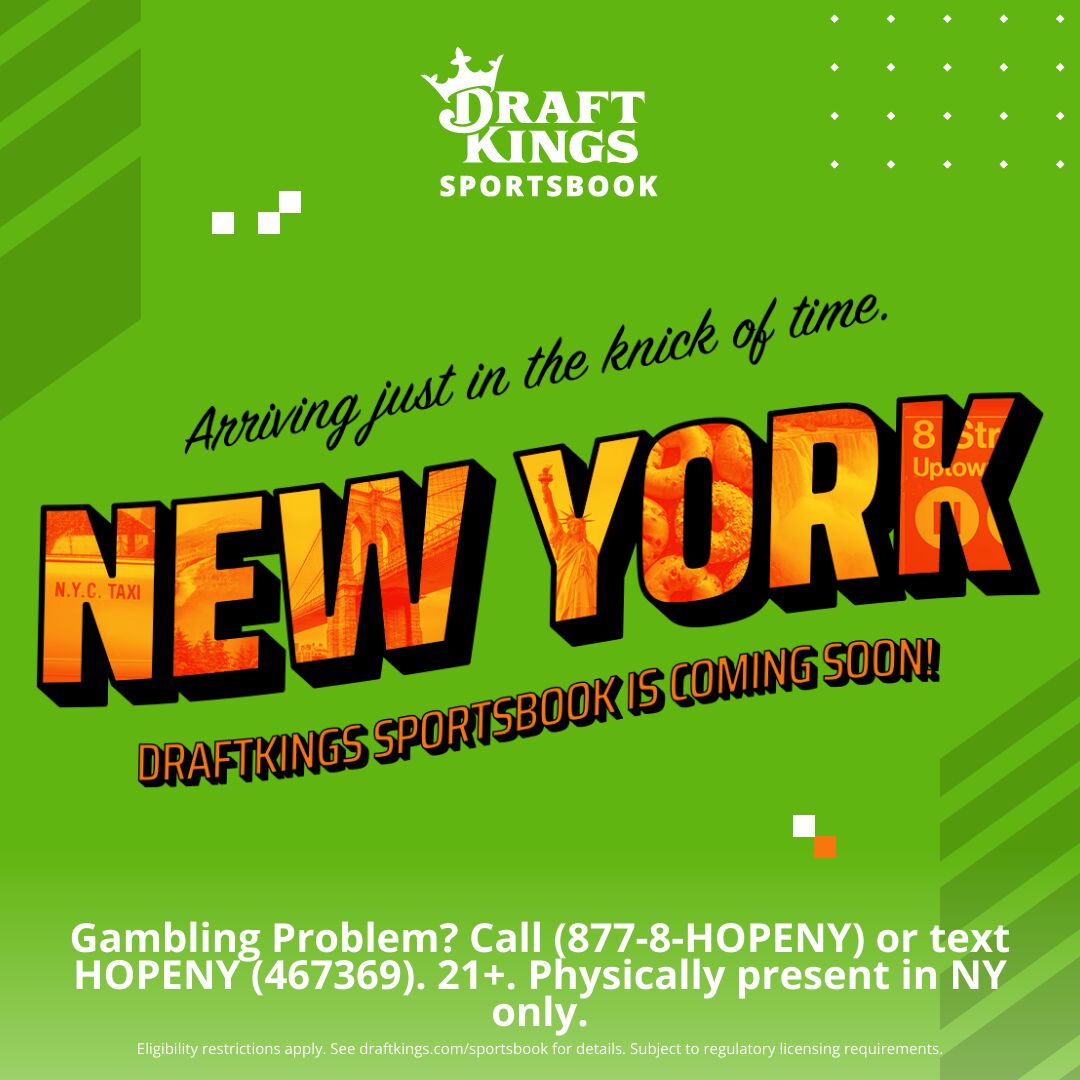 DraftKings Sportsbook New York Tweet Reactions
One Twitter user stated the obvious when they wrote: "Notice they spelled 'nick' of time incorrectly as 'knick of time.'"
But the comments went on to float a plausible explanation for the grammatical sleight-of-hand: "This could be a hint as to launch date. Knicks xmas game nationally televised on ESPN. Just in the Knick of time for the nationally televised Xmas games."
The logic behind the tweet is far from airtight, but, admittedly, it makes a lot of sense. Sportsbooks stand to generate considerable revenue from the NFL playoffs and college football bowl season. A late December launch would put them in prime position to leverage gridiron games.
The rest of the responses to the DraftKings tweet were comical, if not telling of the average sports fan's frustration over lack of sports wagering legalization in their state.
Twitter user @_tjodonnell expressed a common frustration – New Yorkers have to go to New Jersey to make a legal wager:
"I live on that floating garbage dump people call Staten island and I cross the outer bridge every Saturday or Sunday to get my football bets in. Can't wait for that to be over with."
Other New Yorkers, presumably, offered quips like, "I can't wait," "But when?" and "Not soon enough."
Multiple users expressed frustration and longing from states where sports betting is illegal: Massachusetts, Texas, and California.
How to prepare for New York sports betting
None of the nine sportsbooks that are licensed to operate in the state have announced when they'll launch. If DraftKings' tweet reveals anything, it's that New Yorkers are chomping at the proverbial bit to wager on sports.
Sportsbooks typically offer generous free-bet promotions – $100 is common – when they launch in states for the first time. New bettors will do well to compare free-bet offers and the types of bets that each sportsbook allows.
Bookmark TheLines, and come back when New York sports betting launches to find the best NY sports betting promos and sign-up offers.