More than 250 participants competed for a $1 million top prize in the first-ever DraftKings Sports Betting National Championship in Jersey City, New Jersey. TheLines was in the Garden State providing coverage all weekend with leaderboard updates, interviews with players and staff, videos and photos from the event, and more.
All of the action can be found below, including a postgame interview with eventual champion Randy "rleejr86" Lee, who sealed the title with an Eagles +8.5 cover against the Saints. Lee is an Eagles fan and longtime online sports bettor from New Jersey.
LIVE UPDATES
8:00 p.m. ET: We have a winner! We spoke with the 2019 DraftKings Sports Betting National Champion Randy "rleejr86" Lee about his path to victory in this unique event.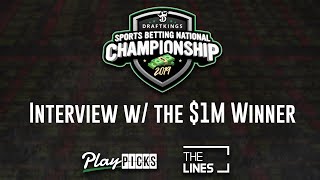 Meanwhile, the controversy we reported earlier with the graded bets in between games the was addressed by DraftKings in a statement sent first to TheLines Sunday evening. For a full recap of what took place, read the story at LegalSportsReport.
5:30 p.m. ET: Leaderboard update and the biggest bets of the day can be found below. All bets are closed for the championship event so the sweat is on for those at the top.
| Player | Game | Wager | Bet Amount | To Win | Won/Loss? |
| --- | --- | --- | --- | --- | --- |
| rleejr86 | Philadelphia at New Orleans | PHI +8.5 | $47,500 | $90,725 | Won |
| Opti5624 | LA Chargers at New England | NE -3.5 | $42,875 | $81,891 | Won |
| bewit | Philadelphia at New Orleans | NO ML (-357) | $42,510 | $54,413 | Won |
| nomoreiloveyous | Philadelphia at New Orleans | PHI +8.5 | $35,000 | $66,850 | Won |
| moneylinemikey | Philadelphia at New Orleans | PHI ML (+275) | $33,634 | $126,127 | Lost |
4:55 p.m. ET: Updating our most recent video, it appears that DraftKings was unable to grade most of the winning tickets from the New England/LA Chargers game in time for bettors to re-invest those winnings into the late game. However, some bets may have been graded before others. All contest bets were locked at the start of the Eagles/Saints game. One of the most affected by this the most is the new leader Opti5634, who had all of his bankroll tied up in the Patriots game. He is now "stuck" at $81,891, as he explained in a series of tweets.
As of now, the contest has moved forward without any comment from organizers. We will keep you updated as soon as we hear anything.
4:45 p.m. ET: Craziness before the kickoff of the Eagles/Saints game. Brett, Matt and Matt break it down.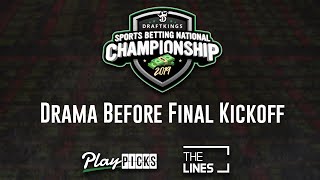 3:15 p.m ET: Dan "nomoreiloveyous" Steinberg passed "gucho" for the pole position at halftime when gucho's two Chargers first half bets went up in flames. Steinberg hit a Sony Michel rushing prop for more than $5,000 to build the roll up to $56,356.
Others in the Top 10 struggling with open Chargers wagers:
Deliveryboy — $32,000 parlay with the Chargers/Pats under.
Imawhale — All in for $29,000 on Chargers +4 and Chargers -3 ALT SPREAD
2:00 p.m. ET: "Gucho" led at this time yesterday and has regained the lead after hitting the Chargers/Patriots 1H OVER 23.5. He still has more than $31,000 invested in bets on this game ($14,352.62 on 1H tie, $16,919.75 on LAC 1H +2.5)
1:45 p.m. ET: Coming at you live from the floor with the Pats and Chargers playing behind us. Brett Collson and Matt Perrault break down the big bets and strategies of the participants at the top of the leaderboard and what the others still alive need to do make up ground.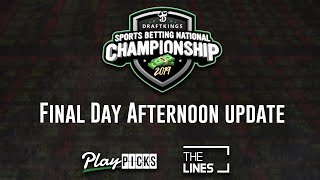 1:05 p.m. ET: Bets are in (and still coming in) for the first NFL game today. We will have an update in 30 minutes with some of the biggest bets on this game and plays from the leaders as they chase the seven-figure score up top.
Sunday 11 a.m. ET: We're back at the DraftKings Sports Betting National Championship! Follow this page all day for leaderboard updates, interviews, videos and more from Jersey City.
Five things to know before the DraftKings Sports Betting National Championship finale
Remaining participants can ONLY bet on the two NFL games on Sunday. No soccer (sorry, "gucho"), no NBA, no NHL. Only wagers on the Pats/Chargers and Saints/Eagles will be accepted for the contest.
Players must wager AT LEAST $2,000 on the Sunday NFL games to qualify for the $2.5 million SBNC prize pool. All qualifying entrants needed to bet at least $1,000 on Friday/Saturday as well.
Accounts will be locked and bets will be closed once the Eagles/Saints kicks off this afternoon. Then the sweat is on for the field. All open wagers can be viewed on the DraftKings SBNC leaderboard page.
Eighty-one of the 260 players in this contest have gone completely broke. Nineteen players have between a penny and a dollar. Of the 179 players still technically "alive" in the event, only 128 currently have the $2,000 bankroll required to meet the prize pool qualifier. But the others could run it up in the first game and meet the minimum bet requirement.
More than $3.1 million has been wagered across 260 entries in this contest as of Sunday morning. The biggest bets are yet to come as all 179 left with money are still eligible for the $1 million top prize being handed out today.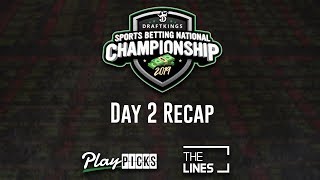 1:30 a.m. ET: A look at the leaderboard as Day 2 comes to a close. Only 162 of the original 260 participants still have more than $1 left in their bankroll. Player "rleejr86" leads the field after betting all of his $27,000 on the LA Rams -7 to climb past "gucha" who led most of Saturday despite only placing three bets across the entire contest.
"Nomoreiloveyous" is in second place, while "Opti5624" and "deliveryboy" made huge leads up the leaderboard late Saturday with improbable parlays, both of which paid out more than $36,000.
Keep your browser locked to TheLines.com as we provide complete coverage of the DraftKings Sports Betting National Championship until a champion is crowned on Sunday evening!
11:30 p.m. ET: The Rams-Cowboys game is over and we're seeing some new names appear in the thick of things leading into Day 3. A player with the screenname "Opti5624" hit a $437 parlay for $35,624 thanks to a big round from Charles Howell at the Sony Open in Hawaii. We will be providing a full round-up video later this evening.
9:30 p.m. ET: BIG parlay bet came in from Sean "psufans2" Newsham who put down $15,000 on the Rams -7 and Edmonton Oilers ML to win $46,500. A win here would likely leave him as the man to catch heading into Day 3.
8:30 p.m. ET: An evening update from Brett Collson and Matt Perrault from the floor of the SBNC. While they were recording the show, the player in fourth place, "rleejr86", fired his entire bankroll on the LA Rams -7 to jump into first place. If he loses, he joins the other 45-plus players already eliminated from the event.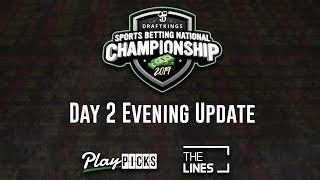 7:30 p.m. ET: Poker pro Phil Hellmuth, a 15-time World Series of Poker bracelet winner, joined us to talk about his progress in the Sports Betting National Championship and how he got involved with DraftKings to participate.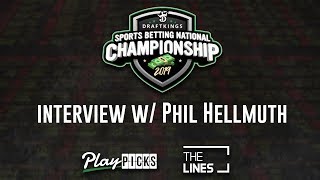 6:35 p.m. ET: Leaderboard update! Thirty players have been eliminated from the competition, leaving 230 still vying for the title. User "rleejr86" climbed into third place after hitting a $1,000 parlay for $27,500, capped off by the Pepperdine Waves covering against the San Diego Toreros.
6:10 p.m. ET: While we wait for the second half and bettors get in their 2H bets, here's a look at the biggest longshot winners (biggest return on a single wager) in the contest so far:
Parlayed Ohio (+380), Oklahoma State (+215), and Kansas State (+360). Wagered $5 to win $347.75
Parlayed Over 222.5 Points in Nets @ Raptors, Blazers -6.5, Over 218.5 Points in Pacers @ Knicks, Warriors -15.5, Over 223 in Mavs @ Timberwolves, and Rockets -14. Wagered $100 to win $4,804.00
Warriors -14, Jazz -12, Blazers -7, Penguins -2. Wagered $500 to win $17,080
5:55 p.m. ET: We spoke with Sean "psufans2" Newsham, currently in fourth place in the contest, about his big $10K bet on the Chiefs -4.
"I liked Kansas City all week pretty much," says Newsome, who bought into this event for $10,000. "So my plan was to try to run it up before this game and then unload on this game. I didn't put down as much as I wanted to but it's enough to get me to like $25,000 after this game if things go right."
Newsham doesn't have a plan in place if he does hit this Chiefs bet. He says he's more inclined to fire on the NFL where the contest betting limits are higher, but he may decide instead to sit on a top five figure going into the final day.
"It depends what other people are what (bankroll wise), but I know the leader is sitting on his lead til the end of the day. He's not moving. So if people don't jump up and $25,000 is in the top five to 10, I might sit on it a little more than I would have otherwise."
That said, he's not watching the leaderboard too closely.
"I'm watching the top of the leaderboard. I just want to be in striking distance tomorrow. You can unload $25,000 into $50,000, $50,000 into $100,000 rather easily tomorrow if that's what you want to do."
4:55 p.m. ET: Afternoon update from the venue.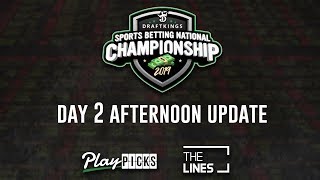 4:35 p.m. ET: Five biggest bets on the Colts vs. Chiefs game:
psufans2 (4th place) — $10,000 on KC -4
gebo19 (64th place) — $5,000 on IND ML
mdurand10 (64th place) — $5,000 on IND ML
Aganjian (64th place) — $5,000 on OVER (54.5)
eordower (64th place) — $5,000 on OVER (54.5)
3:30 p.m. ET: Sweattttttt. The first NFL game hasn't even started yet and it's getting loud in here as participants follow the college basketball and NHL games on the big screens.
3:00 p.m. ET: We arrived at the event venue to see that 'gucho' is the new leader of the event after hitting two big soccer bets this morning. Gucho turned $5,000 into $44,482 with only three bets in the first 24 hours of the contest: Washington Wizards for $5,000 on Friday night, Leicester City – Southampton (both teams to score) for $8,900 on Saturday morning, and then Chelsea -Newcastle (Both teams to score) for $17,444.
Overnight leader "johnstorz" is still hovering above $30,000 in second place, while "nomoreiloveyou" climbed into third place.