It goes without saying that 2020 has been a lesson in taking nothing for granted.
That certainly goes for an upcoming NFL season that companies in both the sports betting and daily fantasy industries – especially dual stakeholders like DraftKings and FanDuel – are hoping can be pulled off successfully.
In anticipation of such, DraftKings revealed Monday that it's augmenting its already impressive array of NFL fantasy contests with a new offering — Best Ball. The product's 2020 debut will include a $3 million tournament with a $1 million payout to first place.
And it won't stop with the NFL. DK also revealed Monday it will soon offer the format for NBA and NHL while alluding to the eventual availability of "sit-and-go's" (tournaments that begin immediately upon filling a preset amount of slots) and large-stakes season-long tournaments for all those two sports as well.
DraftKings made an official announcement via press release.
"As part of a continued commitment to putting our customers first, DraftKings Best Ball is an exciting new feature within our fantasy product that our customers have asked for," said Paul Liberman, DraftKings co-founder and President, Global Technology and Product said. "Leveraging in-house technology, Best Ball provides our DFS customers with a season-long option, supplementing the wide array of game types available on DraftKings. We look forward to this season of sports as our customers experience and compete under this new offering."
Claim Your $520 at DraftKings DFS
College BasketBall Pools
$20 Free Play On First Deposit
Plus 20% deposit match up to $500
To Claim: Click Play Now
Best Ball features, format endear it to sizable season-long fantasy marketplace

Best Ball is best described as variant of season-long fantasy football.
The preseason process is a highly familiar one to those who have played in conventional season-long leagues before. Participants form their team rosters via a traditional snake draft, i.e. a process where the draft order is reversed for each individual round.
That's where Best Ball takes a left turn, one for the better in the eyes of the format's aficionados.
Once the draft is over, the manager of each squad has none of the ongoing and sometimes tedious upkeep of a typical season-long fantasy team to contend with.
In fact, with Best Ball, the concept of even setting a starting lineup is rendered obsolete.
That seemingly counter-intuitive feature goes to the heart of what makes Best Ball unique — only the top scores from each player on a fantasy team are counted toward that squad's official fantasy-point tally for each week.
No arduous start/sit decisions or ensuring injured players are on the bench. No trades or waivers. And best of all, no mad dashes out of Sunday church services or brunches to lock in a lineup before early games kick off.
Product addition looks like smart business
The integration of Best Ball into the DK NFL DFS platform appears to be a prudent move. According to the company's official press release, "92 percent of respondents in a recent DraftKings consumer-led study reported high interest in engaging with the format."
Additionally, Best Ball already has a built-in fanbase thanks to sites such as Yahoo and DRAFT, which have run contests in the format in past NFL seasons.
Continuing to build out the fantasy football product portfolio is never a bad idea, either. The NFL season keeps DFS operators' contest lobbies humming throughout the last quarter of each calendar year, thanks in large part to the appeal of what are usually the largest prize pools of any sport in the industry.
Football unsurprisingly constitutes a sizable chunk of DK's revenue annually. For example, in 2018, football-related offerings accounted for 41.2 percent of DK's total haul. A significant bulk of that came from the DFS side since DK Sportsbook was still in its nascent stages that fall.
The debut of Best Ball also marks an important milestone for a company that's reached many over its near-decade of existence. It's the first true season-long fantasy product of any kind offered by DK.
Best ball strategy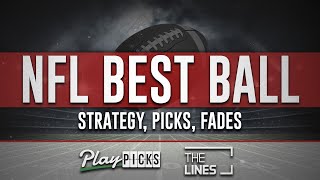 Stay tuned for more details on DraftKings best ball as they develop.