[toc]Comcast's Xfinity brand is now sponsoring ESL and the pro gaming organization Evil Geniuses.
The deal between the world's largest broadcasting and cable television company (by revenue) and the world's largest esports company is a major step toward bringing esports to a mainstream audience.
The Xfinity brand will be used at "industry broadcasts, tournaments and events," and the company will provide its Gigabit Pro Internet service and Xfinity X1 video product at the Evil Geniuses training facility.
The first Xfinity branding was on display last night at the Halo Championship Series: Pro League Season 1, and it can also be seen at this weekend's Heroes of the Storm Live Finals in Los Angeles.
Todd Arata, vice president of brand marketing at Comcast, said:
"Esports is the competitive playing field for the digital age and we're proud to align our brand with an industry and a team that is so steeped in technology. Broadband and video innovations have made esports more popular and more accessible than ever. We'll work closely with ESL and Evil Geniuses to put fans even closer to the action through our Xfinity products and services."
Comcast is being cautious in adopting esports
The initial terms of the deal are just one year, but if esports hits Comcast's growth projections, a continued relationship is likely to be negotiated. Comcast expects esports to attract "145 million participants and viewers by 2017 and the total number of consumers worldwide that are aware of esports will surpass one billion people this year."
Many in the industry will find those numbers a gross understatement of its current state. The Eilers Research report "eSports Betting: It's Real, and Bigger Than You Think," put 2015 esports viewership at around 200 million, with expectations that it will grow to more than 350 million by 2018.
Craig Levine, CEO of ESL North America, probably has a better handle on the industry's potential than anyone else. He told Forbes SportsMoney that the ESL Cologne CS: GO tournament held last August attracted more than 1.3 million "concurrent viewers."
Levine sees the deal with Comcast as being significant in building not just viewer numbers, but improving the content available to viewers:
"In working closely with Comcast, the esports tournament viewing experience will continue to evolve as we enable fans to get closer to the sport by sharing more information about their favorite players and teams through their products and services."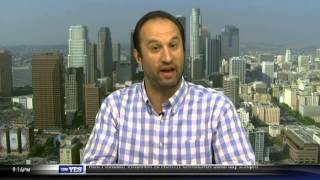 Evil Geniuses are looking forward to fast internet
The Evil Geniuses team is equally happy with the deal.
"We've come a long way from playing on spare CRT monitors," says Dota team player Clinton Loomis. "I started playing on dial up, so as far as sponsor perks go, having Xfinity multi-gigabit Internet speeds at our gaming house seems pretty surreal. I'm looking forward to using it and seeing what the buzz is all about."
Image credit: Rob Wilson / Shutterstock.com