One of college football's lost rivalries makes a comeback in Week 1. West Virginia visits No. 17 Pittsburgh in the first edition of the Backyard Brawl since 2011. With two new faces (coincidentally both former USC QBs) at the helm, what can we expect from this can't-miss Thursday night marquee? Below, we'll look at West Virginia at Pitt odds and a full betting preview for the game.
Follow along with TheLines this season for college football odds and analysis.
West Virginia at Pitt Odds: College Football Week 1
Find the entire slate of College Football Week 1 odds here.
West Virginia at Pitt odds movement
This number toggled Pittsburgh -7 all offseason, moving from -6.5 to -7 late July. Game week saw that number grace -7.5 in some spots, but that was quickly moved back to 7. Given Pitt's rating in both the FPI and SP+, expect bettors to get on the Pitt train and move this number toward them. Based on those ratings, this should be a 12- to 13.5-point line (though read the analysis of the game, because I'm not sure I buy that).
Keep an eye on odds leading up to kickoff as this game presents one of the biggest actionable games of the early Week 1 games.
All Aboard The Hype Train
I'm not here to tell West Virginia fans to not be excited about their additions this offseason. But I am here to present what's been shown to us by these additions.
USC and Georgia transfer J.T. Daniels picked WVU not long after winning a championship in Athens and losing his starting job to Stetson Bennett. One of the driving factors behind Daniels (a former five-star) choosing Morgantown was the Mountaineers' hiring of offensive coordinator Graham Harrell. Harrell coached Daniels at USC in 2019 and recruited him before that.
However, Harrell never really got a chance to work with Daniels in game situations. In 2019, Daniels tore his ACL in Week 1 and missed the entire season. The QB for USC for the next two seasons? Kedon Slovis– the QB across the field from Harrell and Daniels.
That 2019 season was brilliant for Slovis (30 TD, 9 INT), though he never reached those peaks again. Slovis transferred to Pitt this offseason after USC cleared house and the winds were blowing away from him. He matches up with QB guru Frank Cignetti Jr., who was hired away from Boston College this offseason. Slovis will be establishing a go-to receiver in this game, but expect Pitt's offense to look more like an NFL offense than what they had last year.
There's few QB matchups this season that garner as much excitement around unproven success as this one.
Strength Vs. Strength
Old school football fans and line coaches are going to love the product on the field Thursday night. West Virginia boasts one of the best defensive lines in the Big 12– led by All-America candidate Dante Stills– while Pitt rosters Phil Steele's 17th-ranked OL in the country. The Panthers return all five starters up front from last year, a unit that gave up sacks on just 5.9% of dropbacks in 2021 (48th).
On the other side, West Virginia also returns all five starters. The unit wasn't great last year, generating little push in the run game (note: they also gave up a bunch of sacks, but it was equally the QB's fault, who was known for holding onto the ball too long). While a cohesive unit should be improved with another offseason behind them, they have a tough ask blocking All-America candidate Calijah Kancey of Pitt. Phil Steele named Pitt the second-best DL unit in the nation.
Despite landing Daniels, expect WVU to be a run-heavy offense with a stable of capable backs this year.
Expect the unexpected
Toss the tape from last year. With two new offensive coordinators, it's anyone's guess as to what these offenses will look like to start the year. While one could point to what Cignetti did at Boston College, how will that translate a Pitt roster not built around the system? The same goes for Harrell and WVU– his pass-heavy approach may be challenged with an entirely new slate of skill players on the roster.
Harrell led USC to being the seventh-most pass heavy team in 2019 (58.1%) and fourth-most in 2020 (60.3%). WVU was already a pass-heavy team the past few seasons, but that led to the 69th-most explosive offense in 2021 (EPA per play) and some of which was a product of playing from behind.
West Virginia at Pitt Forecast
I'll be up front– I'm laying off this game. Betting the point total () is a dicey proposition. Harrell is a pass-heavy coordinator, but will the Mountaineers be successful with an unproven OL against Pitt's terrific DL?
As mentioned, rating systems like FPI, SP+, and my own model scream Pitt, but I'm not sure I buy them moving the ball all over WVU. With a pair of strong DLs, a logical play could be under the first half total, .
If you have a lean, timing will be everything. The spread has teetered on a key figure (7) all offseason long. Like Pitt? Find them -6.5 (which is where it sat all summer). Like WVU? Wait until closer to kickoff for the number to hit +7.5 (if it does– if not, lay off).
TheLines Podcast: Win Totals, Week 1 Odds & Bets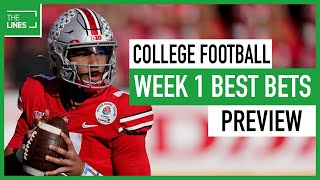 ---
Follow TheLines on Twitter