Big Ten play is getting started early this year. On Thursday night of Week 1, the Penn State Nittany Lions visit the Purdue Boilermakers in West Lafayette. Buckle up for all kinds of weird as we've seen in the past with night games at Purdue, but also two very interesting contenders in the Big Ten. It's a head coaching slugfest between James Franklin and Jeff Brohm– two veterans well established in the Big Ten. Below, you can find Penn State at Purdue odds and a full betting forecast in this Week 1 game.
Follow along with TheLines this season for college football odds and analysis.
Penn State at Purdue odds: College Football Week 1
Find the entire slate of College Football Week 1 odds here.
Penn State at Purdue odds movement
There's half-point differences between DraftKings Sportsbook and the other books, but this is a number that's remained unchanged this offseason. It's also a number that's unlikely to change significantly leading up to kickoff.
Penn State quarterback Sean Clifford spent most of last season injured, leading the Nittany Lions' offense to 98th in points per drive. Even with plenty of weapons around him, the offensive line remains enough of a mystery that bettors won't be gambling on the massive unknown of Penn State's lethargic offense from 2021. Likewise, will Purdue be able to score? Their returning pieces on offense suggest so.
Without much action likely to come in on Penn State, this line won't move much. That's because the other direction buffers a key figure (3), which even ambitious Purdue bettors probably won't be able to push the number across (see why under the Forecast section).
A Lofty Point Total?
at first glance seems like a reasonable total, with an implied 29–25.5 final score in favor of Penn State. However, these two teams went over 54 points just four combined times against Power Five opponents in 2021– coincidentally, against the same two teams (Ohio State, Michigan State). This total seems to be predicated on two high-profile QBs who have solid pass-catching weapons: Clifford and Purdue's Aidan O'Connell.
What it seems to not be predicated on is the formidable defenses of both teams. The Nittany Lions rank fifth in Bill Connelly's SP+ defense rankings for the coming season while Purdue checks in at 34th. Conversely, both teams rank in the mid-30s in offense SP+ for 2022. Penn State also made a splash hire of estranged Miami head coach Manny Diaz to head their defense.
While Clifford spent last year hurt, his EPA per play has declined each season at Penn State (average EPA/play of .290– a figure that would rank outside the top 100 in 2021). O'Connell is tasked with finding a new go-to receiver after losing his top three yardage receivers from last season.
The Fulcrum
Not so much an angle on the game itself, but more the outlook of Purdue and what may be actionable from this game. Should Purdue manage to pull off the upset at home, the Boilermakers have a clear bath to competing for the Big Ten West (current odds: ). Following this game, Purdue faces Indiana State (FCS), Florida Atlantic, and Nebraska at home; with road stints against Syracuse, Minnesota, and Maryland. Only Minnesota is rated higher in the SP+ and no team rates higher than Purdue in FPI.
If– and this is a big if– Purdue wins Week 1, there's a good chance they could walk into Madison 7-0 to face Wisconsin. So, if you buy into Purdue outright this week, it's worth a pepper of Purdue's Big Ten West future. The entire division will likely be shaped in just three weeks between Oct. 22–Nov. 5.
Penn State at Purdue Forecast
"If you're going to assume Purdue keeps this game close, they'll probably win it outright." Sure. I buy that notion, but that doesn't make Purdue ML a good bet in this instance.
Bare with me on some quick math.
Using a simple point spread-moneyline conversation chart specific to college football, Purdue should be around a +155 on the ML at +3.5 (39.22% win probability…in other words, +3.5 underdogs win outright about 39.2% of the time historically). However, their +135 ML offering suggests that you're buying a 42.6% implied win probability, a 3.7%-point deficiency. Also worth a note, college football games end with a three-point differential about 17% of the time, so I'm not eating the 17 cents for Purdue +3 +100. (You can find a conversation chart and push rate chart with a simple Google search.)
Mathematically, Penn State ML offers bettors the edge (3.5-point favorites cover 64.16% of the time historically or at a -179 ML). So, the two best bet options I'm looking at is Penn State ML or Purdue .
West Lafayette is an unorthodox place and Thursday night for Week 1 is an unorthodox time, but the prices offered on Purdue are skewed strongly in the books' favor. Unless you can find the Boilermakers at better than that +155 mark, you're betting into a negative EV market.
TheLines Podcast: Win Totals, Week 1 Odds & Bets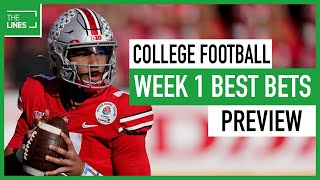 ---
Follow TheLines on Twitter