This year's Chick-Fil-A Kickoff game between the No. 3 Georgia Bulldogs and No. 11 Oregon Ducks kicks off at Mercedes-Benz Stadium in Atlanta. It's a quick reunion for new Oregon head coach Dan Lanning, who was Georgia's defensive coordinator in 2021. It's another blockbuster in name only, as Georgia-Oregon odds suggest a Dawgs rout incoming. There's a lot to break down about this game with plenty of turnover on both sidelines. Is there a play to be made?
Follow along with TheLines coverage of college football odds throughout the entire 2022 season.
Georgia Vs Oregon Odds: College Football Week 1
Find complete College Football Week 1 odds here
Odds movement for Georgia vs. Oregon
Back in May, FanDuel Sportsbook opened this line favoring Georgia by 16.5 points. That number didn't last long, jumping to -17 and -17.5 almost immediately depending on the spot. In July, the line moved again in favor of the Dawgs to -18 and that's come back down to Georgia . While 17 isn't a key figure in football, it is a round scoring number, meaning the line's movement through that number isn't insignificant (but we'll explore that later under the Forecast).
This is another game where action will ramp up as kickoff closes. Watch for week-of line movement in either direction as both teams are likely to see action.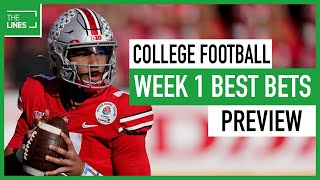 Reload, Not Rebuild
Georgia lost 15 starters to the 2022 NFL Draft, including five first rounders and eight defensive starters. That's an alarming number and we have precedent for what teams look like after losing that kind of haul from a historically-great unit (2019 LSU). While it's completely unrealistic to expect 2022 Georgia to reach the same defensive heights as '21 Georgia, they're not going to fall off.
Rising for the Dawgs is All-America candidates Nolan Smith, Jalen Carter, and Kelee Ringo. Georgia's last three recruiting classes averaged 2.5 nationally per 247Sports' composite rankings and this team isn't going anywhere.
Georgia's defensive front– ranked the best in the nation by Phil Steele– gets a prime test against Oregon's stud offensive line. The Ducks return all five starters from a good unit a year ago and they rank fifth in Phil Steele's OL unit rankings for 2022. Senior Alex Forsyth and veteran transfer Bo Nix have a tough ask identifying pressures drawn up by new Georgia DCs Will Muschamp and Glenn Schumann (LBs coach).
Beware Of Dawg
Nix isn't the only former Tiger to get a new start with Oregon: new OC Kenny Dillingham came over from Florida State after coaching Nix at Auburn in 2019. Nix is 0-3 in his career against Georgia and has had a tough go against them– throwing just one touchdown and two picks in 128 attempts. He also has the tall task of establishing a new and inexperienced receiving corps in this game (all three rising starters are sophomores).
The Dillingham-Nix combo were just 67th in points per drive in 2019 and Nix hasn't inspired much beyond that (66th in 2020, 76th in 2021). Granted, a lot of that falls on the Auburn offensive system (or lack thereof with three different OCs in three years).
Nix is an objective upgrade at QB from Anthony Brown a season ago, but it's hard to ignore his and Dillingham's ineffectiveness in the past, particularly against Georgia.
Throw Oregon Out…Right?
Up until this point, the talk's been on Oregon's offense against Georgia's defense; where Oregon could make the game interesting is defensively. Georgia only returns two starting OL from last year, but should have one of the nation's top units (ranked No. 2 by Phil Steele) and has All American Brock Bowers leading the pass catching charge at tight end.
The pressure lands squarely on QB Stetson Bennett's shoulders to follow up their championship season. Bennett was a fine QB down the stretch, making plenty of plays en route to their title, but Georgia only threw the ball 43% of plays for a reason (96th). It was an effective offensive method, producing the fourth-most points per drive and the fourth-most explosive passing offense in the league.
However, they struggled to run the ball at times last year despite leaning heavily on it. The Dawgs finished 73rd nationally in rushing EPA and don't return their top two backs this season.
Oregon fields All American Noah Sewell, rising star Justin Flowe, and a pretty solid defensive line. Under Lanning– who's familiar with the Georgia model– forcing the game into Bennett's hands and controlling the football on offense is likely the approach from the Ducks.
Georgia Vs Oregon Forecast
I bet this at Oregon +18 because my model showed the number grew too high. It likes Oregon +18 55.2% of the time versus 52.7% of the time at +17 (a 2.5% increase). At +19, the numbers favor Oregon 57% of simulations (an increase of just 1.3%). The movement from +17 to +18 is the largest jump in many degrees of this number. Savvy bettors may want to wait until just before kickoff to see if Georgia gets pushed higher than their current number; if not, it may not be worth a bet.
Given Nix's track record against Georgia, it's hard to be confident that Oregon is going to score points; the implied final to this game (with a 50.5 over/under) is Georgia 34, Oregon 16. If 34 feels too high for the Dawgs– which, to me, does– then under is in play here, too.
Georgia was 119th last year in plays run (due in part to home run plays and multiple defensive touchdowns), a pace of play that's not expected to change coming into 2022. Dillingham also runs a methodical offense (82nd in plays per game in 2021).
TheLines Podcast: Win Totals, Week 1 Odds & Bets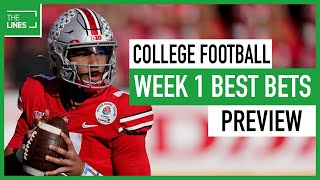 ---
Follow TheLines on Twitter