The Florida State Seminoles and LSU Tigers open up their 2022 college football season on Sunday night at the Caesars Superdome. While the game take place less than 90 minutes from LSU's campus, its setting in New Orleans should draw a full and energized crowd from both sides. Perhaps most exciting about the game is the debut of Brian Kelly in purple and gold after he left Notre Dame this offseason. Below, we'll look at Florida State-LSU odds and break down the betting angles of this game.
Follow TheLines to stay up-to-date with college football odds all season long.
Florida State vs LSU odds: College Football Week 1
Get full College Football Week 1 odds
Florida State vs LSU odds movement
LSU opened this game as a -2.5 favorite and that's moved a point in their favor. Why is that significant? 3 represents a key figure in football betting, with 17% of games ending with exactly three points in difference. At -3.5 in Mid-August, LSU bettors are buying 17 more cents than when the number was 2.5. On the other hand, Florida State backers are getting a 17-cent boost.
Continue to monitor this line as kickoff approaches. High-profile games like this may see line movement close to kickoff and, since it's toggling a key figure, timing is everything when betting this game.
Not Your Granddaddy's LSU Tigers
In case Lincoln Riley's surprise exit from Oklahoma wasn't enough for you this offseason, Kelly made an equally-surprising exit for LSU from Notre Dame. While his early impression in Baton Rouge has its ups and downs, there's no denying Kelly is a major land for the Tigers. He's a 0.742 career winner in over three decades in college football, landing in two College Football Playoffs and a National Championship Game.
The entire coaching staff was flipped and very few members of the 2022 LSU team were on the 2019 championship squad. In the 2021 Texas Bowl, LSU had 39 scholarship players to use and ended up starting a receiver at quarterback. To understand this LSU team, you have to toss all historical data.
QB Myles Brennan shockingly retired from football just a few weeks before the season started after reportedly being informed he would not be starting. That leaves the job likely to Arizona State transfer Jayden Daniels, with an outside chance we see Garrett Nussmeier start. Rumors coming from LSU camp suggest this is a QB battle that's not likely to be settled in camp and, in typical Kelly fashion, packages may be set up for both players.
Not even the schemes will be recognizable, as newly-hired DC Matt House will transition the defense to a three-man front instead of a four-man. To get a hold of this team, I'd recommend following beat LSU reporters on Twitter. We probably won't have a firm grasp on them for a few weeks.
Lead RB John Emery will not play in the game while serving a two-game suspension.
The Outside Battle
QB Jordan Travis is probably better than you think. While he spent plenty of time hurt last season, he did exhibit big-game potential (see: the second half of their Week 1 game vs. Brian Kelly and Notre Dame) with a rocket for an arm. However, Travis was severely hindered against man-to-man coverage, averaging six entire yards per attempt fewer against man defense.
In the past, LSU could line up their corners and run man all day, which would be a serious problem for Travis and a middling group of Florida State receivers. But LSU is running out an entirely new secondary with one returning starter and a couple transfers. According to Phil Steele, the Tigers' defensive secondary ranks 40th nationally and– for the first time in a long time– landed zero All-SEC selections in the preseason (first, second, or third team).
Luckily for LSU, Florida State's receiving corps ranks 33rd nationally (Phil Steele) and no receiver with over 400 receiving yards returns this year. Senior Ontara Wilson is the leader of the group, returning from five touchdowns a year ago, but three potential starters and rotational receivers are sophomores.
Florida State vs. LSU Forecast
To be frank, I have no idea what to make of LSU. Brian Kelly wins football games– that's all he's done for 31 years– but the roster leaves a LOT to be desired. I don't trust their offensive line (which they may be starting true freshmen– plural– on) nor their secondary. On the flip side, Florida State doesn't really threaten with any of their position groups, either.
Will Kelly settle on one QB? Who will we see more? I have no idea. I absolutely will not be betting on any aspect of this game.
Part of being a profitable bettor is knowing when not to.
TheLines Podcast: Win Totals, Week 1 Odds & Bets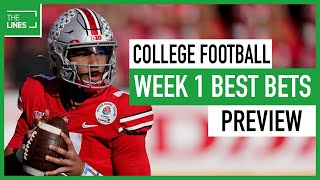 ---
Follow TheLines on Twitter