One of the most intriguing matchups in Week 1 of the college football season features the No. 23 Cincinnati Bearcats– fresh off the first Group of Five Playoff appearance– and the No. 19 Arkansas Razorbacks. Both teams feature stellar head coaches and have brands that are upstart in the past few seasons. Below, we'll look at Cincinnati at Arkansas odds along with a full betting preview of the game.
Follow along with TheLines this season for college football odds and breakdowns every week.
Cincinnati at Arkansas odds
Get full College Football Week 1 odds for every game.
Cincinnati at Arkansas odds movement
While line movement for this game has been minimal, that doesn't make it insignificant. Arkansas opened as a 7.5-point favorite and mid-summer, that number moved down to 7. It's significant because 7 is a key figure in football betting, with college football games historically ending with a 7-point differential roughly 17% of the time.
Should the line move off that 7 number, bettors will be buying in at a better price depending which side you're on and which way it moves. For example, if you're looking to bet the Bearcats, it's best to find +7.5 (or wait for it to move), as bettors are essentially buying 12 more cents at +7 (-105). Conversely, if the line moves to -6.5 for Arkansas, Razorback bettors are wise to grab that number instead of paying up for 7.
At some books– namely BetRivers– this number's flashed as low as 5.5 points.
OK Cincinnati… Now What?
Could the term "Super Bowl hangover" apply to Cincinnati this coming season? After all, how do you follow up one of the most successful seasons of a Group of Five team ever and likely the best in school history?
Many of the foundational pieces from that outstanding 2021 Bearcats squad are off to the NFL. Departing Cincinnati are starting QB Desmond Ridder, the team's leading rusher Jerome Ford, and two All-American corners in Ahmad Gardner and Coby Bryant. Filling those holes will be one of the toughest challenges of any team in the country.
What Cincinnati doesn't lose is their offensive line– a unit that should be one of the better OLs in the country. All five starters return, including three All-AAC selections from 2021. While Cincy has the upper hand at the line of scrimmage, they'll have their hands full with a stellar Arkansas linebacking corps led by Bumper Pool and five-star Alabama transfer Drew Sanders.
We won't know who the starting QB is right away, although it appears Eastern Michigan transfer Ben Bryant will get the nod Week 1. Luke Fickell appears to be keeping the starter close to his chest while also acknowledging the competition may not yet be over. Bryant completed 68% of his passes for just over 3,100 yards, but just 14 touchdowns, last season with EMU. The other option is Evan Prater, who served as Ridder's backup last season.
Despite all of the turnover, the Bearcats are a top-20 team in FPI and SP+.
Hogs Here To Stay
In 2021, Arkansas won nine games, their first bowl game over a Big Ten opponent, snapped rivalry streaks with Texas A&M and LSU, and led the SEC in rushing. While nearly every skill starter departed the team, don't expect a major regression from Arkansas. Their biggest asset, start QB KJ Jefferson– Arkansas' leading passer and rusher– is back and adds one of the top transfer classes per 247Sports (10th).
Oklahoma transfer Jadon Haselwood might be the new go-to in place of star Trelon Burks this coming season. The Hogs also return four starters on the OL, a group that ranks 12th in Phil Steele's OL unit rankings.
The continuity in coordinators (particularly Kendal Briles, who revolutionized their offense) is a major boost for Week 1. As Cincinnati looks for new leadership on the field, Arkansas already has it. They were exceptional at avoiding third downs (avoided 3D 51.4% of the time, 23rd-best), critical against a Cincinnati defense that was top-15 in 3D conversation rate last year.
While Cincinnati matches up with talent fairly well, Arkansas should be able to move the chains against a green defense.
Cincinnati at Arkansas Forecast
The spread on this game is interesting at . FPI and SP+ rankings suggest that Cincinnati should be favored and that this should be a smaller spread. What's even more interesting is that the line hasn't really budged.
One thing I looked for in particular was early line movement. At market makers like FanDuel Sportsbook, early line movement suggests someone in the know ("sharp money") saw a flaw in the line and their action caused the oddsmaker to move it. That didn't happen.
Although Cincinnati is starting a new QB, Arkansas' defense isn't much to write home about after losing 10 starters. They ran one of the lowest-tempo offenses (123rd in plays per game) while Arkansas has the talent to move the ball. I anticipate a more run-heavy approach from both teams, potentially capping both the point spread and the point total.
Ultimately, I'm laying off this game. The spread is on the wrong side of the key figure 7 for me to take Arkansas and the points, but I don't have enough confidence in Cincinnati's offense to lean them, either. Perhaps a first-half under bet () as both teams get it going on the ground and may take a minute to figure each other out. However, nothing gets me excited enough to bet on this game.
TheLines Podcast: Win Totals, Week 1 Odds & Bets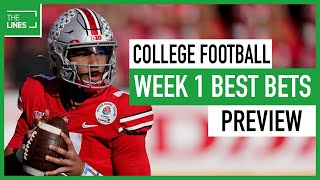 ---
Follow TheLines on Twitter