If you love college football betting, welcome to Christmas week. So. Many. Games.
Thursday through Monday is loaded for the Labor Day weekend and there are some important contests that will shape the early storylines of the 2019 season.
College football doesn't have preseason, so expect some sloppy play at times over the next few days. That's exactly what we got for Florida and Miami on Saturday, but the Gators kept their top 10 ranking this week after a 24-20 win in their first game of the season.
Bad news for the Pac-12, which had a really rough 2018 season. Arizona losing on the road at Hawaii as 11-point favorites was not a good story. Can Oregon get a victory for the conference over a top-20 team from the SEC this weekend? If they want a team in the playoffs, they are going to need a big night from the Ducks on Saturday.
Here's a look at the Week 1 college football spreads and totals at DraftKings Sportsbook and FanDuel Sportsbook, along with our analysis for each game.
Game
DraftKings
FanDuel
Georgia Tech
(1) Clemson
61
-37
61
-37
Duke
(2) Alabama
58.5
-34.5
58
-34.5
(3) Georgia
Vanderbilt
-21
57.5
-21
57.5
Houston
(4) Oklahoma
82.5
-24.5
83
-24.5
FAU
(5) Ohio State
63.5
-27.5
63.5
-27.5
GSU
(6) LSU
54
-27.5
53
-28
MTSU
(7) Michigan
53.5
-33.5
54
-33.5
(9) Notre Dame
Louisville
-20.5
57
-20
57
Louisiana Tech
(10) Texas
55
-20.5
55
-20.5
Texas State
(11) TA&M
56.5
-33
57
-33
(13) Oregon
(16) Auburn
56.5
-3.5
56
-3.5
(15) Utah
BYU
-6.5
48.5
-6.5
48.5
Florida A&M
(17) UCF
65.5
-45
66
-44
(17) Wisconsin
South Florida
-13.5
57.5
-13.5
57.5
Miami (OH)
(19) Iowa
49.5
-21.5
49.5
-21.5
Tulsa
(20) MSU
47
-22.5
47.5
-22.5
NMSU
(21) WSU
64.5
-33.5
64.5
-32
(22) Syracuse
Liberty
-17
66
-17.5
66.5
(25) NW
(23) Stanford
47
-6
46.5
-6.5
NIU
(24) ISU
41.5
-18.5
NL
NL
For up-to-the-minute CFB lines, check out our live odds feed
Week 1 schedule and analysis
Thursday, Aug. 29
Florida A&M at No. 17 UCF (-45) — 7:30 p.m. ET
This is one of the biggest lines you will ever see. Covering a more than 45-point line is crazy, but the Golden Knights offense was 5th in the nation last year in points per game.
Georgia Tech at No. 1 Clemson (-37) — 8 p.m. ET
The defending champs open up the new ACC Network against a team that is going through a major transition. Georgia Tech's new head coach Geoff Collins is trying to install a new offense after taking over for Paul Johnson. It will be ugly early and ugly for most of the day. It's just a matter of if you want to lay a five-touchdown line or not. According to The State.com, Dabo Swinney isn't talking the Yellow Jackets lightly: "The first game to me is always the hardest, even though we have more time (to prepare) than any other game."
Texas State at No. 11 Texas A&M (-33) — 8:30 p.m. ET
With a road trip to Clemson awaiting the Aggies after this game, you have to wonder if they are going to show everything they have in their arsenal against a Texas State team that won three games last year.
No. 15 Utah (-6.5) at BYU — 10:15 p.m. ET
BYU hasn't won the Holy War since 2009 and they are sick and tired of hearing about it. Utah's defense last year was top 5 against the run but BYU will look to ride the arm of QB Zach Wilson to a much-needed win over their hated in-state rival.
Friday, Aug. 30
No. 17 Wisconsin (-13.5) at South Florida — 7 p.m. ET
Wisconsin averaged more than 273 yards per game rushing last season; that was 5th best in the country. South Florida gave up over 252 yards per game on the ground last year; that was 121st in the country. USF better hope they have fixed their run defense.
Tulsa at No. 20 Michigan State (-22.5) — 7 p.m. ET
You don't run on the Spartans. Michigan State ranked No. 1 in the country last year against the run, allowing only 77.9 rushing yards per game. But Tulsa will try to run after the offense averaged over 193 yards per game on the ground. The big question: can Michigan State score this year?
Claim Your $1,050 Bonus at DraftKings Sportsbook
New User Bonus. T&Cs Apply.
UFC 276 Optin Promo: Bet $5, Get $100

PLUS $50 Free On Deposit

PLUS Up to $1,000 Deposit Bonus

To Claim: Click Play Now
Sat, Aug. 31
Florida Atlantic at No. 5 Ohio State (-27.5) — 12 p.m. ET
The line has been moving up after opening at 26 largely due to the fact that Lane Kiffin's team doesn't play any defense. QB Justin Fields will play his first game in a Buckeye uniform and Ryan Day will be looking to send a message to Ohio State fans that he can handle replacing Urban Meyer. FAU lost the opener at Oklahoma last year 63-14. Is another blowout loss on the way?
Northern Iowa at No. 24 Iowa State (-18.5) — 12 p.m. ET
I've covered this game and let me tell you, the Panthers come to play whenever they go up against their brothers to the south. Northern Iowa lost 42-24 the last time they played in Ames but they return Iowa native QB Eli Dunne who would love the chance to shock ISU QB Brock Purdy and the Cyclones.
Eastern Washington at No. 12 Washington (-22) — 3 p.m. ET
Games against FCS schools don't always get lines and this didn't have one until Saturday morning at DraftKings.
No. 14 Penn State (-44.5) vs. Idaho — 3:30 p.m. ET
FanDuel posted a line of Penn State -44.5 on Saturday morning for this one.
No. 2 Alabama (-33) vs. Duke — 3:30 p.m. ET
Alabama beat Louisville 51-14 last year in their opener and Florida State 24-7 two years ago. Will Duke be able to keep this game close? It's a massive line but Alabama is on a mission this year after losing the national title game against Clemson. Yet, there will be a lot of bettors interested in the dog in this game.
No. 25 Northwestern at No. 23 Stanford (-6.5) — 4 p.m. ET
These two programs get the most out of their talent on the football field. We know what these players can do in the classroom. Northwestern fans are excited to see what Clemson transfer WR Hunter Johnson will look like in their offense this season.
No. 22 Syracuse (-19) at Liberty — 6 p.m. ET
Welcome to the Hugh Freeze era at Liberty. In his first game as head coach, his team gets a chance to make a statement against a ranked opponent.
No. 3 Georgia (-22.5) at Vanderbilt — 7:30 p.m. ET
It's a true road game for the Bulldogs to open up the season, a rare thing for a top 5 team, and a conference game as well. Expect the majority of the crowd to be wearing red for this game and don't expect this one to be close. Vandy is coming off a six-win season and will be selling alcohol at their home games this season. Commodore fans might need a few drinks before halftime of this one.
Georgia Southern at No. 6 LSU (-27.5) — 7:30 p.m. ET
Be careful writing off Georgia Southern in this game. The Eagles lost 10 games in 2017 only to bounce back and win 10 games in 2018. The triple option is alive and well, and if the Tigers aren't ready to play assignment football, this game could be close. I seriously doubt Georgia Southern walks into Death Valley and wins but could they keep it closer than four touchdowns?
Middle Tennessee at No. 7 Michigan (-35) — 7:30 p.m. ET
If MTSU had last year's squad, and specifically last year's QB in Brent Stockstill, I might say that the Blue Raiders are a live dog. However, this team has a new QB and a shaky offensive line. The Wolverines have a lot of pressure on them to be great this season.
No. 13 Oregon vs. No. 16 Auburn (-4) — 7:30 p.m. ET
Taking place at a neutral site in Dallas, this is the biggest game of Labor Day weekend because it's the only game featuring two top 20 teams. Oregon has its sights on a playoff run with QB Justin Herbert back for his senior year and a massive offensive line. Auburn has a defensive line that features first-round talent, but do the Tigers have an offense that can keep up with the Ducks?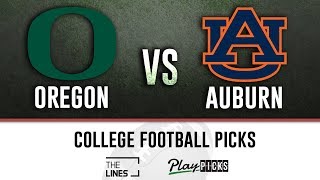 Miami (OH) at No. 19 Iowa (-22) — 7:30 p.m. ET
Hawkeye fans are expecting big things from this team with the return of QB Nate Stanley following a year where he threw for over 2,800 yards and 26 touchdowns. The non-conference schedule for Miami is one of the toughest in the country with road trips Iowa City, Cincinnati, and Columbus. Getting a big win early would be huge.
Louisiana Tech at No. 10 Texas (-20.5) — 8 p.m. ET
This is a big year in Austin. After Texas beat Georgia in the Sugar Bowl, Longhorn fans started thinking about a trip to the playoffs in 2019. Their home opener shouldn't be too much of a test but laying three touchdowns against anyone isn't the easiest line to cover.
New Mexico State at No. 21 Washington State (-32) — 10 p.m. ET
Another massive line here but the Cougars are going to score on everyone this year. They were No. 2 in the country last year in passing yards per game, even with the departure of Gardner Minshew. New QB Gage Gubrud is a transfer like Minshew and should have a monster season throwing the ball for head coach Mike Leach.
Sunday, Sept. 1
Houston at No. 4 Oklahoma (-24.5) — 7:30 p.m. ET
Major Applewhite was fired following one of the most embarrassing performances in a bowl game in recent memory after Army beat Houston 70-14 in the Armed Forces Bowl last December. Enter Dana Holgorsen and his high-tempo offense. This will be the debut game of new OU QB Jalen Hurts, and Lincoln Riley will want to show the home crowd that his offense is in good hands. However, this is a lot of points to lay without seeing Hurts play for Oklahoma for at least one game.
Monday, Sept. 2
No. 9 Notre Dame (-18) at Louisville — 8 p.m. ET
The Cardinals opened up against Alabama last year and lost 51-14 on their way to a two-win season. The good news for Louisville is that they are at home for this Monday night standalone game. The bad news is that they are facing a team that wants to make a statement to the country.