Circa Sports is following up its wildly popular football contest with two new contests and more prizes. The Circa Sports Million contest returns with $3 million dollars in prizes. The downtown Las Vegas sportsbook operator is also introducing its first Circa Survivor Contest with a winner-take-all $1 million prize.
Last season, Circa Sports Million had 1,875 entries. There was so much interest in the contest last football season that TheLines even dedicated a second weekly podcast just for picks each week. This year there could be even more entries thanks to more guaranteed prizes.
Circa Sports shared a video of a fun brainstorming session on how they can top last year's Circa Sports Million Contest.
How to play Circa Sports Million
Circa Sports Million is a traditional pro football handicapping contest. Participants will pick five NFL games against the posted point spread each week. Entries can be submitted on the Circa Sports app or at a Circa Sports location inside the Golden Gate or The D.
The entry fee for Circa Sports Million is $1,000. Participants may have up to three (3) entries each. Once again, there's no rake or administration fee for Circa Sports Million. All contest entry fees collected will be paid to the winning participants.
Point spreads for each game will be posted every Thursday at around 10 a.m. Thanksgiving week is the exception — point spreads will be posted on Wednesday morning at the same time. Entries must be submitted each week before 3 p.m. PT on Saturday.
Participants must register for Circa Sports Million II in person at a retail Circa Sports location at the Golden Gate or The D. However, participants don't have to live in Nevada. A friend or football contest proxy service may submit picks on behalf of any contestant.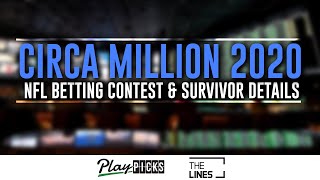 Circa Sports Million II prizes
Circa Sports Million II Contest has doubled its prize pool by offering a guaranteed $3 million in winnings. The winner of Circa Sports Million will take home a $1 million prize. And once again, Circa Sports Million will pay an additional $1 million to quarterly winners.
Further, winners in the first and second quarters of the season will win hotel rooms to the opening of Circa Resort & Casino in December. Circa will be home to the largest sportsbook in the world.
Circa Sports expanded the prize pool for this year's contest. Instead of just paying the Top 10 finishers, Circa Sports Million will pay the Top 50 finishers at the end of the season. Payouts are as follows:
1st place: $1,000,000
2nd place: $300,000
3rd place: $100,000
4th place: $75,000
5th place: $50,000
6th place: $30,000
7th place: $20,000
8th place: $18,000
9th place: $16,000
10th place: $14,000
The 11th-50th place finishers will split $277,000. The total prize pool for the full season of the Circa Sports Million II contest is $1,900,000. Once again there's no rake and all money entered to the contest will be returned to participants.
The newest prize for Circa Sports Million will be a $100,000 "booby prize" to the last-place finisher in the contest. Eligible contestants must submit five picks for all 17 weeks of the season and finish with the fewest points. Contestants who do not fully participate each week are not eligible for this prize.
Prizes for the full season contest are set in stone. Any overages from the number of entries will be given to Quarterly winners.
Circa Sports Million quarterly MVP prizes
This year there will be three prizes for the top quarterly performers. The three contestants that have the most points from the correct selections in each quarter of the football season will take home a total of $250,000. Quarterly MVP prizes will be as follows:
1st place: $150,000+
2nd place: $75,000+
3rd place: $25,000+
The prizes for each quarterly winner is a minimum. Any overage from contest entries will be given to the quarterly MVP prize winners since there's no rake or administration fee.
Quarterly prizes will be awarded for the following weekly segments of the season:
Weeks 1-4
Weeks 5-8
Weeks 9-12
Weeks 13-17
Circa Sports Survivor Contest
This is the first year for the Circa Sports Survivor contest. The winner-take-all contest will pay at least $1,000,000. If the winning participant has the correct answer each week they will take home an extra $1,000,000. There's potential that the winner of the Circa Sports Survivor contest can take home $2,000,000 with a perfect season.
This contest simply involves picking the straight-up (no point spread) winner of one (1) game each week. The season will be broken into 18 weeks for this contest. There will be 17 weeks of NFL football plus a bonus week that includes only the games on Thanksgiving Day.
Teams may only be selected once during the season. Teams cannot be chosen a second time for the contest. This is something to keep in mind when selecting games before Thanksgiving Week. If all six (6) teams playing are already chosen, the contestant will not be able to make a selection for this extra week.
The entry fee for Circa Sports Survivor contest is $1,000. Each contestant may have up to five (5) entries. There's no rake for this contest and all money from the entries will go into the prize pool. It's possible the winner of the Circa Sports Survivor contest can home even more than the guaranteed prize money.
Similar to Circa Sports Millions, contestants must register in person. Picks for the Circa Sports Survivor may also be submitted by a friend or proxy service located in the state of Nevada.