Last week, DraftKings announced NBA Hall of Famer Charles Barkley would appear in a series of commercials. For right now, those commercials will only play in New Jersey, since that's the only active area for the DraftKings Sportsbook.
The announcement seemed benign at the time. However, in light of Barkley's history, his appearances may not be the best idea for DraftKings.
Barkley is one of the most high profile athletes who has lost millions gambling. By his own admission, his gambling has gotten out of hand before, and he has lost more than $1 million in a single session "10 to 15 times."
The whole picture is the problem, not Charles Barkley
For Barkley, who has made hundreds of millions of dollars, it may not be an addiction. He may simply like to gamble, and he has the wherewithal to lose more money than most.
However, the manner in which he's portrayed is quite troubling. The premise of both commercial spots is to have Barkley interact with a medical professional known as "Dr. Aftkings."
In the first commercial, Barkley is a patient in the doctor's office. He is dressed in a medical gown and obviously suffering from some sort of ailment.
The doctor enters, and declares that he suffers from Acute Win Deficiency. The doctor then prescribes the cure: the DraftKings Sportsbook App.
Here is the ad: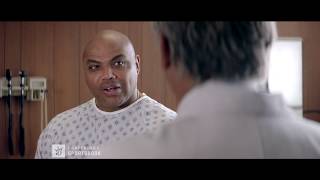 Yikes!
Putting aside the humor value of the commercial, let's examine the messaging here. In essence, you have a doctor prescribing gambling as a treatment for an ailment. To a patient. A patient with a history of gambling losses that might indicate problem gambling.
I realize that I may be reading too much into this ad, but seriously, what does DK want to convey here? Is DraftKings suggesting that players will win more money betting sports on the DraftKings app than anywhere else?
If the stories about the DraftKings vig are true, it's not very likely. To couch the suggestion in terms of medical advice is a very sketchy position to take.
Genuine gambling is different than DFS
In fairness to DraftKings, the company has featured the Dr. Aftkings character in the past. The riff on the company name is easy and good-natured, so it makes for good commercial material.
A partnership with Charles Barkley is also not a bad thing, necessarily. Barkley is one of the biggest characters ever to play basketball for a living, and one of the few (along with Shaquille O'Neal) to stay both famous and relevant well past his playing years.
However, DraftKings needs to realize that offering sports betting is a whole different animal than offering daily fantasy sports.
DFS is an upstart practice. Its clientele is younger and technologically savvy. Its market is smaller — even though DFS growth has exploded, the industry is still only earning around $335 million in revenue per year.
Sports betting, on the other hand, is more of an institution. Its revenue in one state (Nevada) almost exceeds the entire DFS industry.
Entire generations of people have gambled through the legal sportsbooks of Nevada or through less-legal options in backrooms. Unfortunately, a more serious risk of addiction follows, too.
DraftKings cannot stick its head in the sand
As we reported last month, there are legitimate fears that the influx of sports betting to the country will lead to an uptick in compulsive gambling. The good news is that research indicates there probably won't be too many new addicts to gambling.
The bad news is that the increased accessibility to sports betting will likely deepen existing addictions. The research also mentions that associated advertising for sports betting can have the same effect.
I'm not saying that DraftKings should not advertise its new product, but the context for its Barkley ads strikes exactly the wrong note. There's a reason that so many casino advertisements significantly emphasize responsible play.
DK is still a rookie in the sports betting industry. Hopefully, these ads are a greenhorn mistake only, rather than a sign of something more permanent.