Marylanders who have used the old Caesars Sportsbook in places like New Jersey have been familiar with how the app experience left something to be desired. When the re-branded Caesars Sportsbook Maryland app goes live among MD sports betting apps, though, the product should be quite competitive.
State regulators still have to weigh in on if and when Caesars will launch in MD. Provided that approval eventually happens, Caesars' new sports betting experience could make it a force to be reckoned with in the Old Line State.
Get Up to $1,250 + Credits at Caesars Sportsbook
Up to $1,250 On Caesars
+ get 1,000 Caesars Reward Credits
+ also get 1,000 Tier Credits
Redeem for free bets, hotel stays, & more!

Use Promo Code: LEGALFULL

Caesars Sportbook Maryland might launch this fall
Right now, regulatory bodies in MD are in the process of approving rules for MD sportsbooks. There's no set timeline for completion. A legislative committee is currently reviewing the proposed rules. Once that body finishes, a 30-day public comment period will begin.
Once regulators approve a final version of the rules, they can start considering license applications. Due to its operation of Horseshoe Baltimore Casino, it seems inevitable that Caesars will apply. Approval could come a mere few weeks thereafter.
That approval is likely, again, given the presence of the casino and its connection to Caesars. It's simply too early to consider it a done deal right now. If and when Caesars Sportsbook Maryland does go live, though, it will feature a platform that bettors in other jurisdictions are experiencing anew.
When Marylanders could see the new Caesars app
On Monday, Caesars launched its new app in several jurisdictions, including neighboring New Jersey, Washington DC, and West Virginia. Caesars' release represents the completion of a process that began in September of 2020 when the gambling giant bought William Hill Sportsbook.
Caesars had operated its own online sportsbook in NJ prior to what essentially amounts to a rebrand of William Hill. William Hill's platform boasted a greater variety of betting options and more frequent promotions as compared to the old Caesars.
The new Caesars takes those elements and puts them under the Caesars banner. For example, the menu of in-game or live markets on the new app is a tremendous upgrade. Additionally, Caesars has a very competitive introductory offer for new customers.
New users in active jurisdictions get a risk-free first bet, worth up to $5,000 in site credit. It isn't clear whether that will be the case for Marylanders if/when Caesars starts operating in MD. The promos' current terms have the deal ending Sept. 30.
Perhaps the most attractive part of the new Caesars is the full integration of Caesars Rewards, though. For residents of and visitors to Baltimore, that could have some special implications in the near future.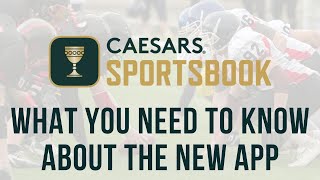 Turning wagers into free dining and hotel stays
Caesars says all bets on its app, website, and the possible future retail sportsbook inside Horseshoe Baltimore will count toward rewards and tier credits. What does that mean for Marylanders? Again, assuming regulatory approval, it means more perks.
Users can take advantage of rewards credits in both normal and special redemption programs. Standard redemptions include things like free play at the casino, free hotel nights, and free dining. Of course, should you desire, you could also use your rewards to comp your sports bets, too.
Then there are limited-time redemptions that Caesars sets its own calendar and terms for. These usually change depending on your tier status. For sports fans in MD, they could be quite interesting. Caesars has been an official sponsor of the Baltimore Ravens for years.
Tier members might get access to special events at M&T Bank Stadium or exclusive promos for wagers on Ravens' games. That's all completely hypothetical right now. However, there is a clear path for Caesars to make these things happen. Due to the sportsbook revamp, there is also a clear path for Marylanders to get in on the perks.