It isn't yet a sure thing that Caesars Sportsbook Louisana will be available in most of the state in the future, but there are several "Easter eggs" pointing toward that being a strong possibility. If and when it does launch in the appropriate 55 LA parishes with sports betting, bettors in those places will get a new experience.
Caesars Sportsbook has launched a brand new app and thrown a lot of capital behind promoting it. For bettors in LA in the future, that could mean many options for wagering, competitive promotions, and rewards that have value beyond the sports betting app.
Get Up to $1,250 + Credits at Caesars Sportsbook
Up to $1,250 On Caesars
+ get 1,000 Caesars Reward Credits
+ also get 1,000 Tier Credits
Redeem for free bets, hotel stays, & more!

Use Promo Code: LEGALFULL

When will Caesars Sportsbook Louisiana launch?
There are several matters that need attention before that question can get a firm answer. The regulatory body for gambling in LA, the LA Gaming Control Board, could start moving in that direction soon. Late last month, LA Gov. John Bel Edwards appointed the final necessary member.
The first order of business for the Board will be to draft and then finalize a set of rules. At that point, it can start accepting license applications. That's likely when Louisianans will see their first activity out of Caesars.
Caesars operates the state's only land-based casino, Harrah's New Orleans. It's currently in the process of renovating that facility, and re-branding it to Caesars New Orleans. The refurbishment could include plans for a retail sportsbook at some point.
The law in LA allows for online sports betting as well, in the 55 parishes that voted to legalize it, anyway. Assuming the Board grants Caesars a license, that means residents of and visitors to those parishes will have access to Caesars' app. That has been the subject of some intrigue as of late.
Caesars gets new app up and running
Last September, Caesars announced a move to acquire William Hill Sportsbook. In terms of its US operations, William Hill had operated in 10 states and Washington, DC. Caesars did have its own online sportsbook in some of those same jurisdictions.
However, the two are no longer competing. On Monday, Caesars rolled out its rebrand of the William Hill app, adorned with its logo and name. Thus, William Hill will go enjoy a well-earned "retirement" and should Caesars launch in LA, it will feature the new app.
One of the biggest deals about the revamped interface is the sheer variety and volume of betting markets. With the diverse sports interests that Louisianans have year-round, such options are essential to compete for market share.
The new Caesars Sportsbook Louisiana also represents a great improvement in the frequency and value of promotions. For example, Caesars is currently offering a risk-free first bet for new customers worth up to $5,000. LA bettors shouldn't count on that being the case if Caesars becomes available for them, however. That promotion is set to end Sept. 30 unless the company extends it.
Another attribute that might drive bettors to the app is Caesars Rewards. Frequent visitors to the casino in New Orleans should especially appreciate this aspect, as there are many ways they can benefit from this integration.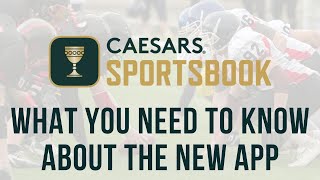 New Caesars Sportsbook Rewards Program
Caesars says that every wager, whether it's a loss or a win, will count towards rewards and tier credits in the Caesars Rewards program. Naturally, bettors can accumulate those to comp their bets on sporting events if they wish.
However, that's just one way to potentially use them in LA. At any Caesars property, guests can use them for a number of things:
Comped beverages, dining, hotel rooms, and upgrades
Free play on poker, slots, and table games
Free bets at the retail sportsbook (again, assuming regulatory approval)
VIP access to events at the casino
Those perks get better as patrons ascend in the tiers in Caesars' program. There is another likely opportunity for members, though. As Caesars just closed a deal with the New Orleans Saints for naming rights to the Superdome, Rewards members could get access to events at the stadium.
For Saints fans, your bets might someday lead to rubbing elbows with the very players you've been wagering on. While that's all hypothetical right now, all the arrows seem to point toward it happening.