The world-renowned Caesars name will have more visibility than ever before following the transition of the William Hill US brand to Caesars Sportsbook Indiana and the debut of Caesars Sportsbook app.
Official announcement and details of the rebrand came via an August 2nd press release. Caesars Entertainment CEO Tom Reeg emphasized that Caesars Sportsbook users will have access to "customized offers, flexible limits, and a wide range of betting options", among numerous other benefits.
Meanwhile, Eric Hession, Co-President of Caesars Digital both reconfirmed the company's mission to "put the bettor at the center of everything" and emphasized a commitment to give bettors "depth of odds and breadth of sports" to wager on in what promises to be a highly user-friendly platform.
Hoosier State bettors are among those that have instant access to the dynamic Caesars Sportsbook platform, either as existing William Hill users or as new prospective customers.
Get A Free $1,001 First Bet Match at Caesars Sportsbook
Up To $1,001 First Bet Match
Weekly Betting Promos

Use Promo Code: LEGALRF
New Caesars Sportsbook Indiana App Now Live For Bettors
Indiana bettors that already running the William Hill Sportsbook app on their devices will find the changeover to the Caesars Sportsbook app a largely seamless one.
Existing William Hill users will find a message when they open their existing app directing them to update it to the new Caesars Sportsbook Indiana app. Existing account transfer occurs once the user updates to the new platform.
Caesars Sportsbook Indiana Promo – New Users Get Risk-Free Bet Up To $5,000
Indiana bettors who did not have a William Hill account and want to give the Caesars Sportsbook experience a whirl have plenty of incentive in the form of a $5,000 Risk-Free Bet Welcome Offer that is available for a limited time.
The terms and conditions are as follows:
Offer open Aug. 2-Sept. 30, 2021 to bettors 21 years of age or older that are opening a Caesars Sportsbook account for the first time.
Existing William Hill Sportsbook account holders are NOT eligible.
Bet must be placed online within first seven days of account opening.
Applies only to the first real money wager by the customer.
Bet must be settled within seven days of placement.
If bet loses, customer receives a matching amount up to $5,000 as a one-time use free bet token.
Free bet token has no rollover or wagering requirement.
Users cannot combine with any other offer.
Caesars Rewards Instantly Available for Indiana Bettors
Caesars' leading loyalty program, Caesars Rewards, is one of the many amenities now available to Indiana bettors as a result of these latest developments. The Caesars Rewards program makes even non-cashing wagers on Caesars Sportsbook a bit more palatable.
With each bet, Caesars Sportsbook customers will earn Caesars Rewards Tier Credits and Reward Credits. Caesars Sportsbook links automatically with Caesars Rewards, keeping your tally current as you place wagers on the platform.
Caesars Rewards' redemption process is also designed to be as hassle-free as possible.
Reward Credits can be redeemed either online or at one of Caesars' 50-plus destinations (and growing) over 16 states. Credits can be redeemed for a diverse array of amenities ranging from free plays to exciting experiences such as travel, dining and a host of sports and entertainment events.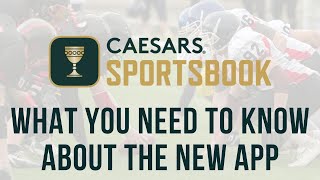 Indiana Bettors Set For Premium Betting Experience
With extensive experience offering world-class betting options to its customers, the presence of Caesars Sportsbook and the Caesars Sportsbook app in Indiana is a big net win for Hoosier State sports bettors.
The many benefits of the Caesars Sportsbook app include:
A secure and stable platform supported by renowned Liberty technology.
Extensive selection of wagering opportunities, including a full menu of in-game betting options.
Flexible bet limits.
Exclusive profit boosts.
An easy-to-navigate platform and overall user-friendly experience.
A leading comprehensive loyalty program in Caesars Rewards