You don't walk into a Buffalo Wild Wings to have a thoughtful conversation. At least not with anyone sitting nearby. Perhaps with the referee who wiped away an 85-yard touchdown run for some bogus "block in the back" on the other side of the field.
Buffalo Wild Wings' slogan isn't "Wings. Beer. How was your day today? Oh yeah? Well, she never understood you. Let's talk about your hopes, dreams and fears." It's "Wings. Beer. Sports."
Down the road, however, there may be some slogan-altering needed: "Wings. Beer. Sports. Betting."
In a Gaming Today story that published Tuesday, it was reported that BWW is looking to expand its menu: locking down a private sportsbook operation to offer legal sports betting at some or all of its more-than-1,200 locations across the nation.
Hear us out
Stifle that chuckle. This could be a game-changer.
Joke all you want about Arby's acquiring B-Dubs not long ago, allowing for a potential Buffalo Beef 'N Cheddar with a side of E. coli. (How dare you make such a joke?)
But there is no debating that BW² is frequently near the top of the go-to destinations for those fans who want to go watch a game or eight. It is a primo location to not only watch whatever heavy slate of college and NFL football action is being broadcast, but also for keeping tabs on daily fantasy sports.
In fact, BW3's is among the most popular spots for fantasy football draft/weekly league watch parties. So why wouldn't Bee-Dubya-Three be a hot spot for sports betting?
Infrastructure in place
Obviously, this all depends on legislation, state approval and the economic sense of implementing sports betting. But, like Skip Bayless, just ignore that and focus on something else.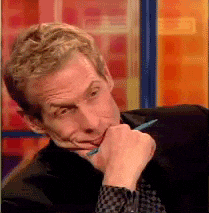 The company has already dug its heels deep in athletics. It sponsored two college bowls in recent years, for example. There are also several brewing companies — Odell Brewing (Draft Party Milkshake IPA) and Founders Brewing Co. (3rd and Lager) — that are partnering with BWW to brew specialty beers for football season.
As for the Buffalo Wild Wings experience, consider all that is already available at each location:
Televisions galore, like photos of each kid hanging on the walls of Phillip Rivers' home.
Each TV has specific games, making B-Dubs the official place to be for anyone with ADD, like a dog seeing a squirrel in the corner of his eye every few seconds. (Making it better, each TV is labeled for the game it is airing.)
Trivia. Yeah. Trivia. With several screens near the bar dedicated to questions, players have handheld devices to answer questions and rack up points.
Combine all that with an atmosphere filled with more wide-ranging fandom than Drake's closet, along with beer and wings, BWW is set up to further establish itself as THE spot to be for quality Arby's … I mean wings.