The NFL's Buffalo Bills and FanDuel Sportsbook have inked a multi-year agreement that makes FanDuel the team's official mobile sports betting partner, the operator announced in a Thursday press release.
Licensing agreements between teams and operators have become common. This one comes just a couple of days before FanDuel is set to launch statewide on Jan. 8, Day 1 of New York online sportsbooks.
Rank
Sportsbook
Bonus
Feature
Play
What Buffalo Bills, FanDuel Partnership Means
As part of the agreement, FanDuel will get use of the Bills' media assets such as logos for multimedia advertising. Fans can also expect to see FanDuel ads and signage around Highmark Stadium, the Bills' home venue in Orchard Park, N.Y.
FanDuel will also become the presenting sponsor of "Bills By The Numbers," the team's official podcast.
As the top-performing New York team for the past several years in one of the U.S.'s biggest states, the Bills make for a high-value partner for FanDuel. As the state nears its mobile sports betting launch, having the playoff-bound Bills as a partner can only be a good thing for the early market leaders in American sports betting.
DraftKings Sportsbook NY Fires Back With Bills Promo
DK Sportsbook responded to this announcement to try and compete for #BillsMafia dollars on the opening weekend of legal online sports betting in New York with the following offer:
Double Your Money If Either The Bills or Jets Score a Touchdown
Max wager: $25
Goes live at 7:30 p.m. EST on Saturday, January 8
CLICK HERE TO CLIAM (after 7:30 p.m. Jan. 8)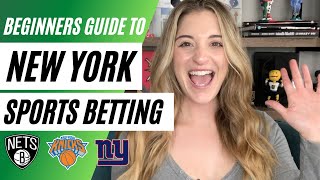 How Fans Can Benefit
With the market opening up for mobile betting, sportsbooks can offer their product to more New York users than ever before. These new users can benefit via promotional offers from the operators.
That includes a pre-live offer for Buffalo Bills fans in New York. Sign up now clicking the button in the banner below for that FanDuel Sportsbook offer. There are also other NY sportsbook offers you can redeem as well!
Rank
Sportsbook
Bonus
Feature
Play