Contending and winning an Open Championship requires patience and perseverance. Often those attributes are put to the test on links courses in windy weather and conditions that don't match most golfer's tastes. The same attributes are put to the test in handicapping British Open picks.
Yes, we did just also call it the British Open instead of The Open. Phil Mickelson said it was okay.
Golf is not a fair game, and even more troubling on links style courses. Golfers can hit a decent shot and find themselves scrambling much more than imagined. Fescue, heather, burns, bad bounces and pot bunkers get in the way of an otherwise properly played shot. The Open Championship is most exposed to luck's influence, and the players will have to thrive, survive and play a very different form of golf to end up on the weekend leaderboard in pursuit of the Claret Jug.
Claim Your $1,050 Bonus at DraftKings Sportsbook

Up to $1,050 FREE
New User Bonus. T&Cs Apply.
$50 Free On Deposit

Up to $1,000 Deposit Bonus

To Claim: Click Play Now
The Data Divide At Open Championships
The absence of any historical ShotLink/Strokes Gained data will compound the problems for model-reliant handicappers. But looking towards golfers in better current form and overall strokes gained strength is a starting point. Playing in the British Open requires a more strategic and creative approach, and golfers who excel in those areas will have more success than the bombers and gougers who try to overpower the course.
Watch the weather and any discrepancies in the morning and afternoon conditions as players can be cut from contention if they are on the wrong side of the draw with tougher weather and wind conditions.
Course Comps To Royal St. George's
In looking towards comparable courses to Royal St. George's and success on the links, lean towards the Dunhill Links Championship, which is played annually over the historic Old Course at St. Andrews, alongside the Championship Course at Carnoustie and 'modern classic' Kingsbarns.
Here are some golfers who are a course fit and balance the risk of misfortune on the links while meeting the conditions and profiles mentioned.
Tommy Fleetwood ()
Tommy Fleetwood gathered much experience on links courses as a junior golfer. He struggled in his initial Open Championship appearances, but has since shown he can thrive under a variety of links conditions. Tommy found his groove in recent years and his links credentials rank highly in the field. The 30-year-old Englishman tied for 2nd at the 2019 Open at Royal Portrush, and used his strong short game and scrambling to contend. In the 2018 Open at Carnoustie, Fleetwood led the field in greens hit. He's excelled in windy conditions and both accepts and thrives where others flounder when the conditions and weather is at its worst. Fleetwood also finished T5 at the 2019 Dunhill Links Championship and was runner-up in 2018. His positive attitude and approach, along with his proven strategy, ball flight and control, and creative short game strength make him a contender to consider at Royal St. George's.
Tyrrell Hatton ()
Hatton also struggled at The Open Championship early in his pro career. But starting in 2015, he's finished T5 and T6 in four Open appearances. The 29-year-old Englishman also won the Dunhill Links Championship in 2016 and 2017, and was runner-up in 2018 with Tommy Fleetwood. Hatton's approach play is among the very best in the field, as is his ball striking and tee-to-green game where he ranks top-10 on TOUR over his last 36 rounds. Hatton has thrived on the links having also won the season-opening Abu Dhabi Championship after trailing Rory McIlroy into the final round. His around-the-green game strength was on display, and also again when Hatton won the European Tour's flagship event to close 2020 with a victory at the BMW PGA Championship at Wentworth in England. All necessary skills, credentials and course fit point towards Hatten being a major contender at Royal St. George's and the 149th Open Championship.
Victor Perez ()
If you scroll way down the odds board of British Open picks, you'll find a Victor Perez. The 28-year-old Frenchman is a links champion and specialist. Perez won the 2019 Dunhill Links Championship in a field that included Finau, Fitzpatrick, Fleetwood, Hatton, Lowry, McIlroy and Rose. This season on the PGA TOUR, Perez finished top-10 at THE PLAYERS Championship on a shotmakers course, and finished fourth in the Dell Match-Play Championship. His form went off course since having missed the cut in all three majors this year. Still, he's finished top 10 in two European Tour events this season, and using course fit and necessary skills to succeed on this terrain, Victor Perez can clearly outperform his odds. Wouldn't it be something to see Perez in the hunt and potentially triumph where fellow Frenchman Jean van de Velde melted down on the 72nd hole in the 1999 Open Championship at Carnoustie?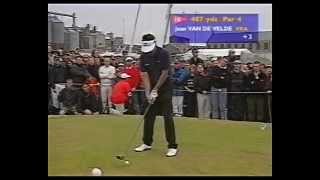 Sergio Garcia ()
Garcia may be a longshot among British Open picks, but the 41-year-old possesses one of the best Open Championship records in the field without winning. He's clearly a links specialist whose strong ball striking and driving skills have helped him flourish in windy and more uneven conditions. Sergio has finished top 10 in nearly half his British Open starts, including a playoff loss in 2007. He's an obvious course fit having finished top 10 at Royal St. George's in both 2011 and 2003. After many struggles in majors since his 2017 win at The Masters, Garcia has rebounded into better form more recently with top-20 finishes the past month in the U.S. Open and BMW International Open in Germany. Garcia's tee-to-green game remains solid, and he'll show gains on the field in greens in regulation, and can contend again if his putting improves.