Welcome to the long-awaited summit. The $6 million Breeders' Cup Classic. The Super Bowl of thoroughbred horse racing delivers a highly-anticipated matchup Saturday at 8:40 p.m. ET from Del Mar in California. 2021 Breeders' Cup Classic odds show a handful of strong contenders.
Stars from two separate circuits converge for horse-of-the-year honors among horses three years old and older. The Breeders' Cup Classic concludes horse racing's ultimate weekend.
Claim your $300 Risk Free Bet at TVG!
Risk Free Bet Up To $300
TVG Is Our #1 Horse Betting Recommendation

Use Promo Code: LSRTVG

2021 Breeders' Cup Classic Odds
| Post | Horse | Morning Line Odds | Jockey | Trainer |
| --- | --- | --- | --- | --- |
| 1 | Tripoli | 15-1 | Irad Ortiz Jr. | John Sadler |
| 2 | Express Train | 20-1 | Victor Espinoza | John Sherrefs |
| 3 | Hot Rod Charlie | 4-1 | Flavien Prat | Doug O'Neill |
| 4 | Essential Quality | 3-1 | Luis Saez | Brad Cox |
| 5 | Knicks Go | 5-2 | Joel Rosario | Brad Cox |
| 6 | Art Collector | 8-1 | Mike Smith | Bill Mott |
| 7 | Stilleto Boy | 30-1 | Kent Desormeaux | Ed Mager Jr. |
| 8 | Medina Spirit | 4-1 | John Velazquez | Bob Baffert |
| 9 | Max Player | 8-1 | Ricardo Santana Jr. | Steve Asmussen |
Why is Knicks Go the favorite in morning line odds?
Knicks Go, who set a Keeneland track record in seizing the Breeders' Cup Dirt Mile last season, graduates to racing's top showcase. This year, he has left three straight fields in his wake, looking like one of the best speed horses of all time.
Established as the 5-2 favorite, Knicks Go contests a group of titans from Triple Crown season in Essential Quality, Hot Rod Charlie and Medina Spirit. They have battled at Churchill Downs, Belmont Park and Saratoga, nudging one another by head bobs in a cross-country year-long battle.
Now it all heads west for the year's final showdown in the field of nine. Bettors, hone your edges. It's game on for a thrilling Breeders' Cup finale.
How To Watch 2021 Breeders' Cup Classic
What: three-year-old horses and up
Distance: 1 1/4 miles on dirt
Post Time: Saturday, Nov. 2, 8:40 p.m.
TV Channel: NBC
Purse: $6 million
Click Here: Breeders' Cup Free Bet
Past Peformances and Field Analysis
1. Tripoli (15-1)
Register points on his behalf for obtaining a victory on this surface, the Grade I TVG Pacific Classic. Hard, strong, late runner.
On the flip side, he could not repeat that late run in the Awesome Again Stakes, when Medina Spirit blew away the field. He was in position, but faded. Beaten by three entrants in his race. May have hit the wall.
2. Express Train (20-1)
Finished distant third to Medina Spirit and Stilleto Boy in the Awesome Again. Good effort but showed nothing to indicate he would beat them here, let alone the others. Tough spot.
3. Hot Rod Charlie (4-1)
Starts the tantalizing 3-4-5 part of the lineup with Essential Quality in the four spot and Knicks Go in fifth. Could be the Murderers Row of the 2021 Classic.
Pennsylvania Derby triumph ended his bridesmaid dilemma of near misses: third in the Kentucky Derby to Medina Spirit, a strong second in the Belmont Stakes to Essential Quality and a Haskell Stakes victory reversed after he clipped heals with Midnight Bourbon.
The Pennsylvania Derby triumph was a rematch victory over Midnight Bourbon, who collared him at the top of the stretch and made Hot Rod Charlie earn it. He went to the front and stayed that day, winning at 4-5.
Connections may have learned something from his suicidal 46.49 pace for the 1 1/2-mile Belmont Stakes. Hot Rod Charlie ran 47 for the 1 1/8-mile PA Derby and had the reserve he needed in the homestretch. He needed all of it.
Right there with Essential Quality every race. Early pace factor. Does he compromise Knicks Go?
4. Essential Quality (3-1)
Three straight gut-wrenching victories at different distances. It started with the thrilling stretch-duel triumph over Hot Rod Charlie in the 1 1/2-mile Belmont Stakes. Followed it with a stubborn triumph over Keepmeinmind for the 1 1/8-mile Jim Dandy at Saratoga. And then came the Travers victory at 1 1/4 miles, where he needed everything to outlast Midnight Bourbon in Saratoga.
The horse-racing equivalent of a great moneyline team that doesn't cover the spread. Every race a nail biter. But he wins.
Will be coming at the leaders late.
Brad Cox has both Knicks Go and Essential Quality. Looks like he'll try to prevail on the speed angle with Knicks Go or the closing angle with Essential Quality.
5. Knicks Go (5-2)
Will he be going, going, gone? The sentimental star is a returning Breeders' Cup dirt champion, stepping up to try winning the Classic.
As mentioned above, he set a Keeneland Race Course record of 1:33.85 last year in the dirt mile after setting blistering fractions of 44 4/5 for the half-mile and 1:08.25 for six furlongs.
The ultimate speed-ball in this field has won seven of nine starts, including the last three at 1 1/8 miles. Stumbled at the Metropolitan Stakes, succumbing to pressure from others despite a slow pace.
Obtained sizable early lead in the Whitney at Saratoga and had enough to get home. If he gets out alone, he should win.
But here's a variable: he's never won at 1 1/4 miles. Can he get the extra 1/8 of a mile?
6. Art Collector (8-1)
In his favor: nice back-to-back wins in the Charles Town Stakes, where he was forwardly placed, and the Woodward, where he wired the field. On his best form cycle now. Should be an early presence up front.
Not in his favor: A rematch with Knicks Go, whom he could not keep up with in the Breeders' Cup Dirt Mile.
7. Stilletto Boy (30-1)
He might bring the wine to the exotics party. Stilletto Boy ran an excellent second twice in a row to Medina Spirit. He was 50-1 in the Awesome Again.
Based on recent efforts, should be in the 15-1 to 18-1 range. Value at this price. Put him in underneath.
8. Medina Spirit (4-1)
Is this Bob Baffert's revenge? The racing community shunned him in the wake of Medina Spirit's positive drug test after winning the Kentucky Derby. There is no love lost between Baffert and the thoroughbred racing hierarchy, who have been squaring off in court.
Baffert has an excellent horse and Medina Spirit was awesome in winning the Awesome Again Stakes. Should be near the front of the pack early. May be a pace factor with Knicks Go.
Medina Spirit, Hot Rod Charlie and Essential Quality were heads apart at the Kentucky Derby. The band is back together at the Breeders' Cup Classic.
Will they be dueling at the wire or still chasing Knicks Go?
9. Max Player (8-1)
Terrific New York form the last couple years. Comes off a nice victory at the Saratoga Jockey Gold Club in 2:02.4. Question will be can he bring his form west. In the past, has hit a wall between Grade I and championship stakes races. Has regrouped and makes one more attempt.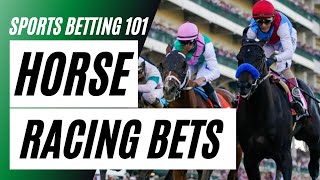 How I'm Betting The 2021 Breeders' Cup Classic Odds
The Favorites
I have to take one exacta box with Knicks Go as the speed demon and Essential Quality as the best closer. Must decide to bet one of them to win too (undecided). If these are your horses, take one to win because it would be a shame to waste excellent betting odds.
I would also take Knicks Go, Essential Quality, Medina Spirit and Hot Rod Charlie in a 50-cent trifecta box. Costs $12, would pay reasonably well. This is insurance against several unknown pace factors. Will Hot Rod Charlie or Medina Spirit pepper Knicks Go early. They like the front. What happens if Knicks Go has to fight? What if he can't get the distance? What if Medina Spirit returns to Derby form? What ifs are the basis of box-betting.
I would suggest trying some $4 bets to try nailing a $1 superfecta. Take your two favorites in the 1-2 spot with the other two in the third and fourth position, say 4-5 with 4-5 with 3-8 with 3-8. Try this with any of your favorite combos.
How I'm Mixing In A Longshot
Include Stilleto Boy, the No. 7 horse, in some of those $1 superfecta tickets too. His Breeders' Cup Classic odds will make the potential payout skyrocket.
Good luck. It's a fun betting puzzle. I hope it's profitable for you.