What Are The Best Online Sportsbooks In Tennessee?
Tennessee legal sports betting finally launched this weekend, with three online sportsbooks opening Sunday morning before the NFL Week 8 kickoff.
DraftKings, FanDuel, BetMGM are offering sports betting across many sports and leagues and will have bonuses and special promotions available to celebrate the opening weekend of sports betting in the state.
As long as you have your location services turned on in the state of Tennessee on your phone or computer, those three sites will be accessible on an NFL Sunday to get started in the sports betting world.
Here are details on DraftKings, FanDuel and BetMGM for Tennessee residents to get ready for launch.
Rank
Sportsbooks
Bonus
Features
Play
Best Tennessee sportsbooks
DraftKings Sportsbook
DraftKings was one of the two Daily Fantasy Sports heavyweights to cross over into the sports betting world. With its familiar name and illustrious marketing strategies, DraftKings is likely a household name for any sports fans and should be at the top of the list of options to use as a primary sportsbook for Tennessee residents. Its app is available on both Android and Apple products and has a user-friendly interface.
Deposit and withdrawal options are simple and safe, allowing PayPal and credit cards. Any money withdrawn is typically in your bank account within a few business days. It's also a positive to have your wallet linked to the DFS side of things if players like to dabble in both.
DraftKings will also offer plenty of promotions and free bets throughout the year as an incentive to get people actively wagering throughout the week. New bettors in Tennessee should expect some huge promos and free bet offers early on.
For more information visit our DraftKings Sportsbook review page.
FanDuel Sportsbook
Just like DraftKings, FanDuel also crossed over into sports betting from the DFS side of things. And as the two have usually been linked in fantasy sports, all of the things above on DraftKings mostly apply to FanDuel as well.
FanDuel does have an informative FanDuel Training Camp available which should be useful for new sports bettors in Tennessee. Its app is available for Android and Apple products and is well-liked by many for its clean and simple interface.
Bettors in Tennessee should expect some ludicrous promotional offers from FanDuel as well as some intriguing bets to make with "enhanced lines." FanDuel has made news often with lines that make bets nearly impossible to lose, essentially giving players a free $50 if they make the max bet.
For more information visit our FanDuel Sportsbook review page.
BetMGM
While BetMGM may not have the name recognition in Tennessee like DraftKings or FanDuel, it is attacking the new market strongly by already becoming the official betting partner of the Tennessee Titans.
BetMGM will be offering a 100 percent deposit match bonus up to $500 to Tennessee bettors, meaning you will get $1000 to wager with if you deposit $500. There will be a 2x wagering requirement on that bonus money, which means you need to wager $1000 before being able to withdraw the bonus money if you deposited $500.
The BetMGM app is available to all Android and Apple users as well. With its partnership with the Titans, there could be some exclusive odds and promotions available for betting on Titans games.
How to start sports betting in Tennessee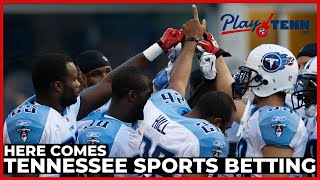 RELATED ARTICLES
---