The 2021 Belmont Stakes is shaping up to be a great betting race with no legitimate heavy favorite, despite no Belmont Stakes horses going for the Triple Crown this year.
The New York Racing Association also temporarily suspended trainer Bob Baffert from entering Medina Spirit (or any other horses) at Belmont Park in solidarity with Churchill Downs in Kentucky after the horse tested positive for a banned substance after the Kentucky Derby.
"In order to maintain a successful thoroughbred racing industry in New York, NYRA must protect the integrity of the sport for our fans, the betting public and racing participants," NYRA president and CEO Dave O'Rourke said. "That responsibility demands the action taken today in the best interests of thoroughbred racing."
That leaves impressive Preakness winner Rombauer up against some pre-Derby favorites returning to the track after skipping the Preakness. The third jewel of the Triple Crown will have handicappers intensely debating past form versus more recent form from the Kentucky Derby or Preakness.
We'll track all the Belmont Stakes horses here for you in the lead up to the race, complete with our cheat sheet once post position and morning line odds are released early race week. The downloadable pdf is an easy one-stop-shop reference point for useful information on each horse in the field.
2021 Belmont Stakes Betting Guide – How To Watch, History And Results

Get Up to $200 Back If Your First Bet Loses
$200 Bonus
If Your Bet Loses
Get Your First Single-Horse Win Wager Back
Up to $200 If You Lose

Use Promo Code: 200TVG

2021 Belmont Stakes Cheat Sheet
Click to download our Belmont Stakes Cheat Sheet with the latest info on each horse, including trainer, jockey and best Beyer Speed Figures.
Fixed odds are also included, and will be changed to the morning line odds once post positions are drawn early race week.
Belmont Stakes Favorites Have Failed With No Triple Crown On The Line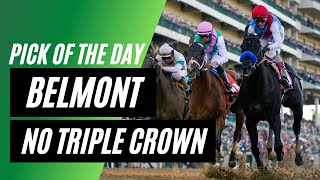 Belmont Stakes Workouts Tracker and News
Tuesday, June 1
– Post positions and morning line odds have been released for Saturday's Belmont Stakes. The field is smaller than expected. Only eight horses entered, with the connections of Brooklyn Strong, Rebel's Romance (IRE) and Keepmeinmind opting not to run. That means no horse this year will have run in each of the three Triple Crown races. Check out our cheat sheet above for a full run down and post positions, morning line odds and past performances.
Saturday, May 29
– Trainer Brad Cox gave an update on pre-Kentucky Derby favorite Essential Quality. "He seems to be going into the Belmont just as well as he was going into the Kentucky Derby. Hopefully, we'll get a good trip in the Belmont. We're excited about a mile and a half. He's got a very, very good mind."
– The Belmont Stakes post position draw and morning line odds release are scheduled for Tuesday at 11:00a ET.
Friday, May 28
– Preakness winner Rombauer worked a half mile Friday morning in 50.01 seconds. "I was very happy with the work," said trainer Michael McCarthy. "I just wanted him to go ahead and get familiar with Johnny. He went in 13.2, 25.4 … He came through the lane nicely and galloped out from the wire to the mile and three-eighths pole in 12 and 2, so I'm happy with everything I saw."
Jockey John Velasquez was aboard for the first time, with Flavian Prat changing from Rombauer to Hot Rod Charlie for the Belmont. "We hooked up at the half mile pole and we started breezing together really nice through the first part and then I let him gallop out after the wire. It was a very good gallop out," said Velazquez.
– Known Agenda worked Friday morning going five furlongs in 1:01, with splits of 24.60 and 36.00. "We got caught in behind a couple of horses and they were kind of off the rail and spread out a bit which made it a little tricky," trainer Todd Pletcher said. "In the end, Irad thought it was good. He said that Known Agenda had more of a target, jumped into the bridle and was on the muscle. He finished up and galloped out well."
– Pletcher's other two likely Belmont Stakes starters also worked Friday. Bourbonic and Overtook went through an opening quarter mile in 23.60 before finishing the half mile work in 48.49. The pair galloped out five furlongs in 1:00.80. "He's a horse that at times will work like he's capable of stepping up," Pletcher said of Bourbonic. "The one thing he does is gallop out strongly. He's always given indications that the distance would suit him." Pletcher also said he felt Overtook's two breezes since the Peter Pan have been better than what he was seeing beforehand.
Wednesday, May 26
– Rebel's Romance, winner of the UAE Derby last out, worked through splits of 25.00, 36.80 and 1:00.58. He completed his five-furlong work in 1:01.05, galloping out six in 1:14.29. Wednesday morning's workout was a third breeze in one week. "The plan was to make him work a little bit harder and push to the line to really get that strong piece of work," assistant trainer Sophie Chretien said. "I'm very happy with the horse. He's progressing very well. It's ten days before the race, so this was the big work for him, and he's going forward … moving well on the surface and … eating great."
– Trainer Michael McCarthy said Rombauer is set to work Friday with jockey John Velasquez aboard. He won the Preakness by 3 ½ lengths while garnering a career-best 102 Beyer Speed Figure. "He looks very well. He appears to be enjoying his time in New York," McCarthy said.
– Keepmeinmind arrived at Belmont on Wednesday and is under consideration to start in the Belmont Stakes. He would be the only horse in the field to start in all three Triple Crow races. He was a late-running 7th in the Kentucky Derby and 4th in the Preakness. "We still haven't made a 100 percent decision on if we're going to run in the Belmont," said trainer Robertino Diodoro. "We wanted to make sure that the horse shipped good, which he did. We want to get him a couple days over the track and make sure that he likes the surface, otherwise we'll sit tight and wait for the Ohio Derby." Diodoro added Keepmeinmind did train well Wednesday and could be breezed Monday.
Sunday, May 23
– Preakness runner-up Midnight Bourbon will skip the Belmont Stakes. Lane Gold reports his connections will next target either the Haskell or Jim Dandy.
– Trainer Brad Cox said Kentucky Derby runner-up (and possible winner via disqualification) Mandaloun will make his next start in the Pegasus at Monmouth Park on June 13.
– Owner Mark Schwartz said Jose Ortiz will ride Brooklyn Strong in the Belmont Stakes. The Daily Racing Form's Jay Privman reports John Velasquez will ride Preakness winner Rombauer.
Saturday, May 22
– Essential Quality, the pre-race Kentucky Derby betting favorite, worked five furlongs in 59.80 seconds this morning at Churchill Downs. Essential Quality finished fourth in the Derby, his first defeat in six races.
– Hot Rod Charlie, third in the Kentucky Derby last out, worked five furlongs in 1:01.6 at Santa Anita Park for trainer Doug O'Neill and is being pointed towards a start in the Belmont Stakes.
Friday, May 21
– Florida Derby winner Known Agenda, 9th last out in the Kentucky Derby, worked 5-furlongs in 1:02.5 at Belmont Park for trainer Todd Pletcher.
– Pletcher will likely also enter Bourbonic in the field of Belmont Stakes horses. He worked four furlongs in 48.8 at Belmont Park Friday.
-Bourbonic finished 13th in the Kentucky Derby after winning the Wood Memorial in his most recent races.
At Santa Anita Park in California, Santa Anita Derby winner Rock Your World worked five furlongs in 1:01.2. He is being pointed towards the Belmont by trainer John Sadler. Rock Your World was … rocked coming out of the starting gate in the Derby before finishing 17th.
*Some notes and quotes courtesy of Belmont Park and NYRA media relations