We are back in the saddle as the TOUR returns to the Lone Star State for the final week of tune-up before the second major of the year. Until then, we'll watch TPC Craig Ranch in its second year on the PGA TOUR rotation as it hosts the 2022 AT&T Byron Nelson. As always, we'll prepare you for navigating AT&T Byron Nelson odds by running through key info in our course preview.
This event is the ninth-longest fixture on TOUR. It dates to 1944 when Byron Nelson himself claimed victory at the then Texas Victory Open at Lakewood Country Club. It has rotated through several Texas courses even within the past few years.
Throughout all the change, this tournament has struggled to attract elite names and deeper fields, given its position on the schedule surrounded by majors. That changes this year. The proximity to Southern Hills actually drew one of the deepest fields in event history.
"Easy" is the buzz word this week. We'll see a surprising amount of elite names in the field, who will undoubtedly take it easy as they get one last tune-up round for the 2022 PGA Championship about 200 miles up the road. The course itself is about as easy they come on the PGA TOUR. It has wide open fairways, large receptive greens, and few penalty hazards. If weather stays fairly neutral, we should expect another winner in the mid-20s under par, rewarding birdie makers who can catch the hottest putter for four days. This is a quintessential putting contest.
We'll run through the key facts and info about TPC Craig Ranch ahead of the 2022 AT&T Byron Nelson.
AT&T BYRON NELSON ODDS: THE FAVORITES
Scroll to the bottom for complete outright odds and to compare prices across legal U.S. sportsbooks in your state. When the full odds hit the boards Monday, you can find the top favorites listed here.
THE AT&T BYRON NELSON FIELD AT A GLANCE
This course and event really do not deserve a field of this quality. But with the PGA Championship moving to Tulsa, Oklahoma next week, this event catches a lucky break. I would have pegged TPC Potomac as the most suitable tune-up to simulate difficult major-like conditions. But you can't fault the game's best for opting to take one last crack in 90-degree, sunny weather over torrential rain and cold wind in Maryland.
The beating that players took at the Wells Fargo Championship may give them pause to commit to the Byron Nelson halfway across the country. But for now, we get a very enticing field. World No. 1 and Texas native Scottie Scheffler highlights the bunch. Eight other OWGR top-20 players committed to this event, including Justin Thomas, Dustin Johnson, Jordan Spieth, Sam Burns, Xander Schauffele, Hideki Matsuyama, Joaquin Niemann and Brooks Koepka.
2021 AT&T Byron Nelson champion, KH Lee returns to defend his title. On a TPC course designed by Tom Weiskopf, he should contend once again. Interestingly enough, Lee entered the 2021 AT&T Byron Nelson on a streak of six consecutive events in which he lost strokes putting. He made an equipment change to a new putter during tournament week and went on to win by gaining 4.5 strokes on the greens. Golf is, as it turns out, difficult to predict.
Other past AT&T Byron Nelson winners (some from Trinity Forest and TPC Four Seasons) back in the field this week include Sung Kang, Aaron Wise, Brendon Todd, Jason Dufner, Jason Day, Rory Sabbatini and Adam Scott. Also of note, Kang and Ryan Palmer hail from Dallas-Fort Worth and own memberships at TPC Craig Ranch.
INTRODUCTION TPC CRAIG RANCH
Only two holes at TPC Craig Ranch averaged more than 0.1 strokes over par in 2021. That makes this one of my least favorite courses on TOUR. Like The American Express at PGA West, it becomes increasingly more random and difficult to handicap when you remove all resistance from tee to green and reduce the tournament to a pure putting contest.
That is exactly what transpired in 2021. Six players eclipsed 20-under, and the median four-day score ended at -13. Players shot 14 rounds of 8-under par or better. A score of -16 would not have cashed you a bet in the top-20 market.
We saw some nasty conditions here on Sunday, which featured a rain delay and high dosage of squeegees to keep the course somewhat playable. That rainfall was an anomaly, but in general, this course relies on the elements as its best defense from high scores. Sustained Texas winds are really the only thing getting in these players' ways from tearing the course apart. It should simulate the easy scoring conditions many of the recent KFT graduates have experienced. We have a good opportunity to identify players who thrive in easy conditions, and bogey holes don't loom.
This looks like a typical birdie putting contest. You needn't pay up for elite skillsets at the top of the board. That's especially true when all the elite players have their attention on the week ahead at Southern Hills. Plus distance helps here, but that didn't stop players like Troy Merritt, Satoshi Kodaira and Matt Kuchar from contending in 2021. It may be another good week to spread exposure across a wider list of longshots, given the randomness associated with putting contests.
How It Breaks Down
TPC Craig Ranch measures 7,468 yards, but doesn't play especially long by PGA TOUR standards. As a par 72, it features the standard mix of four par 5s, 10 par 4s, and four par 3s. All four par 5s are reachable in two and yielded an aggregate eagle rate of 12% in 2021. Three out of the four par 5s played over a half stroke under par. Which players take most advantage of these scoring opportunities will decide the week. The course also features a drivable par 4 on the 14th hole and a second sub-400-yard par 4 that plays slightly easier.
This course gets a lot of its length from the par 3s, three of which sit over 215 yards. These par 3s, along with two 490+-yard par 4s, will pose the biggest challenge, putting an emphasis on Proximity from 200+ yards. In 2021, about 40% of approaches came from over 200 yards, a big jump from the TOUR average of about 28%.
Traits And Recent Notable Facts
One year of data colored by record rainfall means we should take some of the course stats with a grain of salt. With that said, TPC Craig Ranch offers arguably the least resistance of any course we will see on TOUR year over year.
Among the 40 courses which hosted TOUR events in 2021, Craig Ranch ranked bottom five in difficulty in ten categories. Those include Scoring Average to Par, Par 4 Scoring, Driving Standard Deviation, SG: ARG & SG: APP Difficultly, 150+ Yard Approach Difficulty, ARG Difficulty, Putting Outside 15 Feet and Penalty Shots Per Round.
Expanding on Driving Standard Deviation, this means players are not laying up off the tee. They instead freely swing the driver on every chance. Sticky Zoysia fairways prevent run-off, and large 40-yard wide fairways yielded a gaudy 72% hit rate in 2021. The rough doesn't rate as penal, and no real penalty areas loom on tee shots. This course is your quintessential second-shot course. While distance helps, elite skills off the tee will give players far less of an advantage on this course than most.
Players also hit these greens in regulation at an equally high 73% clip. For the 27% of approaches that do miss, players still get some of the more straightforward greenside complexes on TOUR. They should not have much trouble scrambling.
Without any tests across the board, it truly does become a random week that simply comes down to who can generate and convert the most birdie opportunities.
Watch The Weather
The forecast calls for near record-high temperatures in the low 90s, a stark contrast to the bitter cold some players in this field just endured at the Wells Fargo Championship. Scattered rain has fallen over the previous few weeks. But the high heat should have the course playing just a bit firmer than the soaked conditions we saw by Sunday last year.
Recently at the Valero Texas Open, we saw high winds and firm conditions reduce a normally straightforward course into a bit of a grind. Only seven players reached double digits under par. Will the Texas winds impact this week similarly?
It's always difficult to predict how weather will influence a tournament on Sunday. As of now, forecasts call for 10-15 mph winds Thursday through Sunday. Monitor the weather throughout this week, but if I had to guess, I still don't see any reason for a winner worse than 20-under par.
TPC CRAIG RANCH COURSE SPECS
Yards: 7,468
Par: 72 (4x 3s / 10x 4s / 4x 5s)
Grass: Bentgrass Greens, Zoysia Fairways
Architect: Tom Weiskopf
2021 Cut Line: -5
Median Four-Round Score (2021): -13
Comp Courses: Vidanta Vallarta, Coco Beach, CC of Jackson, Silverado Resort, TPC Scottsdale, PGA West, Plantation Course at Kapalua, Detroit Golf Club, TPC Twin Cities
Past Winners at TPC Craig Ranch: KH Lee -25 ('21)
Hole-by-hole Breakdown:
COURSE HISTORY AND COURSE COMPS
We have just one year of PGA TOUR data to reference at TPC Craig Ranch. It was the KH Lee show in 2021. Lee gained a massive 8.3 total strokes on Approach and another 4.5 strokes on the greens to carry himself to victory three strokes clear of Sam Burns. Irons and putting are the story of any second shot, birdie-heavy golf course. We want the players most capable of generating a high volume of birdie opportunities and pairing with a spike week of putting. Players likely can't pick up much of an edge on the field via SG: OTT or SG: ARG.
All top-10 finishers from the 2021 AT&T Byron Nelson except Daniel Berger return to action this week. That list includes Lee, Sam Burns, Patton Kizzire, Charl Schwartzel, Scott Stallings, Troy Merritt, Joseph Bramlett, Jordan Spieth, Seamus Power, Jhonattan Vegas and Doc Redman.
Course Comps
It's better to reference recent form across a volume of comp courses than isolate one year of performance from 2021.
I'm looking for easy, second shot courses with above-average distance and some exposure to gusting winds. These courses yield a high amount of birdies with very few bogeys.
Similar to the Mexico Open, I think Coco Beach most closely resembles the characteristics needed at TPC Craig Ranch, especially if we get more wind in 2022. Both courses favor longer hitters without penalty on their tee shots but still offer scoring for the full field.
After Coco Beach, an assortment of courses like CC of Jackson, Silverado Resort, PGA West (Nicklaus & La Quinta) and The Plantation Course at Kapalua each play as second-shot courses that mitigate advantage from position off the tee.
TPC Scottsdale may fit, given the Tom Weiskopf design connection and correlation for KH Lee, who had his best career finish just three months prior when he placed T2 at the WM Phoenix Open.
Vidanta Vallarta, TPC Twin Cities and Detroit Golf Club rate as more tertiary comps. They have also seen some correlated leaderboards and require a similar skillset of long irons and Birdies or Better Gained.
Combine performance across this list, and the top-10 players in Comp Course History here are Dustin Johnson, Joaquin Niemann, Spieth, Ryan Palmer, Justin Thomas, Xander Schauffele, Emiliano Grillo, Ian Poulter, Sam Burns and Kevin Kisner.
KEY STATS TO CONSIDER
Birdies or Better Gained
SG: TOT (Easy Scoring Conditions)
SG: APP
Driving Distance
Prox 200+
Par 5 Scoring
SG: Putting (Bent)
Course & Comp Course History
When we get to a second shot course, that will always put the greatest premium on approach play. The top-10 players in SG: APP this week are Justin Thomas, Will Zalatoris, Tom Hoge, Adam Hadwin, Sam Burns, Hideki Matsuyama, Luke List, Aaron Wise, Patton Kizzire and Talor Gooch. Looking more granularly at approaches from 200+, that top-10 list includes Zalatoris, Austin Smotherman, Matsuyama, Sebastian Munoz, Matthew Wolff, Adam Scott, Aaron Rai, Ryan Palmer, Hadwin, and Michael Gligic.
If the formula is as simple as irons, putting, and birdies, just four players rate out top 30 in each category: Burns, Xander Schauffele, Hadwin and Lanto Griffin.
The four par 5s will present the best opportunity to gain separation. The top 10 in terms of Par-5 Scoring are Scottie Scheffler, Maverick McNealy, Thomas, Gooch, Jhonattan Vegas, Burns, Tommy Fleetwood, JJ Spaun, Seamus Power and Dustin Johnson.
Birdie-Making Ability
This week centers around making birdies and capitalizing on easy scoring conditions. Very few situations this week will require precision off the tee or advanced scrambling skills. With players hitting both the fairways and greens in regulation at about 72%, this week should come down to who can set up birdie opportunities and convert them.
The top-10 players in Birdie or Better Gained entering this week are Scheffler, Thomas, McNealy, Joaquin Niemann, Johnson, Munoz, Matsuyama, Zalatoris, Burns, and Vegas. If we take a more granular step to see the players best at Birdies or Better in Easy Scoring Conditions, that top-10 list includes Thomas, Burns, Wise, Johnson, Power, Lee Westwood, Scheffler, Gooch, Sam Ryder, and Vegas.
Some notables who rank outside the top 100 in total Birdies or Better Gained, but are top-30 in BoB on Easy Courses includes Patrick Rodgers, Doug Ghim, Adam Schenk, Michael Thompson, Hank Lebioda and Hayden Buckley.
The list of top-10 players who perform best in Easy Scoring Conditions looks similar to the top birdie makers: Gooch, Burns, Wise, Power, Thomas, Griffin, Johnson, Bubba Watson, Westwood, and Doug Ghim.
Correlation
We can't lean too heavily on correlation charts due to a small sample. That brings some outliers to the fold, such as Double Bogey Avoidance and P3: 150-175 popping up as two of the top stats for this week. I will look beyond that from a modeling perspective and expect those stats to fall further down the list as the sample size grows.
The broader takeaway from these stats suggests that the winner must take advantage of the easiest scoring opportunities, and simply move on with pars on the 200+ par 3s and 490+ par 4s. If players can make it through the week at even par on the six holes which average over, they should position themselves well to contend by taking advantage of birdie opportunities on the other 12 holes.
PLAYER SPOTLIGHT: TALOR GOOCH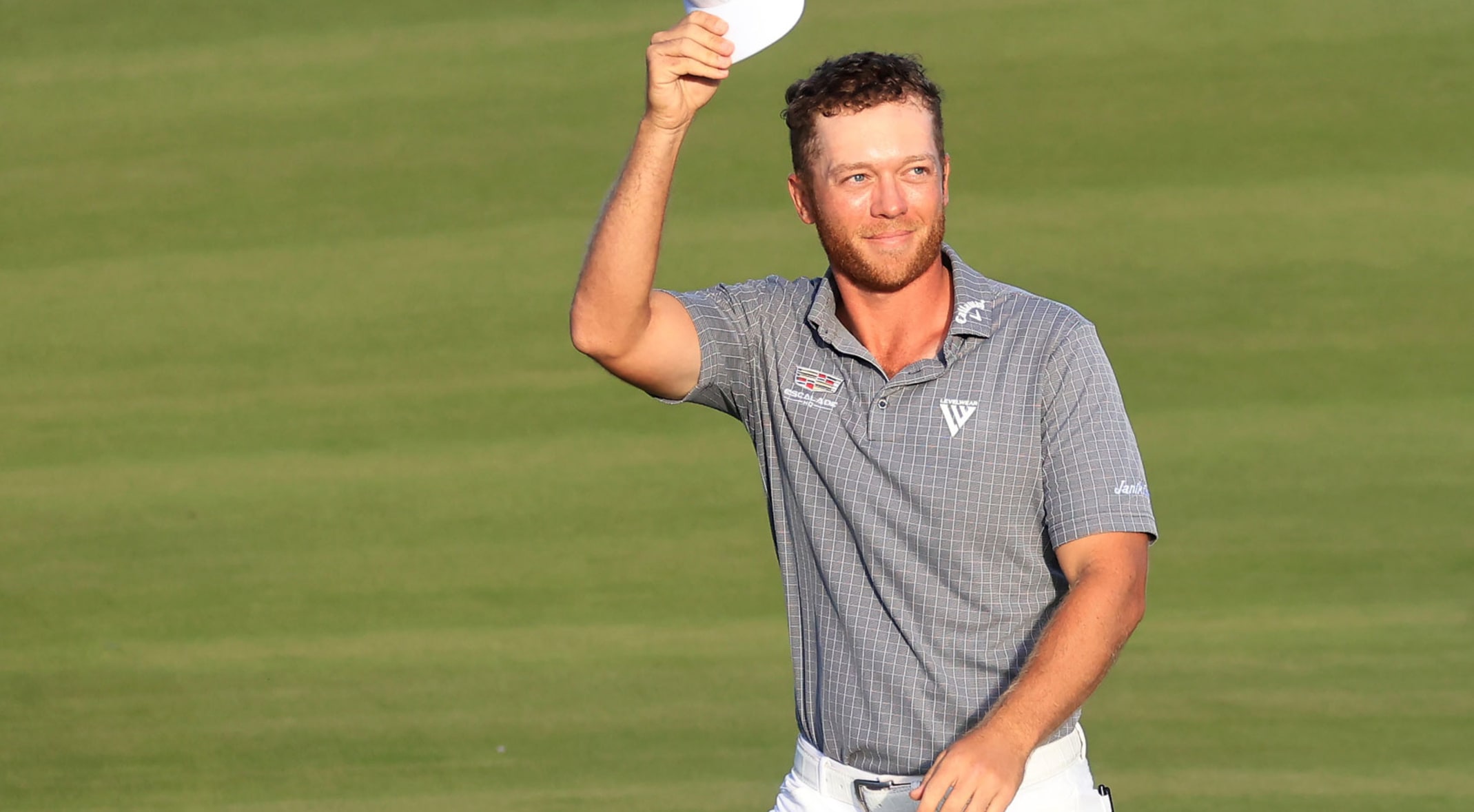 It's been a month since we last saw Talor Gooch in standard stroke play at the Masters. There, he looked impressive with a T14 finish in his event debut. With the PGA Championship making its way to his home state next week, Gooch has probably stayed sharp. An extended layoff may cause Gooch to drift further down the board than he should this week. That makes for a good opportunity to find value in this field.
If the simple formula of irons + putting holds true, then Gooch should fit the bill perfectly. In his previous two measured starts, Gooch has gained over 4 strokes putting. He has already gained over 5 strokes on Approach in five different events this season. SG: OTT has held Gooch back from contending more regularly. A course like TPC Craig Ranch should land right in his wheelhouse.
Gooch has also had solid results in Texas with two T5 finishes at the Houston Open, a T14 at last year's Charles Schwab Challenge, and an advancement through the second round of the WGC Match Play in each of his first two appearances.
With a dominant win at the RSM Classic to go along with other high finishes this season (T11 at Mayakoba, T5 at the CJ Cup, T11 at the Shriners and T4 at the Fortinet) Gooch rates out No. 1 in this field in SG: TOT in Easy Scoring Conditions. He also ranks top 10 in SG: APP, Par-5 Scoring, BoB Gained (Easy Scoring Conditions) and SG: TOT (L36 Rounds). That lands him No. 8 in my model this week.
Gooch makes plenty of sense for Southern Hills next week. It may pay to jump on early for PGA Championship futures. His price could shorten if he does play well here.
WHAT TO WATCH FOR AT THE 2022 AT&T BYRON NELSON
The talent at the top of the board has salvaged an otherwise very easy week to look beyond in advance of the PGA Championship. Instead, we have plenty to watch for, with a long list of elite players looking to round into form ahead of the next major.
For immediate press release, I formally announce that I will not play Mito Pereira here. I can't think of a worse course fit for him. Considering he's also recovering from injury, I will take a one-week break before hopping back on at literally any other course.
With all the course-fit profiles in mind, I'm leaning early towards the below player pool. Naturally, I'm looking their way in the 2022 AT&T Byron Nelson odds as well. I've broken the list down by projected pricing/odds tier for Draft Kings.
In my model, I'm emphasizing SG: APP, Comp Course History, Birdie or Better Gained and Par 5 Scoring, followed by a more balanced mix of SG: TOT (Easy Scoring Conditions), Prox 200+, SG: P (Bent) and Driving Distance.
Model Favorites
Justin Thomas emerged in the top spot, hardly surprising. He ranks top five in SG: APP, Comp Course History, SG: TOT (Easy Scoring Conditions), Par 5 Scoring and BoB Gained. I don't want to pay up for favorites here, though, especially with the lookahead of the PGA Championship looming. It's hard to imagine this putting contest has Thomas' full attention. He could coast his way through and shoot -18 here. But that may not even land him in the top 10.
After Thomas, the rest of my model's top-10 this week features Sam Burns, Dustin Johnson, Scottie Scheffler, Maverick McNealy, Hideki Matsuyama, Joaquin Niemann, Talor Gooch, Adam Scott and Xander Schauffele.
This time last week, I had a few must-bet players regardless of where odds opened. This week, I see myself taking more of a reactive approach. I'll see where odds open first, and then jump on players who have slipped down for the most value.
Burns is the player I find myself leaning most towards. He should open longer than 20-to-1 odds with higher-ranked players like Scheffler, Thomas, Johnson, and Jordan Spieth present. Burns has already shown he has sticky course history at his favorite spots, finishing T3 at the Sanderson Farms before his 2021 win and going back to back at the Valspar Championship. He also finished top five in each of his first two Zurich Classic appearances. After last year's second place, I expect Burns to scare the top of the leaderboard again.
Check back in later this week for more updates, and best of luck navigating 2022 AT&T Byron Nelson odds!
COMPARE 2022 AT&T BYRON NELSON ODDS