The dust has finally settled on the Honda Classic, and to my dismay, Mito Pereira remains PGA TOUR winless. Any credibility established from hitting on Joaquin Niemann at the Genesis Invitational is now officially gone after a failed guarantee. We'll see if we can recover at the Arnold Palmer Invitational, starting with a look at the early odds.
With no semblance of a sweat at last week's tournament, I've been living and breathing API research throughout the weekend (in-between a move across Jersey City). I'm trying to become an invitational specialist by picking the winner of both the Genesis and Arnold Palmer. Time to turn the page to week two of the Florida Swing.
Last year, Bryson DeChambeau stole the show by carrying the water on the infamous horseshoe par-5 sixth hole. He authored a "must-see" golf moment even for casual sports fans, and he carried that momentum to a one-stroke victory over Lee Westwood.
The Arnold Palmer Invitational tests players' all-around games and has produced a decorated list of winners. Standing over 7,400 yards, Bay Hill will force a high volume of approaches from 200+ yards, and features some of the thickest rough on TOUR. That means an emphasis on Distance, Accuracy, and Short Game for approaches that will miss the fast greens at a higher-than-average mark from over 200 yards.
Over the last five years, only Kevin Chappell has registered four rounds in the 60s in one API tournament. So, we should expect some patience from players to battle for four tough days of golf.
Here is everything you can expect from Bay Hill at the 2022 Arnold Palmer Invitational.
ARNOLD PALMER INVITATIONAL FAVORITES
Scroll to the bottom of this article to compare full outright odds across legal U.S. sportsbooks.
THE FIELD AT A GLANCE
While still star-studded, the strength of field comes in a notch below the Genesis Invitational. The Arnold Palmer Invitational will feature five of the top-10 players in the OWGR rankings. That's what the omission of Tiger Woods as host and daunting lookahead of THE PLAYERS next week will do.
World No. 1 Jon Rahm will play, making his first career appearance at the API. Other players inside the OWGR top-10 teeing it up include Viktor Hovland, Rory McIlroy, Scottie Scheffler and Hideki Matsuyama. In total, we'll see 16 of the top-30 ranked players in the world.
The list of past API winners back in the field this week includes Bryson DeChambeau, Tyrrell Hatton, Rory McIlroy, Marc Leishman, Jason Day and Martin Laird.
Defending champ DeChambeau will field a range of questions from the press. Between the health of his back/wrist, his stance on the Saudi Golf League and how aggressively he wants to play hole six, he'll have plenty hanging over him.
INTRODUCTION TO BAY HILL
We are in the teeth of the "grinder" stretch on the PGA TOUR. For the third straight week, par will be a good score on a majority of holes. Twelve holes have a scoring average over par. Four of the six holes that do not are par 5s, so Par-5 Scoring will be crucial. Especially so with each of the par 5s reachable in two for the longer hitters. For one, hole No. 16, at 511 yards, has a 5% eagle rate.
Just under 7,500 yards, Bay Hill ranks among the longest courses on the PGA TOUR. With narrower-than-average fairways and some of the thickest roughs, the course plays even longer than the scorecard suggests. Drives that miss these fairways become stopped in their tracks.
Length is the defense of this course with 29% of approaches funneled to 200+ yards. All four par 3s play over 200 yards, which is the longest par-3 average on TOUR. Five par 4s land in the 450-500 yard range.
Like PGA National, penalties loom, with water hazards in play on nine holes. The Arnold Palmer Invitational has caused the highest percentage of penalty strokes in two of the last three years.
Also similar to PGA National, heavy Florida winds factor in. In 2020, Tyrrell Hatton survived severely windy conditions with a Sunday 74 to post a -4. That edged him past Marc Leishman by one stroke to claim victory. The median score that year was +6, so needless to say, it'll be worth monitoring the forecast this week.
A Balanced Course
The dichotomy of a Bryson DeChambeau/Lee Westwood top two at the 2021 API sums up what this tournament offers. You can bomb and gouge this course and lean on your distance to cut angles over trees and water and leave yourself a wedge from the thick rough.
But, if you don't have plus distance, you can still manage. Skilled veterans like Westwood, Francesco Molinari and Leishman have also found success setting up angles with positional tee shots and a well-rounded game in all four SG categories.
In short, players who tend to perform well in majors are most likely to rise to the top at Bay Hill.
ARNOLD PALMER INVITATIONAL COURSE SPECS
Yards: 7,466
Par: 72 (4x 3s / 10x 4s / 4x 5s)
Greens: Bermuda
Architect: Dick Wilson (with 2009 renovation from Arnold Palmer)
Historical Cut Line: +2 to +4
Median Four-Round Score: +2 ('21), +6 ('20), -2 ('19), -3 ('18), Even ('17)
Comp Courses: PGA National, TPC Scottsdale, Accordia Golf Narashino CC, Doral, Winged Foot, Torrey Pines, Quail Hollow
Recent Winners: Bryson DeChambeau -11 ('21), Tyrell Hatton -4 ('20), Francesco Molinari -12 ('19), Rory McIlroy -18 ('18), Marc Leishman -11 ('17)
Hole-by-hole Breakdown:
EVENT HISTORY AND COURSE COMPS
There is a long list of players who have enjoyed repeated success at the Arnold Palmer Invitational. It's an eclectic group of bombers and short game specialists, but none come as much of a surprise.
Looking at each of the last five winners, it's notable that all five posted a T7-or-better finish at this event prior to picking up their win. If that trend continues, then Matthew Fitzpatrick, Sungjae Im, Tommy Fleetwood, Adam Scott, Luke List, Matt Wallace, Keith Mitchell, Christiaan Bezuidenhout, Justin Rose, Lee Westwood, Henrik Stenson, Lucas Glover, Danny Lee, Kevin Kisner, Andrew Putnam, Corey Conners, Patrick Rodgers and Sean O'Hair fit the bill.
Rory McIlroy
If the streak of six consecutive years without a repeat API winner comes to an end, my guess is that it will be Rory McIlroy's fault. His game is peaking with a win and three T12-or-better finishes over his last five events. In seven career appearances at the API, McIlroy has finished worse than T11 just once. He won it in 2018.
My favorite stat this week: McIlroy has posted the low round of the day in the last six API events. He was first-round leader last year and first-round runner-up in 2020. He had the low Saturday round in 2019 and 2017, and the low Sunday round in 2018 and 2016.
Others Excelling At The Arnold Palmer Invitational
After McIlroy, the rest of the top 10 in Course History includes Henrik Stenson, Bryson DeChambeau, Marc Leishman, Justin Rose, Sungjae Im, Tyrrell Hatton, Kevin Na, Jason Day and Keegan Bradley. Good luck finding any trend or through line from that group of players.
There are 11 players in this field who have delivered multiple T10 finishes over the last five years: McIlroy, DeChambeau, Leishman, Matthew Fitzpatrick, Hatton, Im, Tommy Fleetwood, Luke List, Keith Mitchell, Jason Kokrak and Lucas Glover.
There are 16 players who have avoided missing the cut over the last five years (minimum three appearances): McIlroy, DeChambeau, Hatton, Im, List, Wallace, Mitchell, Bradley, Day, Ian Poulter, Rickie Fowler, Hideki Matsuyama, Viktor Hovland, Zach Johnson, Talor Gooch and Beau Hossler
Course Comps
I'm usually higher than most in weighting comp course history in my models. I believe it can help provide a more recent reference point on a series of performances within the last year. This week looks to be one of the exceptions where there are enough repeatable trends in Course History per player to stick with performances at Bay Hill only.
If I were to go down the Comp Course modeling route, I would likely say that Doral is the best comp. It's another difficult 7,400-yard par-72 Florida course on fast Bermuda greens hosting a strong field. Unfortunately, we haven't seen Doral played since Adam Scott won the 2016 WGC Cadillac.
PGA National, Accordia Golf Narashino and Torrey Pines are recent references of difficult scoring conditions this season. Winged Foot, Quail Hollow and TPC Scottsdale tend to reward an overlapping leaderboard of players with plus distance, as we've seen strong results from Bryson DeChambeau, Rory McIlroy, and Scottie Scheffler across these courses and Bay Hill over the years.
KEY STATS TO CONSIDER
Driving Distance / SG: OTT
SG: APP / SG: APP (Long Rough)
SG: Short Game
Prox: 200+
P3: 200+
P4: 450-500
Par 5 Scoring
SG: TOT (Difficult Scoring Conditions)
SG: Putting (Bermuda / Fast Bermuda)
Course History
What makes Bay Hill so great is the diversity of leaderboards we've seen here. You can't simply cross players off from contending if they are below average in Distance, Irons, or Putting. We've seen Matt Every win as often as Tiger Woods here over the last decade (twice). Kevin Kisner has a T2 here despite the 7,400 yards. Viktor Hovland has never finished better than T40 in three appearances despite this being a haven for elite ball strikers with plus distance and negligible around-the-green game.
All of that to say, it's a tricky week to have any conviction. That should make for an entertaining viewing experience and tough handicapping.
What we can say is Proximity from 200+ yards out is paramount. That will come into play on seemingly all of the par 3s and par 5s, as well as the five par 4s which play over 450 yards. The top-10 players in Prox 200+ are Matthew Wolff, Sungjae Im, Bryson DeChambeau, Jon Rahm, Will Zalatoris, Hideki Matsuyama, Sebastian Munoz, Paul Casey, Maverick McNealy and Hovland.
With so many holes concentrated in the above ranges, we can project success by looking back on recent performance across these distances. There are just nine players who rank top 50 in this field in P3: 200+, P4: 450-500, and Par-5 Scoring: Wolff, Im, DeChambeau, Rahm, Casey, Luke List, Tom Hoge, Russell Henley, and Matthew Fitzpatrick.
From an Approach standpoint, I still lean more on the long-range proximity stats over SG: APP this week. Bay Hill offers a different test on second shots than we're used to seeing week to week on the PGA TOUR. With narrow fairways, below-average driving distance, and some of the most penal rough, we're going to see plenty of long iron approaches out of thick rough. They'll often serve to bail out false fronts where players can make an "easier" up and down.
Approach And Putting
In any case, it's still a PGA TOUR event, and SG: APP still reigns supreme. Players who excel on approach will give themselves scoring opportunities on a course where those are not exactly abundant. The top-10 players in SG: APP entering this week are Casey, Hoge, Rahm, Henley, Hovland, Hudson Swafford, Keegan Bradley, Talor Gooch, Adam Scott and Zalatoris. If you wanted to modify and just look at players who are best on Approach at courses that feature long rough, that list includes Zalatoris, Henrik Stenson, Henley, Scottie Scheffler, Bradley, Casey, Adam Svensson, Matsuyama, Corey Conners and Rahm.
From a putting standpoint, the Bermuda specialists stand out on the Florida Swing. This course has seen success from short game savants like Kevin Na, Kisner, and Christiaan Bezuidenhout who lack the distance you'd ideally want to see for Bay Hill. In a weighted model of Recent Total Putting, Bermuda Putting, Fast Green Putting and Arnold Palmer Invitational Putting, the top 10 includes Bezuidenhout, DeChambeau, Denny McCarthy, Zach Johnson, Patrick Reed, Beau Hossler, Kevin Tway, Pat Perez, Brandt Snedeker and Ian Poulter.
Piecing this together, I'm looking to hone in on players who are above-average in SG: OTT, SG: APP, Prox 200+, Total Weighted Putting and API Course History. There are just nine players who fit that criteria: Scott, DeChambeau, Danny Lee, Keith Mitchell, Max Homa, Rory McIlroy, Scheffler, Im and Troy Merritt.
Correlation And Bay Hill
As is normally the case when we get to a difficult golf course that tests all-around game, the markers of success at Bay Hill do not vary drastically from what it takes to succeed across all PGA TOUR courses.
The biggest jump in importance at Bay Hill in terms of correlation with SG: TOT is SG: Short Game and SG: APP, which enter the top 10 of key stat categories this week. That makes sense on a course that yields a high percentage of missed greens in regulation.
SG: P (20-25 ft), P3: 200+ and Driving Distance also saw notable increases in importance compared to TOUR average.
As for stats to avoid, Prox 75-125 and Sand Saves Gained saw the biggest drop in importance.
Just seven players rate out above average in each of the above top-10 stat categories for Bay Hill: Jon Rahm, Rory McIlroy, Scottie Scheffler, Seamus Power, Sungjae Im, Adam Scott and Marc Leishman.
PLAYER SPOTLIGHT: ADAM SCOTT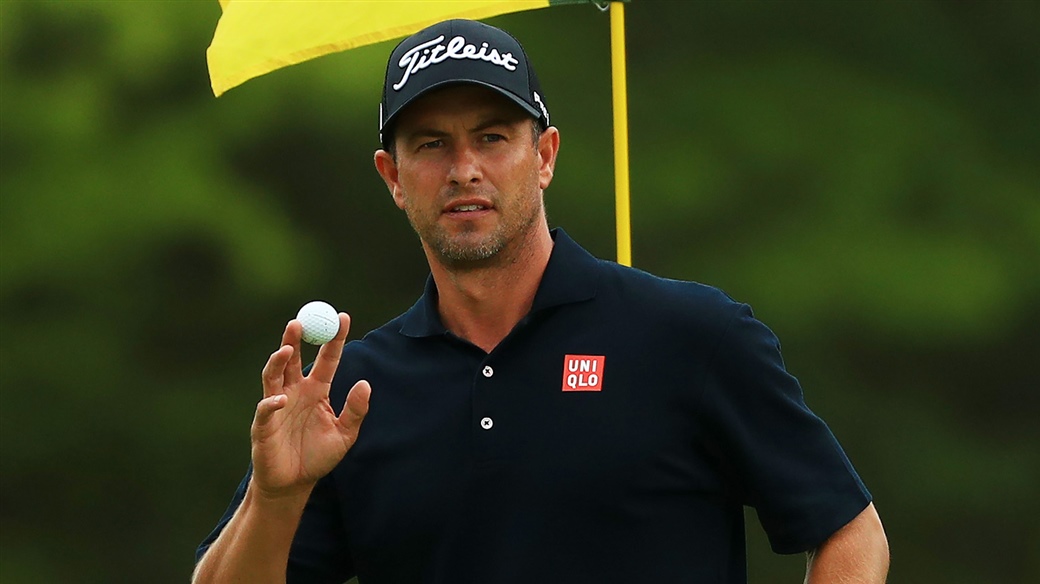 After watching breakthrough wins in recent weeks from players like Luke List, Tom Hoge, Harold Varner III, Scottie Scheffler and Joaquin Niemann, it looks to me like Adam Scott is next in line for the designation of "How has this guy still not won yet post-COVID?"
A number of trends work in Scott's favor this week. As mentioned, he posted a top-seven prior finish at the API, third place in 2014. His countrymen Jason Day and Marc Leishman have won here within the last six years, so we have an Aussie narrative. And McIlroy and DeChambeau have won here within the last four years, which bodes well for the bomber.
Scott rated out No. 10 in my model this week. He's top 25 in this field in SG: T2G, SG: APP, Prox 200+, Course History and Par 3: 200+. Over his career, he has been his best on courses that require frequent approaches from over 200 yards.
Though he hasn't been playing on the PGA TOUR as regularly, Scott still has three top-five finishes over his last eight starts. He also has two top 10s in each of his DP World Tour starts within that span. In terms of course history, Scott ranks 11th in this field in total strokes gained and has been positive tee-to-green in each of his last five appearances.
Lastly, Scott has made headlines this week for his new Apple+ TV show "Severance," which premieres this upcoming Friday and looks pretty good. OK, that's a different Adam Scott, but it's still a good vibe to see the other Adam Scotts doing well. Like golf's Adam Scott, TV's Adam Scott has not achieved much since the onset of the pandemic.
I think this is the week they both get back on track.
WHAT TO WATCH FOR AT THE 2022 ARNOLD PALMER INVITATIONAL
Last year, I recommended a firm fade on Bryson DeChambeau. I actually wrote an article fading him, Rory McIlroy, and Jordan Spieth on DraftKings. Each wound up in the final two pairings come Sunday.
So what did we learn? Course History is important here and seems to trump recent form more often than not. You can overpower this course by taking aggressive angles, but if you have a strong all-around skillset and have had success recently in majors or other difficult scoring conditions, that can translate as well. With a wide range of outcomes possible, I'll spread my exposure across a wider pool of players in both betting and DFS.
With all the course-fit profiles in mind, I'm leaning early towards the below player pool for DFS. Naturally, I'm looking their way in the 2022 Arnold Palmer Invitational odds as well. It's broken out by projected pricing/odds tier for DraftKings.
FINAL THOUGHTS ON 2022 ARNOLD PALMER INVITATIONAL ODDS
For my model in Fantasy National this week, I'm prioritizing SG: T2G, Prox 200+, Par-5 Scoring, SG: APP, and SG: TOT (API), followed by a more balanced mix of SG: P (Bermuda), SG: Short Game, Driving Distance, Driving Accuracy, SG: TOT (Difficult Scoring Conditions), P4: 450-500, and Par 3: 200+. I typically don't feed that many categories into my model. But, I think this event is really a testament to players who are well-rounded across a number of specific distance and short game-oriented categories.
Jon Rahm is in the field, so he therefore defaults to the top spot in my model once again, despite having no course history. That, along with a finish outside the top 20 in his last start will still not prevent him from opening as the favorite. Being the good guy we all know him to be, I believe Rahm will continue his disdain for winning golf tournaments at un-bettable numbers. I predict Rahm will not win again until he becomes priced at 10-to-1 odds or longer.
After Rahm, my model's top-10 is rounded out by Rory McIlroy, Sungjae Im, Paul Casey, Hideki Matsuyama, Scottie Scheffler, Talor Gooch, Bryson DeChambeau, Will Zalatoris and Adam Scott.
I don't expect to get a number better than 14-to-1 on McIlroy, but I'll look his way first when odds open on Monday. He looks to have the best combination of recent form, course history and course fit of anyone in this field. Similar to my approach at The Genesis, there is a pretty long list of players I'm going to like. I'll just look to take the best numbers available and diversify exposure on a longer card. Viktor Hovland, Zalatoris, Matthew Fitzpatrick, Scott, Marc Leishman, and Jason Kokrak are on the short list I'll be eying to bet.
Check back below here at TheLines to see where odds open on Monday! Thanks for reading, and good luck navigating 2022 Arnold Palmer Invitational odds!
ARNOLD PALMER INVITATIONAL ODDS BOARD